Yacht Charters in Goa India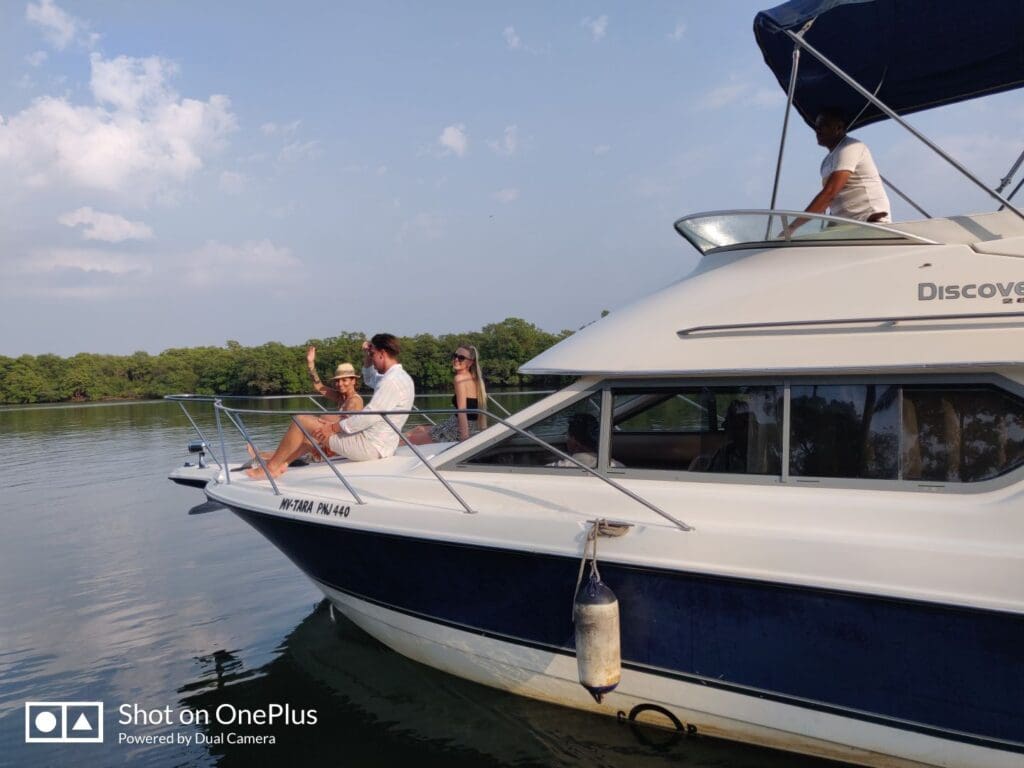 Goa in western India is emerging as a hot yachting destination.  Unlike the Caribbean islands or the south of France, where most of the luxury yachts are owned by wealthy billionaires and celebrities, in Goa, yachting and travel companies own these luxury vessels. This means you can easily rent a yacht in Goa and go on a private cruise into the Arabian Sea or the many rivers of the state. Goa Yacht Charters don't have to be reserved only for the very rich anymore, not in India anyway.
Goa is one of the smallest of all Indian states. It is close to Bombay, which has been renamed Mumbai. Goa is famous for its beaches – Baga, Candolim, Calangute, Arambol, Anjuna, Ashwem, Vagator, Cavelossim, Agonda, and Palolem are all very popular. Goa is also a hot party destination. There are many nightclubs, beach restaurants, bars, and cafes. But if you head to the interiors, you will see lush nature – many beautiful waterfalls and nature reserves.  This all makes Goa an ideal place to vacation and to charter a luxury yacht to go exploring offshore.
Yacht Charter in Goa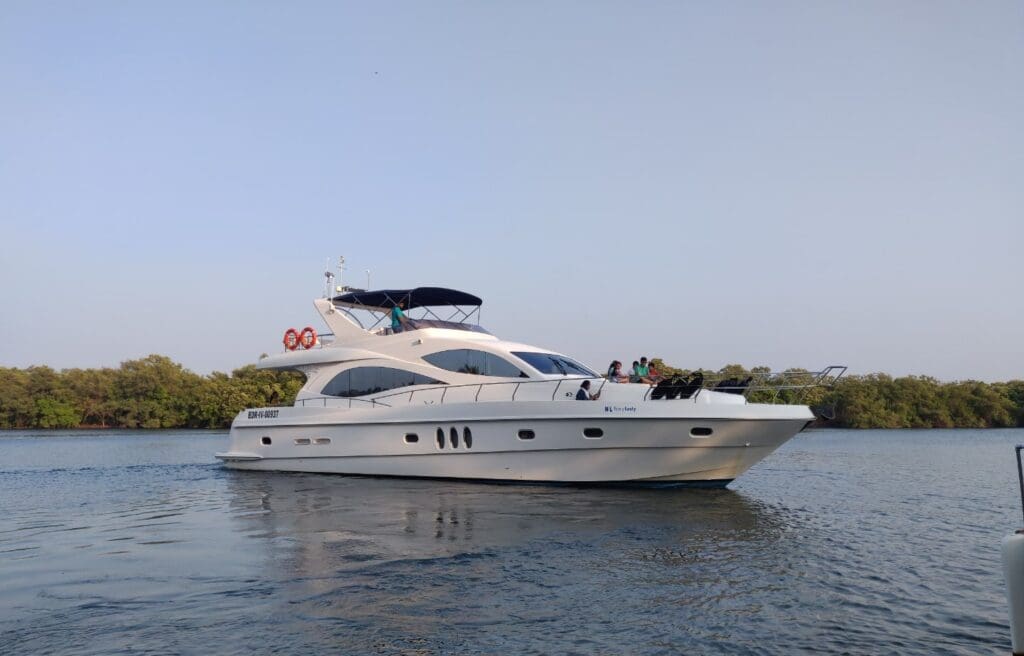 Yachting will be a different kind of experience in Goa. While most tourists rent a bike or car in the state to visit the beaches and see the state's religious, cultural, or natural attractions, you should consider chartering a luxury yacht to travel in style. It will be only for you and your group, which means you have complete privacy and uncrowded touring. It is a life of luxury experience and an exclusive vacation to remember.
In Goa, you can choose from many types of vessels like motor yachts, sailing yachts, catamarans, speed and sport boats. There is a lot of variety in each category too.
Places Can You Visit on a Goa Yacht Charter

Sail on a luxury boat on the Arabian Sea and feel the breeze. Here are some islands you can visit –
Grand Island – This is a very scenic island. Far out into the sea, this is also the best place in Goa for snorkeling and diving. The visibility is very good. There are a lot of corals and marine life in the waters around the island. If you are lucky, you can see stingrays, rockfish, barracuda, mackerels, guitarfish, groupers, sea turtles, and dolphins. There are many diving spots like the Sailing Rock, Suzy, Umma Gumma Reef, Davy Jones Locker, Bounty Bay, and the Turbo Tunnel. Spend half a day on the island, swim, and have a picnic lunch.
Bat Island – If you are visiting Grand Island on your yacht in Goa, you will see Bat Island about halfway from the city of Vasco da Gama. It is a small barren island with a rocky beach and plenty of greenery. You can also take a speed boat from Vasco to reach this island. Also referred to as Pequeno Island, this is also a good place for swimming and snorkeling. You can see sea urchins, colorful shoals, sea cucumbers, lobsters, butterfly fish, squirrel fish, snappers, groupers, and hawksbill turtle here.
Butterfly Island – Technically, this is not an island at all. It is a small hidden bay in South Goa with a crescent-shaped beach. This beach is, however, best reached by the sea route, which is why it is often called an island. It is a beautiful place with many coconut trees. Visit the island to see dolphins and to spend beach time with complete privacy. There are no tourists here. The Honeymoon Beach, another hidden cove, is also close. See the Tortoise Rock on way to this beach.
Canacona Island – Further south from Butterfly island, you can reach Canacona or Kankon Island. It is just off the coast of Palolem beach, which is very popular with both beach and nightlife lovers. This is a scenic and serene island with many trees and monkeys. You can even cross over from the beach by foot at low tide. You can plan a trip on a luxury yacht to visit these three places – Butterfly Island, Honeymoon Beach, and Canacona Island. It will be a full day trip.
River Cruises in Goa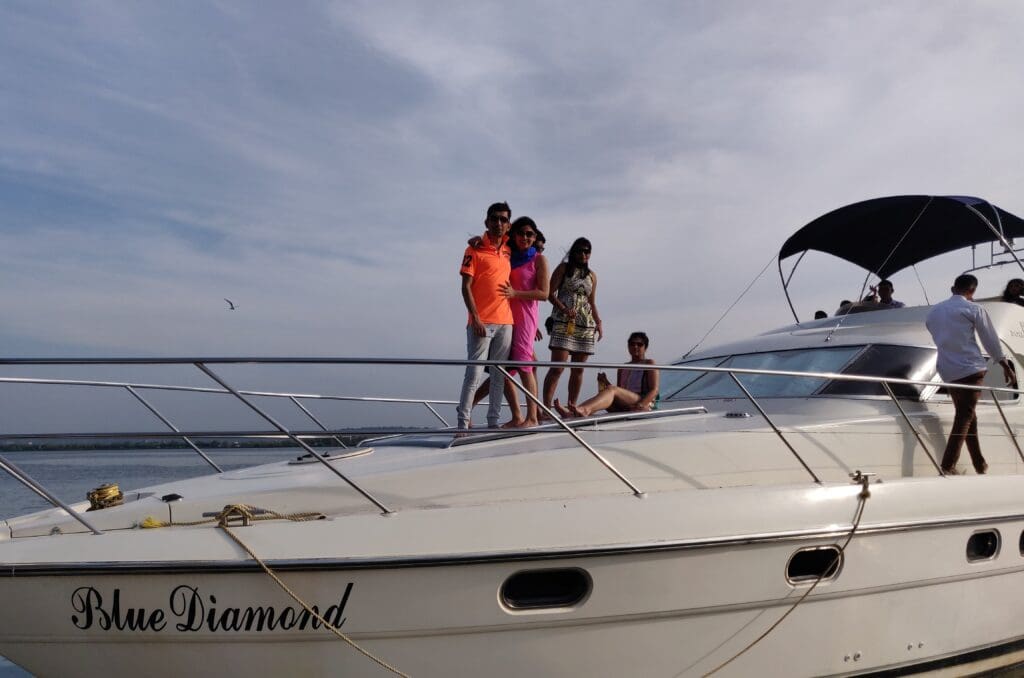 Zuari, Mandovi, and Chapora are the three major Goa rivers. Mandovi is the most popular with cruises. Government-owned vessels leave every evening for a 3-hour cruise with dinner, local songs, and dancing. Sail and speed boats offer sunset cruises.
Yacht charter in Goa lets you go on a luxury cruise with privacy. The yachts come with their own trained staff and personal chef. There is food, drinks, cocktail, and barbecue on board as you sail the Mandovi. You can also reach some fantastic places like the Divar and Chorao islands, and Old Goa.
Take a kayak and explore the beautiful mangrove forest of Chorao Island. The Salim Ali Bird Sanctuary is located here. Divar Island has many old Portuguese houses. You also can see crocodiles here.
Old Goa is just opposite. See the UNESCO World Heritage Site Basilica of Bom Jesus, the tomb of St. Francis Xavier, Se Cathedral, ruins of St. Augustine, and the Church of St. Cajetan, which looks exactly like the St. Peter's Basilica of Rome.
There are many amazing things to see and do in Goa. A yacht charter in Goa is the best way to enjoy a luxury vacation and see many of them.