Manhattan Beach Bike Paths & Where To Stop Along the Way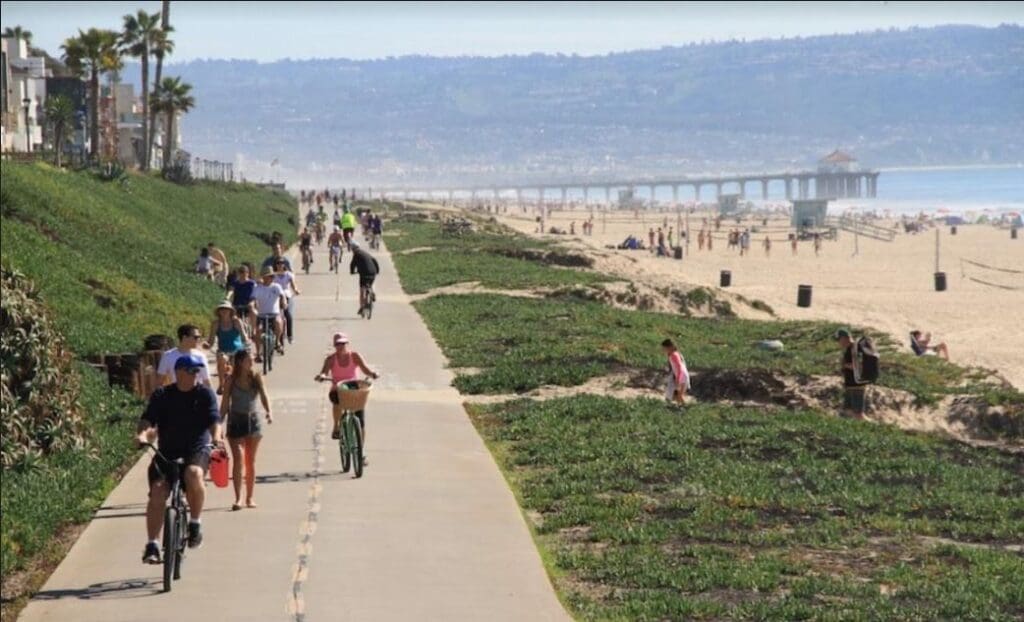 Everyone is looking for short escapes from their home quarantine and we have the perfect breath of fresh air – cycling along the bike paths of Manhattan Beach California.  Bike paths run through Manhattan Beach, from the Strand along the South Bay inland on the Ballona Creek Bike Path. Here are several routes perfect for hybrid bikes but flat enough to enjoy along with worthwhile stops along the way.  So look for your favorite cruiser bike for sale and come out for a spin along California's southern coast.  Here's our guide cycling trails that run through Manhattan Beach Bike Paths.
Cruise the Strand In the South Bay
A popular stretch of the 22-mile Marvin Braude Bike Trail that runs through Manhattan Beach and other South Bay coastal communities is called "The Strand." The Manhattan Beach portion of this bike path is separated from pedestrian and jogger traffic. Walk sections may be enforced around the Manhattan Beach Pier. Fuel up on the pier and check out the Roundhouse Aquarium or take a turn through downtown.
For a longer ride, head south toward Hermosa Beach, Redondo Beach and Torrance or proceed north against the headwind toward El Segundo, Dockweiler Beach and Marina del Rey. This scenic route may offer risers opportunities to hang glide or rent watercraft. Cyclists are likely to encounter traffic on the path through Fisherman's Village in Marina del Rey on to the Venice canals, Venice Boardwalk, Santa Monica Pier, Santa Monica Beach and the northern terminus of the path at Will Rogers State Beach.
Branch Off On Ballona Creek
Ballona Creek Bike Path runs seven miles from Syd Kronenthal Park in east Culver City to Playa del Rey along the creek. This paved route originated as a service road for maintenance vehicles in the 1930s and has now become a bike path. Keep in mind that this route may have pedestrian traffic in addition to bicycles.
If you want to see wildlife or explore inland terrain including native landscaping, artist-designed gates and fences, fountains, murals and an ongoing revitalization project, this can be a great ride to take. If this route gives you a taste for trail riding, look for hybrid men's bikes for sale.
Ride South for Rugged Views
Head south from Manhattan Beach on the Marvin Braude Bike Trail toward Hermosa Beach, King Harbor, Redondo Beach and Torrance Beach. For an extended ride, continue on toward the bluffs of the Palos Verdes Peninsula. This ride takes you past a wide variety of restaurants and attractions along the strand as well as gems in each of these distinctive beach communities.
No matter which direction you ride, Manhattan Beach is located on the Strand running along the south shore of Santa Monica Bay. From this point, you can easily travel up the coast of Los Angeles County, all the way up to Santa Monica and the northern terminus of the path at Will Rogers State Beach.
These three routes are suitable for almost any level of rider, factoring in distance. You can also take these routes on practically any type of bike, from a hybrid to a cruiser or road bike. These paved paths allow for easy riding, although terrain along the Strand is sandy. You may want to start by riding to and from neighboring beaches and gradually increase how far you travel along coastal bike paths or inland trails.