10 Top Reasons Birmingham Should Be on Your Must-see List
Birmingham is not your typical city. Despite it being one of the oldest cities in the UK, and a major player in the engineering and manufacturing, Birmingham is not at all the concrete jungle one would imagine it to be. It is, instead, regarded as one of the greenest cities in the country.  Here's our guide to Birmingham, and the 10 top reasons to visit.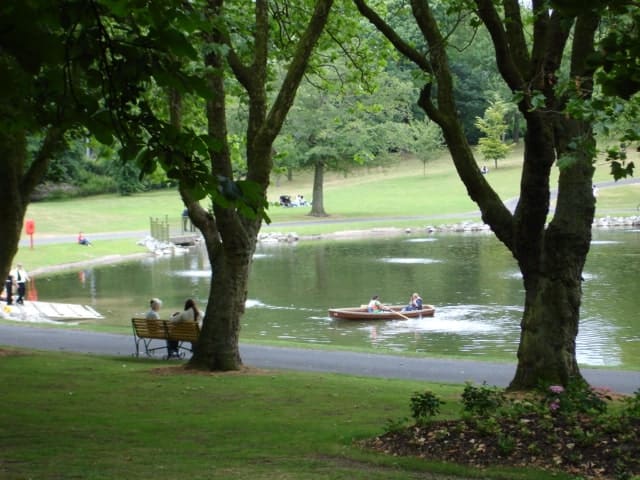 Wikimedia Commons by:  Sibadd
The city is filled with over 8,000 acres of parks and green spaces, making it ideal for families, nature-lovers, and city dwellers who wish to have a change in scenery.  Moreover, the city is made up of people from different historical, ethnic, religious, and cultural backgrounds, making it one of the most diverse places in the area. If this is not enough reason for you to want to visit Birmingham, here are more reasons that could make you want to consider it.
Here are # Reasons Why You Should Include Birmingham On Your Next Visit to England
Its Great Shopping Scene!
Birmingham's shopping scene is also to die for! With the Balti Triangle, the bull markets, and multiple shopping centres like the Great Western Arcade and Piccadilly Arcade,  that host local and big-name brands, you will find almost anything you can think of!
The Food Is To Die For!
You'll be taking your taste buds on an adventure in Birmingham!
The city's diverse culture has directly impacted its food scene. Hence, aside from hundreds of restaurants that serve the most distinct and delicious flavours, Birmingham has six Michelin starred restaurants in the area! That's more than most areas outside London!
Museums and Historical Sites Galore!
You can easily look back on Birmingham's rich history with the various museums and heritage sites in the city. There are many places you can visit like the main museum in Chamberlain Square, to Ikon Gallery, Sarehole Mill, Moseley Bog, and the museum dedicated to Birmingham's 19th century pen trade! Here's a list of other Birmingham museums you would want to check out.
Must-Visit Music Venues and Independent Cinemas
If you're into independent music, you'll appreciate The Sunflower Lounge, The Flapper, and the Hare & Hounds. Meanwhile, the Barclaycard Arena, Town Hall & Symphony Hall, and the Genting Arena are all must-see music venues as well!
Meanwhile, if you're a cinephile who is into independent cinema, here's a list of cinemas you will want to visit.
If you are looking for more places to visit, you may want to check out:
How About Living In Birmingham?
In recent years, Birmingham has become a popular destination for tourists and professionals looking to further their careers. It saw a net population increase of about 7,147 just in 2018 alone.
Birmingham has a lot to offer, whether you're a young professional looking to kick start your career or looking for better life opportunities. That is why, if you fall into one of these two categories, moving to the city of Birmingham is something you should seriously consider.
Here are some of the most compelling reasons Birmingham is the place to be.
Its Economy Is Continuously Growing
Although Birmingham's employment rate is lower than the national average, the city is still known for having the second-largest economy in all of England. This is because, as the second city in the UK, Birmingham is home to some of the largest and most profitable companies all over the world.
Regeneration and investment have also seen a continuous increase in Birmingham, which means more businesses are being established, more homes are being built, and more jobs are being created. Some studies even show that Birmingham is set to be one of the fastest-growing economies by the last quarter of 2020, with a £3.4 million virtual reality hub set to open in the city.
Affordable Living Costs
While the average monthly salary is higher in London than it is in Birmingham, consumer prices and rent in Birmingham are about 34.44% cheaper as compared to that in London, which has been ranked as the 23rd most expensive city in the world in 2019 by Forbes.com.
That means for a lifestyle that costs £4,700.00 in London, you only have to spend £3,081.27 in Birmingham. Moreover, if you want to purchase a property in Birmingham, you would only have to pay an amount that is, on average, 72.31% cheaper than London.
Moving Costs Are Relatively Cheap If You're Coming In From Another Part Of The UK
Birmingham is landlocked in the middle of the UK. That means it is pretty accessible from anywhere in the country. That means you can hire a removals company or a man and van in Birmingham without worrying about spending a fortune on fees that usually inflate due to the distance between point A and point B.
Moreover, hiring a Man and Van will make your move easier. For just a small price, you won't have to haul your items yourself! Just imagine how difficult it would be to bring the items yourself in your small sedan. What about the damages? Would you actually have
Alternatively, if you plan on moving your belongings yourself, moving to the midlands also means you wouldn't have to spend too much on fuel.
Unfortunately, these moving costs are not cheap if you are moving from another part of the world. Because Birmingham does not have its own port, shipping your belongings from overseas will be more costly.
Public Transportation Is Great
If you plan on driving around, Birmingham may not be ideal for you. However, you'll be glad to know that public transportation in the city is arguably one of the best! With a well-connected network of buses, trains, and trams, getting around is not difficult.
With this efficient public transport system, the Birmingham residents are also able to save money, which would have otherwise been spent on gas, parking, and automotive maintenance.
The People Are Laid-Back and Approachable
People in Birmingham, or "Brummies" are known to be one of the most laid back, friendly, and hospitable in the UK! Walking down the street, you'll receive a wave, a smile, or a salute, even from people you don't know.
There will also be little to zero awkwardness if you try to strike a conversation with a shopkeeper, a restaurant server, or even someone you meet in a bar.
So, if you're the type who appreciates small talk and conversations with people you don't know or just met, Birmingham may just be the city for you!
If this list has convinced you to move to Birmingham, make sure to go every detail before making the leap! After all, you wouldn't want to move into a new city without a job lined up, or your lodging situation all figured out. Are you moving to Birmingham, England from another country? Check out this list of tips on how to make settling in as easy as possible!