Our Definitive Guide to London's Most Famous Shopping Streets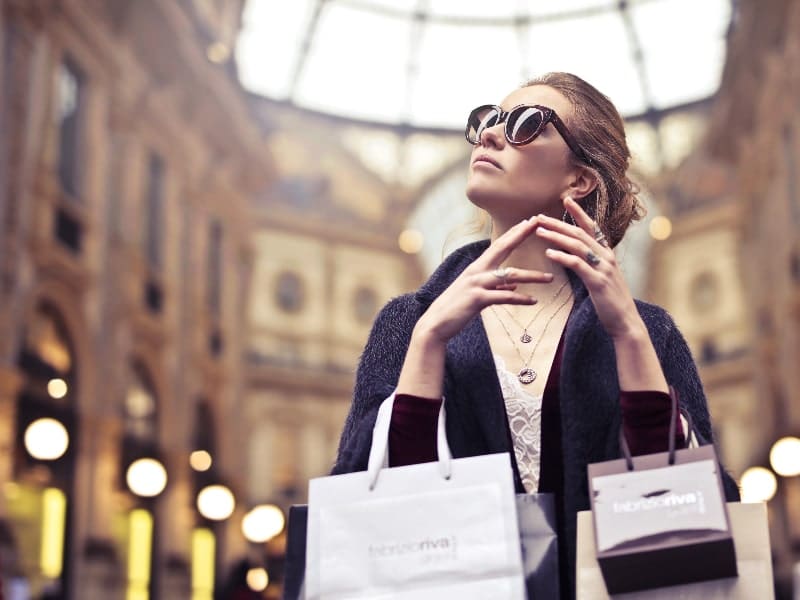 Whether you're a British national or visiting the UK for the first time, London is a must-visit destination. With a population of over 7.5 million, London is a cosmopolitan metropolis with strength in the areas of business, finance, education, and fashion.
While England's capital city has a lot to offer its visitors, shopping is one thing that takes center stage and is hard to beat. Sadly, it would not be possible to include every shopping street in this short article, so we've covered the top shopping districts in London that you will surely want to visit to take home a memento of your trip.
Oxford Street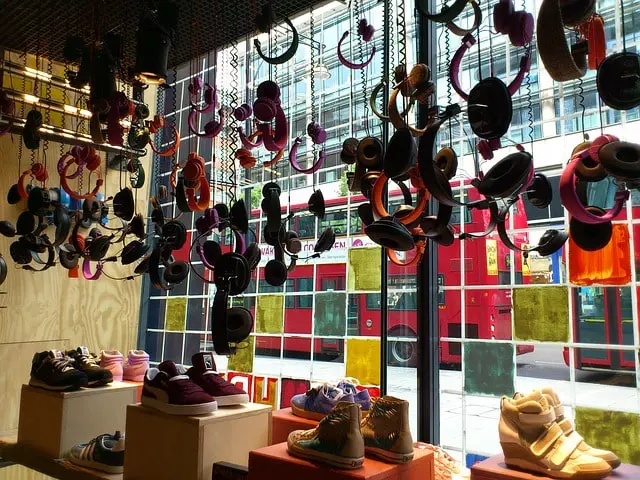 Oxford Street is one of the most popular tourist attractions and busiest shopping street in the world.  Home to more than 300 flagship stores and brand outlets, Oxford Street houses all of your favorite designer shops, including, Debenhams, Inglot, Top shop, and Urban Outfitters.
Explore your favorite products at iconic Selfridges. Check adorable and latest Disney products at the Disney Store, and be blown away by the fragrances of the world's top vegan products at Lush.
Tip to consider: To enjoy the better shopping experience and avoid bustling crowds, come during the week.
Knightsbridge
Knightsbridge is another popular shopping destination in London that offers state-of-the-art designer fashion. Two local legends, Harrods and Harvey Nichols are also located here. Harrods offers a vast range of luxury items and everyday essentials. There displays and service are legendary.  There are seven floors, and you can find almost everything here.  Since Harrods captivates millions of visitors every year, locals prefer to shop from Harvey Nichols, which is equally classy and engaging.
Regent Street
Wander along Regent Street, one of the most attractive shopping districts in London that offers a wide range of affordable fashion stores.  Regent Street also houses some of the oldest fashion outlets, including Liberty and Hamleys. The famous 'Apple Store' is also situated on this street.
This location not only offers high-end fashion pieces and accessories, but there are countless sustainable fashion stores that enable you to shop smarter.  Complete your wardrobe by picking some of the best bags and accessories at Longchamp London or stop by at the Glow Bar for a relaxing sauna session.
Tip: Don't forget to grab your favorite snacks and beverages at Heddon Street (And yes, Gordon Ramsay's Heddon Street's kitchen is also open now).
King's Road
Discover an eclectic combo of elegant boutiques, fashion houses, cafes, and exotic restaurants in grand Chelsea's King's Road.  Choose from the magnificent posters available at AnkitBar or stroll around Peter Jones for eye-catching fashion pieces or homeware.
The Duke of York Square is also located here, which is home to over 30 fashion retailers, including Zara stores. Also, you can explore the eccentric pieces from popular fashion artist Bimba Y Lola.  Trotters is an ideal place for your little one's wardrobe refresh or a stylish haircut.
Bond Street and Mayfair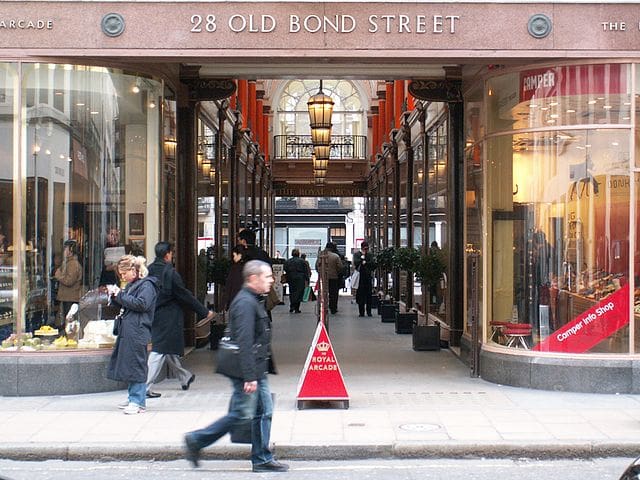 Whether you're looking to do some exclusive buying for your big day or just love window shopping, Bond Street and Mayfair can be the safest bids.  Both of these places are unarguably two of London's most sought-after tourist destinations that offer extravagant shopping spree for the visitors.
This place is home to some iconic brands and labels, including Burberry, Louis Vuitton, and Tiffany & Co. South Molton Street is another nearby attraction that houses some of the best fashion stores, including Browns and Boudi Fashion.
Saville Row
Are you looking for an extravagant bespoke suit? Gentlemen of discerning taste have been visiting the tailors of Saville Row in Mayfair for generations. Situated in the heart of London, this place is home to professional and experienced tailors that have been working here for centuries. It is also believed that the popular tuxedo was introduced by the tailors of this street.
The entire process of a custom suit is a remarkable experience too. There are specialized dressing rooms where you'll be served with drinks.  While it may cost you thousands of dollars for a suit if you get it done by a savvy tailor, you will find fine ready-to-wear options available here as well.
St James's
St James's is another popular shopping destination which is popular for its high-end fashion houses and art boutiques. Some of them even hold the seal of approval by the Queen.
Benson & Clegg offers a vast range of chic blazers. There's also the world's first shopping arcade called 'Burlington Arcade'. London's biggest book store 'Waterstones Piccadilly' is also located on St James's.
Don't forget to buy some chocolaty treats from Prestat. Stroll through the famous Dover Street Market, where you can discover the latest trends.   Smeg's flagship store is an added attraction at St James's, where you can find exclusive cooking appliances and kitchenware.
St James's is an amazing place that has something for everyone. It includes Harvie & Hudson, where you can buy the finest shirts. The LEGO square and M&Ms World are exclusive attractions for kids. Also, you can shop opulent jewels at Bentley & Skinner.
Westfield
Don't miss out on Westfield if you're looking for an American-style shopping mall in London. Home to a range of stores, food courts, and cinema, this place is a shopper's paradise on planet Earth.  Westfield includes two major shopping centers in London, including White City and Stratford. There are more than 250 shops and fashion boutiques.
From high-street favorites like Marks & Spencer to luxury brands, you'll find almost everything under one roof.  Scandinavian brand Monki also has a vast range of options for you if you're on a budget. Indulge at bars, work out at a gym, or watch your favorite movie at a theatre. This place is a lot more than just a shopping district.
Covent Garden
Love variety? You'll find everything under one roof at Covent Garden. From menswear to unique gifts and exclusive sweets, the Covent Garden is a perfect place to explore for everything you need.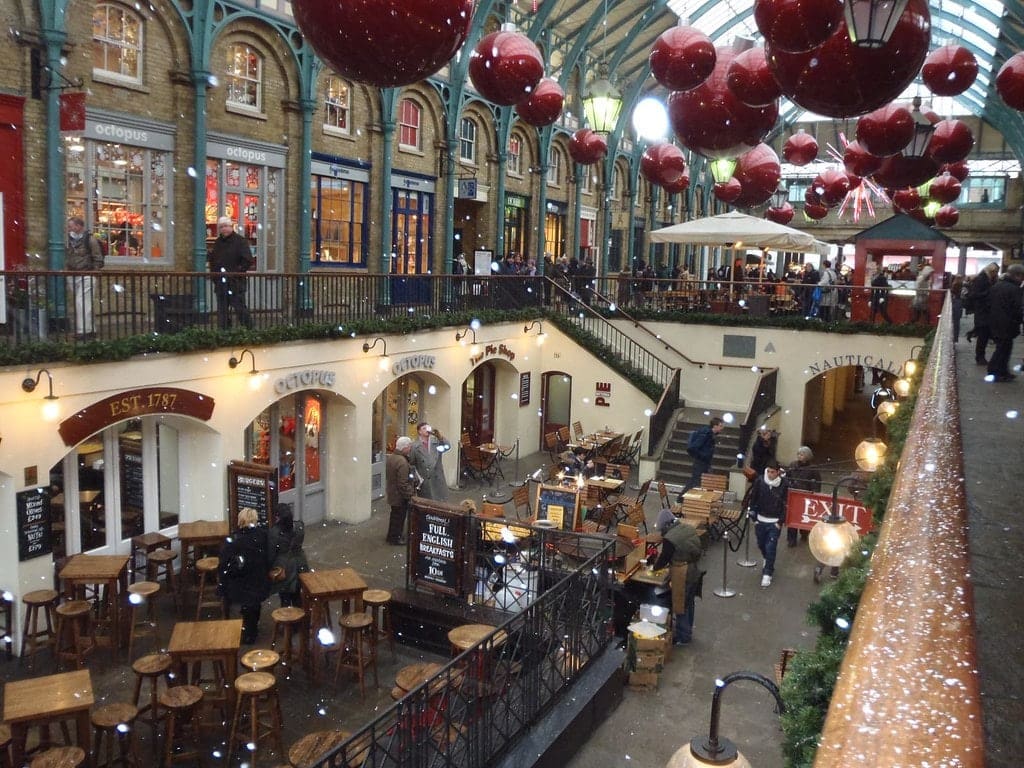 Flickr by:  Karen Roe
There are many cafes and restaurants where you can chill and relax. There are three markets in the Covent Garden – Jubilee Market, East Colonnade Market, and Apple Market.  Jubilee Market offers different stuff each day. So, depending on the day, you can discover jewelry, handicrafts, and clothing.
East Colonnade Market offers a vast range of exclusive products ranging from hand-woven stuff and crafts.  Last but not the least, Apple Market is all about antiques, handicrafts, and household items.
The Alkemistry is located on the floral street that offers fascinating jewelry. Also, there's Bucherer where you can find your new arm candy.
Tip: Explore the city's transport system by visiting the London Transport Museum, which is home to vintage exhibits and installations.
Spitalfields Market
Spitalfields Market is popular for its contemporary boutiques, cutting-edge fashion houses, and up-and-coming designerwear.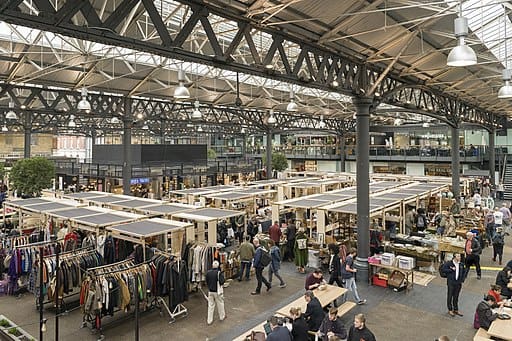 Wikimedia Commons by: Pete Gloria
While Spitalfields is open every day, you can explore some extraordinary stuff on weekends. This includes the finest selection of hand-made items from some of London's best freelance designers.  Spitalfields isn't only famous for incredible shopping experiences, but you can also buy some wholesome and fresh food from the nearby Wet Market.
Jermyn Street
Situated in the heart of St James's, Jermyn Street is a perfect spot to find some incredible suits, tuxedos, and menswear. Here, you can also find suppliers of premium leather products.
Portobello Road
London's famous Portobello market is home to countless antique shops and independent dealers on the weekend. This place is famous for its Saturday market when the sidewalks are filled with vintage treasures, but its shops are open six days a week as well.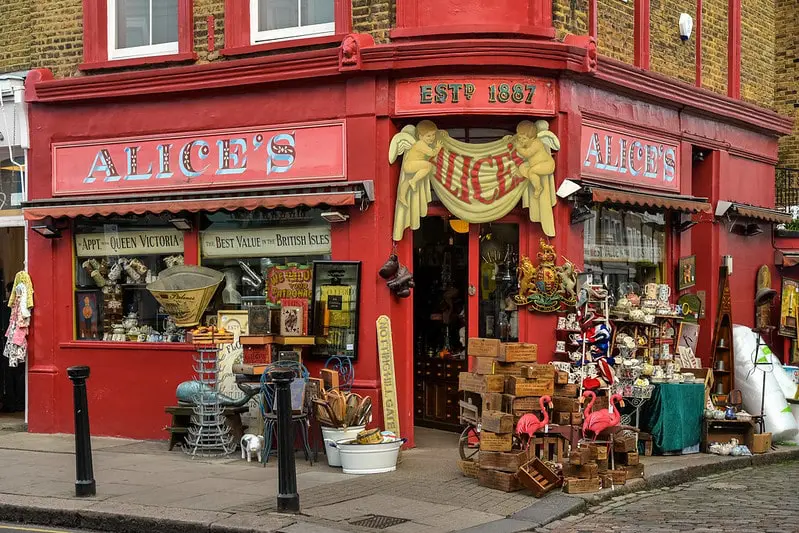 Flickr by: Jorge Franganillo
While the products are often high-end and pricey, you can get a good deal here, depending on your bargaining skills.
Carnaby Street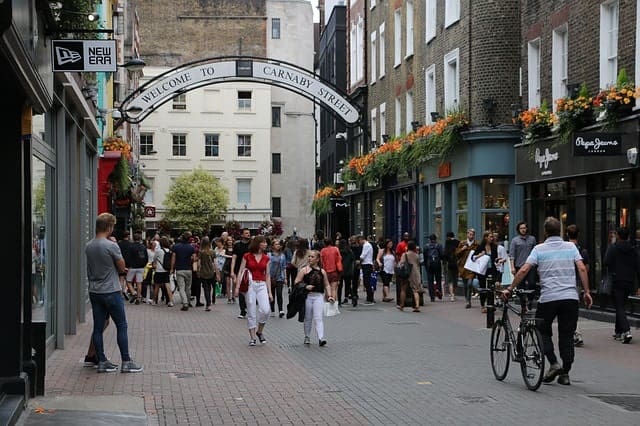 Carnaby Street is a pedestrian-friendly shopping destination in London, which is house to innumerable independent fashion retailers.  Here, you can find some popular labels and brands as well, including Lazy Oaf and Diesel.
Seven Dials
A hub of over 90 eccentric stores and cafes, Seven Dials is one of the coolest shopping destinations in London.  This place is home to some of London's best fashion and lifestyle brands, including the Vintage Showroom, Choose Love, The Cambridge Satchel Company, Tatty Devine, and Bow Wow London.
City of London
The City of London is another popular tourist attraction that is famous for its historical built and quality shopping districts.  Here, you can buy extravagant high-street essentials and top-notch photography gears with savings.
Camden
Camden is a perfect spot for admirers of alternative clothing. Here, you'll find plenty of stores offering unusual fashion and styling options.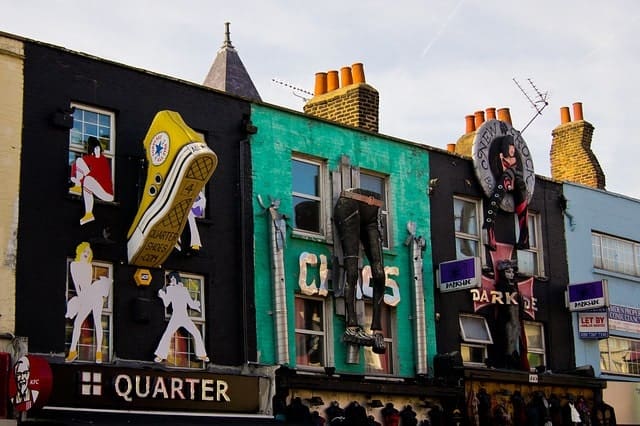 This place is home to London's best tattoo and piercing parlors. Hand-made exclusive jewelry and vintage leather goods are also readily available at Camden.  In addition to that, there's a shop for dainty jewelry and crafts called Dapri Dainty Jewels. You can also buy a personalized gift for your loved ones and family back in town from Photo Typewriter. All in all, this place should be on your bucket list whenever you visit London for the holidays.
Coal Drops Yard
Coal Drops Yard is the newest kid on the block that has gained immense popularity amongst tourists across the globe.
Here you can find some of the coolest brands, including Wolf & Badger. Shop eccentric fragrances from Miller Harris or stroll around Botanical Boys to buy an exquisite ecosystem.
Tip: Stop by a cafe and a chocolate shop run by Alain Ducasse for some delicious treats.
Notting Hill
Notting Hill offers the ultimate shopping experience for everyone. From small and unusual shops to high-end designer boutiques, you'll find almost everything here in a budget. Highlights include Dolly Diamond, Odabash, and The Merchants.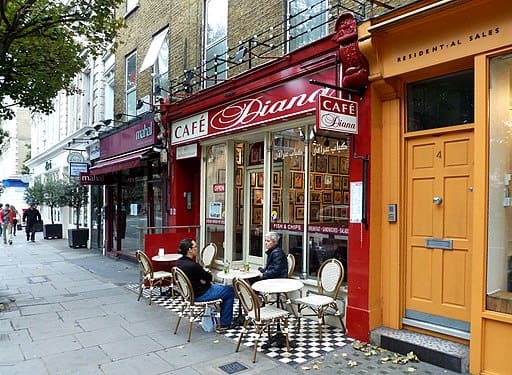 Wikimedia Commons by: Oxfordian Kissuth
A stroll through these shopping destinations and fashion streets gives you a taste of the trendiest London styles.
So, put on the sneakers and get ready to explore the best of the best England's capital has in store for you.
Happy Shopping!

*******************************
About The Author:  Uzair Ahmed is a digital marketing and SEO Expert working for multiple organizations to boost their business and online presence. Uzair is currently working as an SEO analyst at OptimusLaw.  Email: uzairahmedwork@gmail.com, Twitter: https://twitter.com/uzairahmed0345, Facebook: www.facebook.com/TheZair, LinkedIn: https://pk.linkedin.com/in/uzair-ahmed31
*******************************