Discover the Amazing Experience of Staying in Bubble Hotels
Not many individuals are fond of camping in an exotic location, but an increasing number of travelers undoubtedly enjoy the art of glamping. A Glamping experience is suitable for contemporary travelers who want to stay in nature but don't want to miss modern luxuries.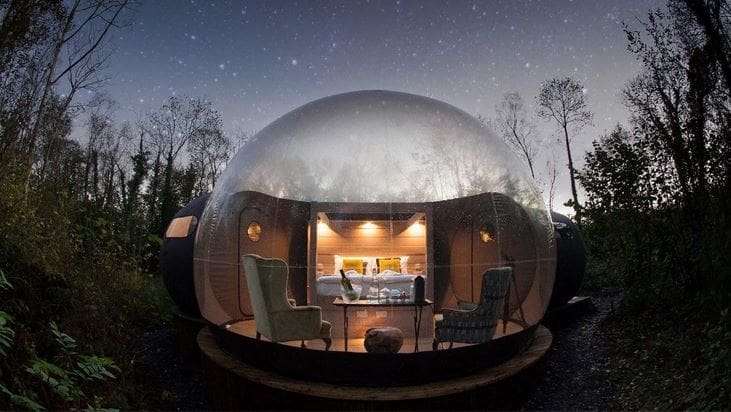 The newest way to enjoy glamping is by booking a room in a bubble hotel, which refers to transparent domes situated in incredibly secluded locations. These units provide guests with exclusive stargazing opportunities, surrounded by the sights and sounds of nature.  Nowadays, there are numerous of these livable orbs, such as bubble lodge Bois Cheri in Mauritius, as well as others located in various nature sites around the globe.
Better Than Standard Hotel Rooms
One of the greatest benefits of staying in such a dome is being provided with a more luxurious experience than staying in a normal hotel room. Although camping might not be your idea of a luxury holiday, you'll be stunned by the comfort, spaciousness, and natural surroundings of bubble domes.
Moreover, these units provide adventurers with maximal privacy, which is rarely experienced in other types of accommodation. Bubble hotel rooms are equipped with the necessary amenities, a small but functional bathroom, and air-conditioning in regions where hot temperatures are simply unbearable. Additionally, the décor of these domes is chosen in a clever way to blend in with the environment, thus making such accommodation even more appealing to travelers.
Exclusive Services
Another amazing perk of booking at least one night in a bubble hotel is getting exclusive services, such as having your own butler. Most of these resorts provide guests with a personal butler who goes out of his/her way to make their stay memorable and delightful. The job of these professionals is to fulfill the wishes of travelers like providing them with the necessary sports equipment or making sure their dinner takes place at a special spot. It really is quite an unforgettable experience of luxury!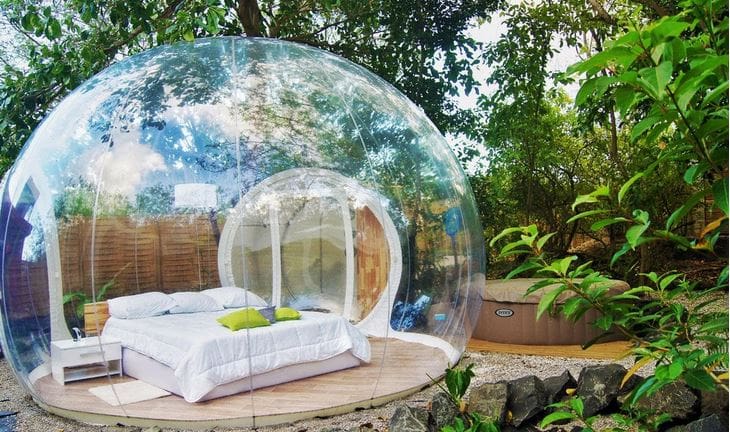 Furthermore, the room rate of most bubble hotels usually includes both breakfast and dinner with no additional charge. On special occasions, you can request your dinner to be served at a remarkable location within the resort, which can be arranged as long as you let the butler know about your requirements.
Additionally, some bubble domes provide guests with the opportunity to enjoy spa massages, Jacuzzi baths, games of golf, or use of a private beach. The Bubble Hotels situated in colder regions like Finland, Norway, or Iceland offer cross-country skiing, snowmobiling, and husky safari possibilities for visitors.  Click here to learn some useful tips about cross-country skiing for beginners.
Being Eco-Friendly
The incredible eco-friendliness of these domes is yet another advantage of deciding to spend a night in such accommodation. Although the units are situated in the heart of nature, they present no threat to the environment. The construction of the bubble units requires minimal use of concrete, wood, and energy in comparison with the process of building traditional hotel rooms. Consequently, there's literary no emission of CO2 in the course of the construction process.
Bubble hotels are considered to be environmentally friendly due to their ability to blend in the surroundings without disturbing the native flora or fauna. These domes cause no damage to the landscape neither during construction nor in the event of dismantlement. Also, the materials used in the creation are recyclable, thus enabling hotel owners to use them for the construction of other bubble domes in other corners of the globe.
Secluded Locations
Ultimately, perhaps the greatest benefit of staying in such a hotel is their secluded location, where guests aren't disturbed by tourists or guests of the same resort. Travelers can choose from the wide range of such domes, situated in cold regions, lush forests, sandy deserts, and stranded islands.
Moreover, each of these regions offers a variety of opportunities for exploration and enjoyment such as watching the magical Northern Lights as you fall asleep or witness the most colorful sunsets. The domes placed in deserts provide guests with camel rides and sandboarding adventures. Conversely, ice-cold locations enable visitors to enjoy ice fishing or reindeer safari. The following link, https://en.wikipedia.org/wiki/Ice_fishing, explains the required equipment for ice fishing.
Conclusion
Booking a single night in such a hotel is an experience of a lifetime!