Some shameless ways to eat free food while traveling
Did you know that loading up on the free table bread is not the only way for you to eat for free when traveling? With adequate resourcefulness, planning, and of course, some shamelessness, you can certainly grab a few open bites while on the go. Here are some tips for how to go about finding free food while traveling.
Go Freegan
Do you know what freegan culture is? Well, it started as a movement for people to load up on discarded food. Participants could engage in this for many reasons – it could be to reduce the waste or just as a means or measure to not participate in the current economy. However, the legality of Freegan culture or dumpster living is a bit blurry. It is so because most of the shops, restaurants, or bakeries that do throw out the food towards the day end, do it not because it's terrible, but solely because it is unsold and past the sell-by-date. However, they do it in a receptacle, which makes this their property only. In addition to this, there are certainly a few health and safety concerns associated with this culture as well. Karen, an employee, working with TFTH, says that though she doesn't find anything wrong with Freegan culture, there's usually a stigma attached to it for people who can afford their food but still opt for this option. Nonetheless, if you prefer this alternative, you can use the OLIO application, which will help you locate surpluses in your proximity.
Head out to an event
Diana, a TAE associate, says that every time she travels, she makes it a point to visit the local events and celebrations, as it is the best place to try out some local snacks for free. Some events where you can get some free small meals, such as opening events, conventions, and gallery open houses. You could also head to local food sellers, such as fromageries, grocery stores, chocolate shops, ice cream parlours, and other places where you can find some free samples of the products. You could also plan your event around 'holidays.' Some such holidays, including National Doughnut Day, National Cheesecake Day, National Ice Cream Day – trust us, this list is endless, and several eateries participate every year and offer freebies to customers. You can use Time Out, Eventbrite, etc. to look for some local events.
Opt for hotels, that offer complimentary breakfasts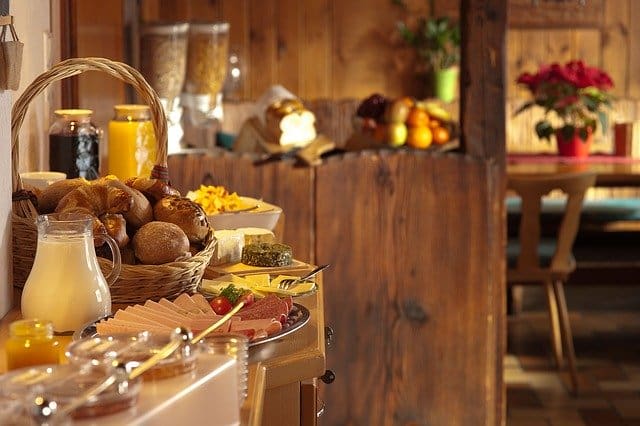 There are many hotel chains around the world, that offer you a complimentary breakfast for your overnight stay. Though these breakfasts wouldn't scream amazing, but they would be filling enough to keep you full through lunch which will leave you with some extra budget to splurge on dinner and lunch. You could opt for a stay in a bed and breakfast, as they are ideally the best alternatives when you are looking for a home-cooked, warm meal made using local ingredients. Natasha, an educator who works with TrumpLearning, says that she always prefers a protein-rich breakfast in her B&B as it is a great technique to stay full for a little longer. You could also stock up on the free continental breakfast alternatives, and carry along for a quick snack or a light midday meal.
Make full use of the hotel freebies
In addition to breakfast, there are a few hotels that offer you a multitude of useful freebies. You could either do your research beforehand or ask the reception for any additional freebies available. Hannah, an executive, employed with EduWorldUSA, says that she recently traveled to London, and stayed in the Draycott Hotel, which offers complimentary evening cookies and tea at 4:00 PM, Champagne at 6:00 PM, and hot chocolate at 9:30 PM, in addition to their honesty bar. It is not just one hotel. Several other hotels give you a lot of freebies. The cookies of DoubleTree Hotel are much more popular than their accommodation.
Moreover, hotels like the Woodmark Hotel in Kirkland or Hotel 41 in London have communal pantries available for late-night raids. They do have hefty overnight charges, but you can eat to get your money's worth. So, no more staying in hotels, which charge you $10 for room service packaged drinking water, rather opt for hotels, which have free minibars. Trust us, they do exist, and are just as brilliant.
Make good use of happy hours
Evening social, manager's reception, or wine hour, irrespective of how you brand it, many hotels are now stepping up their game with the happy hour. In the happy hours, besides the free alcohol, you'll also get some light bar snacks. One such hotel known for its fantastic and vivacious evening reception is the Embassy Suites. It includes both nonalcoholic and alcoholic drinks, along with some snacks for you to munch. The Wine hour of Kimpton is pretty similar, and the members of the Elite IHG Rewards Club program get to raid the bar privileges, which is a $10 credit for the purchases made at the bar or the in-room snacks. There are other reward programs by the hotels, which bag you free snacks at check-in, including extras like free Wi-Fi.