6 Reasons Croatia is Europe's Best Budget-Friendly Destination
Croatia has become one of the hottest destinations in Europe, especially in the summer months. With an impressive coastline of nearly 6,000 kilometers, there's no lack of stunning places to visit, and most are seriously affordable. Especially when compared to other popular vacation destinations in Europe.
And it's not just about the beaches – the country boasts gorgeous nature, a plethora of historical places and numerous exciting hiking trails that are just waiting to be explored.  Not convinced? Then check out our six reasons why Croatia is Europe's best budget-friendly destination, and you'll definitely believe us!
Stunning Beaches
Croatia is known for an abundance of idyllic beaches, and the vast majority of them are entirely free for tourists. What's even better is that the country's massive coastline features thousands of secluded coves where you can head to if you're seeking privacy.  And yes, those are also entirely free. We have to mention the Divna Bay on the Pelješac peninsula – it's one of the most idyllic places in this part of the country, and there's an autocamp just minutes away from the beach.
The Limuni beach is also worth a shoutout – situated on the southern end of the island of Mljet, the massive crescent-moon shaped beach is often deserted even in the midst of July.
Also, let's not forget about the country's best-known beach that's featured in pretty much every single advert about Croatia – the Golden Horn beach on the island of Brač. The unique sandy beach is certainly stunning, but it tends to be a bit too crowded for our liking. Especially during peak season.
Extraordinary Nature
Hikers and backpackers alike can have the time of their life in Croatia, and entirely free of charge for the most part. The best hiking trails are situated within the national parks that have an entrance fee, but there are lots of trails and mountains you can attempt to take on without spending a dime.
Paklenica National Park is home to some of Croatia's most demanding climbs and hiking trails, and it's the best place to head if you're up for a challenge. With some 200 kilometers of hiking trails within the national park, you can enjoy the wonders of Croatian nature for days.
And if you'd rather not spring for tickets, then it's best to head to Biokovo. It's the second highest mountain range in the country, with many different hiking trails to explore. Some are situated within a nature park, but the majority of trails are accessible to the general public without any fees.
Campgrounds And Private Accommodation
Hotels in Croatia are not always budget-friendly, but there are so many other alternatives that it barely makes sense to stay in a hotel. Croatia's economy largely depends on tourism, and there are thousands of private accommodation options throughout the country that are competing for tourists. Which means excellent prices.
Also, hosts in Croatia tend to be incredibly friendly and they will often go out of their way to make your stay as perfect as possible. More often than not they will treat you with free food and wine, and they'll always give you tips and the best and most affordable restaurants in the place where you're staying.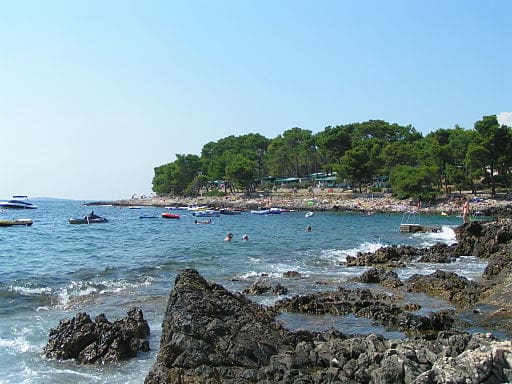 Wikimedia Commons by: Harassek
And if you find the private accommodations to be out of your price range, there are hundreds of campgrounds throughout the country that are extremely affordable. You can even find them outside expensive cities like Dubrovnik, and they're a perfect opportunity to explore the Hollywood appeal of Croatia on a budget. Just remember to bring a comfortable tent, as this will be your second home while you are here!
Off Season Is Cheap
Although it's possible to find affordable accommodation during peak season, off season is when you should plan your budget-friendly trip to Croatia. The prices of everything go down, from hotel rooms to museum tickets.
We're not saying plan your summer vacation in April – staying on a reasonable budget in Croatia is as simple as skipping the months of July and August. In addition to being the most expensive months for tourists in Croatia, July and August are also the busiest and the hottest.
So, if you prefer to avoid the large crowds and the unbearable heats, you will have a much better time in late June or early September.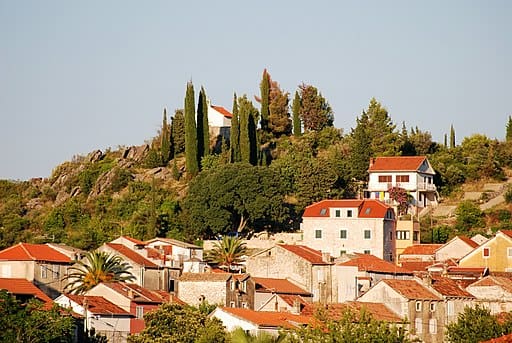 Wikimedia Commons by: Kris Sliver
One of the best examples for this is the charming town of Trpanj on the Pelješac peninsula. During peak season, the town is bustling with so many people it can be impossible to find an empty table in a cafe. But during the off season, the place is pretty much deserted, making it possible to have an entire beach to yourself.
Robinson Tourism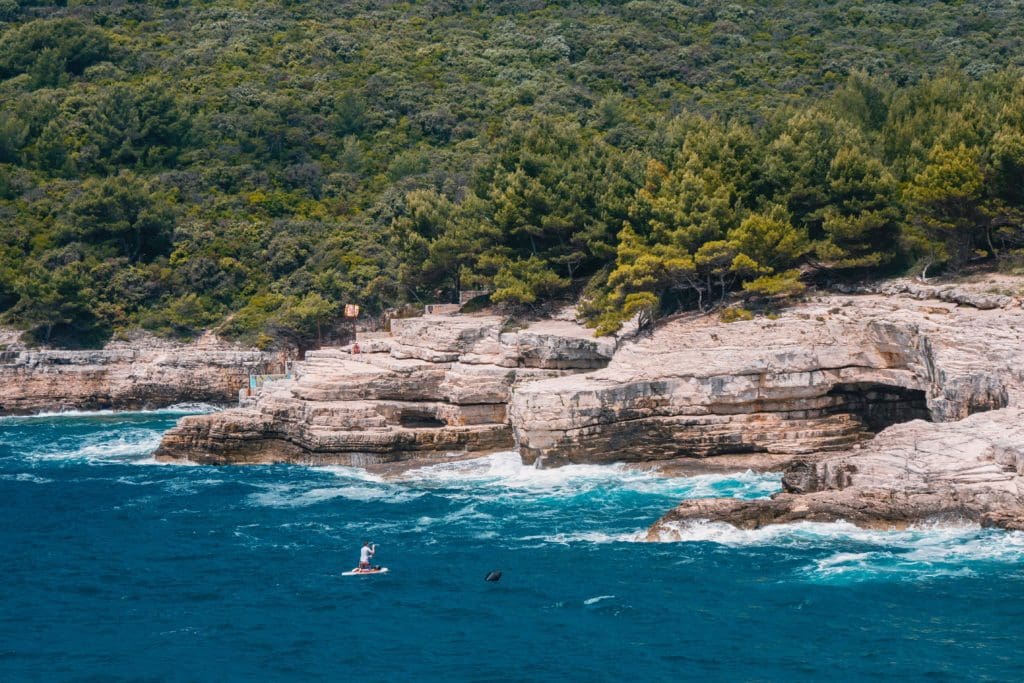 Robinson-style tourism has become increasingly popular in Croatia over the past few years, and it's an excellent way to enjoy your time in the country on a budget. It's a great way to explore Croatia's islands without spending a fortune, and it's absolutely perfect for people who crave privacy and solitude.
If you're attracted to the idea of spending your time in an off-the-grid home with only nature surrounding you, this might just be the best thing for you. But, bear in mind that these homes have limited access to water and power, so you will need to be very reasonable when it comes to resource consumption.
Although Robinsons-style houses tend to be more expensive than other types of private accommodation, staying in one is ultimately more budget-friendly. There won't be any restaurants or shops in your vicinity, which means you'll end up spending less money. And that also means come prepared – we recommend stopping at a large supermarket and stocking up on groceries and supplies for the length of your stay.
The Best Things Are Free
Some of the best things you can do in Croatia are entirely free of charge, and that fact alone is reason enough to consider it one of the best budget-friendly destinations in Europe. Whether you're looking to admire extraordinarily beautiful nature or visit historically important places, you can do so in this country – without spending a dime.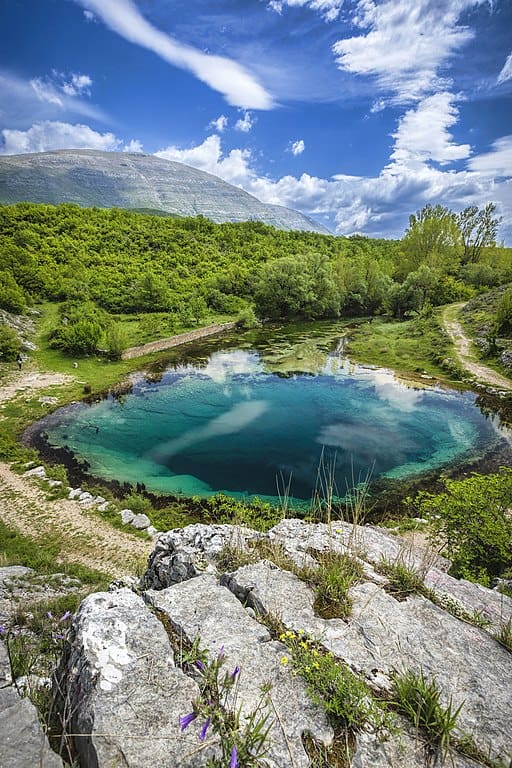 Head to the Cetina River Spring if you want to witness something of otherworldly beauty. The karst spring is at least 115 meters deep – it's impossible to know for sure, because that's as deep as the divers were able to go.
And let's not forget about the Diocletian's Palace in Split – a UNESCO world heritage site that takes your breath away simply because of its sheer size. Encompassing the majority of Split's Old Town, the remains of the palace are home to more museums, cafes, restaurants, and more than 200 buildings total.
******************************************
About The Author:  Anna was born to travel the world having studied languages all her life. Although she has traveled the world, she now calls Switzerland home and spends her time writing about her experiences on Expert World Travel. You can follow her on Facebook, Twitter and Pinterest.