10 Entertaining Ways to a Spend Long Airport Layover

Source:  Pixabay
Everyone tries to avoid long airport layovers, but sometimes when you are traveling long distances through many time zones, a lengthy gap between flights is inevitable.  If this happens to you, a bit of pre-planning can save you from spending long dreary hours sitting in uncomfortable chairs at airport gates just wishing you were somewhere else!  Here are our suggestions for fun and entertaining things to do around airports to make your next long airport layover fly by.
Find Interesting Things To Do in the Airport
With any luck, you will be spending your layover at a large modern airport that offers a variety of services for flyers.  Wander around the airport to stretch your legs and consider some of these activities:
1.  Have A Good Meal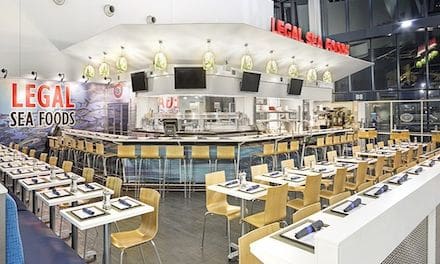 Source:  LegalSeafood.com
Most airports today have satellite restaurant locations for some of the most popular and famous restaurants in the area where you can experience some tasty local cuisine.  Just be cautious not to stuff yourself right before your next flight.  Find the airport directory and look for an interesting dining spot that is a walk away so you can get some exercise between flights – this can include venturing out to another terminal if you have the time.
2.  Get A Message, Facial, Manicure or Pedicure
Most airports today feature massage stations and beauty salons where you can spend an enjoyable hour or more being pampered with soothing treatments.
3.  Locate the Airport Gym and Showers or a Kid's Playgrounds

Yes, you can wander the airport for hours to get a bit of exercise, but it will be much more satisfying to have a real workout and take a refreshing shower.  Many airports have gym and shower facilities and offer amenity kits and towels, so this is a great way to spend a few hours between flights.  If you are traveling as a family, be sure to locate the indoor mini-playgrounds that are available at most large modern airports.
4.  Purchase a Day Pass to an Airport Lounge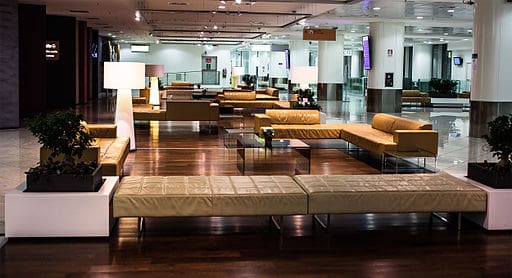 Wikimedia Commons by: Angelo DeSantis, Berkeley, US
Airline Airport Lounges are generally located in the International terminal of airports and are a haven of quiet luxury in the midst of the general airport hustle and bustle.  Most lounges offer a day rate that can be purchased for several hours of use.  If you carry a major credit card with travel benefits you may find that it may entitle you to a discounted lounge rate.  Airline Lounges usually offer comfortable padded seating, work areas, complimentary food, bar, free wifi, and many other amenities.
5.  Take A Tour of the Airport
Many airports offer guided tours of the inner-operations of the airport for free or at a small charge.  Research the availability in advance for the airport you will be spending time in.  Some airports offer self-guided tours, fun scavenger hunts, and guided tours that share the history and interesting facts about their facility.
Entertaining Things To Do Near The Airport
If you have 4+ hours between your flights, you should have enough time to go exploring off the airport property.  Airports are often located a short distance to large and interesting metropolitan cities, so take the opportunity to go exploring either by public transit or Uber.  A site like AroundAirports.com is invaluable for identifying interesting places nearby, as is the traveler's information desk at the airport.
6.  Visit a Nearby Park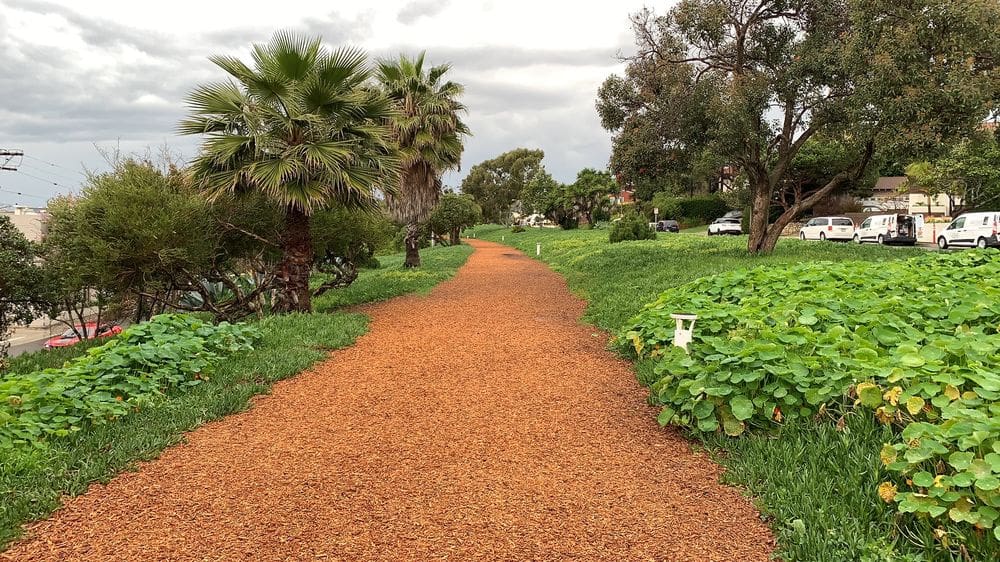 Source:  Pexels.com
There's nothing more refreshing after a long flight than going for a jog or nice long walk in a beautiful park.  Using the site, AroundAirports.com, we found that within two miles of LAX there are no less than 7 parks in nearby El Segundo.  Veterans Park, less than 2 miles away,  is a particularly good choice as it offers paths running from Manhattan Beach to Hermosas Beach, so you can get in some exercise and a walk on the beach as well.
7.  How About Some Retail Therapy?
Since you're likely near a major city, a shopping district or mall can't be too far away.  Instead of purchasing high priced airport tourist souvenirs, why not shop for a real destination memory.  In Boston, for instance, iconic Faneuil Hall Marketplace is only 1 1/2 miles away from Logan Airport.  Here you can instantly feel the history and personality of Boston while walking among trendy shops and great eateries.  Well worth the Uber ride to explore!
8.  Take A Local City Tour
Most major cities near airports have a variety of local tours available with some leaving right from the airport.  Your best bet is to contact the city Chamber of Commerce and/or Tourism Office to identify the local tour companies or stop by the airport traveler's assistance desk.  There will most likely be short walking tours or guided tours available focusing on local history and culinary interests.  Alternatively, you could engage a taxi or Uber driver to give you a locals' view of the city.  A number of large airports offer city tours that are free or very affordable.
9.  Book A Day-Rate At A Nearby Hotel
If you feel the need to stretch out, get a good nap, catch up with your TV shows and maybe take a shower, then phone a nearby hotel and request a day-rate or day-use hotel rate.  Usually, this rate will be considerably less than the overnight rate and is available from mid-morning to mid-afternoon.  I often call a 4 or 5-star property to stay at a fraction of the price a standard stay would be and take advantage of all their luxury amenities.  If you just need some sleep, check to see if the airport you are in has installed sleeping pods that can be rented by the hour.
10.  Get Organized For Your Arrival Home
Once you arrive home from your journey, life will come rushing at you and you may not find the time to reflect on your recent adventure.  Downtime in an airport is a great time to sort through and organize the photos you have taken during your trip.  Likewise, it's a perfect time to do some journaling and record your most favorite experiences and impressions of your journey.  Finally, when you're ready, inch your way into your day to day reality by opening your emails and reconnecting with family and friends in anticipation of your arrival home.