Travelling During COVID-19 – Vital Things to Carry With You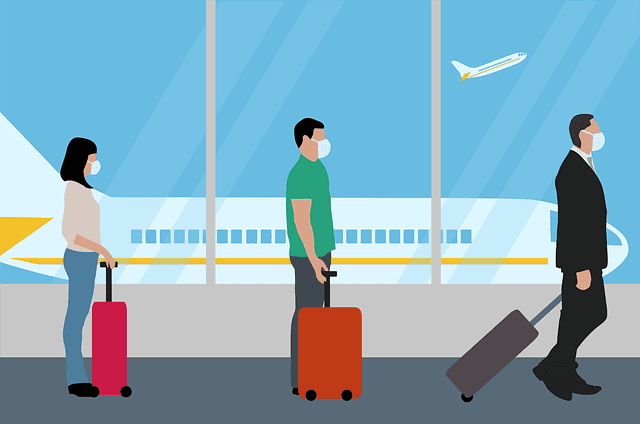 After months of dealing with the COVID-19 pandemic, many countries are finally permitting travel again with some necessary precautions. But that doesn't mean that travel is going to be the same as before. Everything now is unpredictable because there's still a significant risk of contracting the coronavirus if you are not careful. Here are essential travel tips for coming out of isolation and traveling to new destinations.  Read carefully.
Health Essentials:
Face Mask – Since the coronavirus spreads through respiratory droplets, it's recommended wearing a face mask.  Most airlines require you to wear a facemask when you board the plane.  You can carry a good number of surgical masks or a washable and reusable face mask. For extra protection, you can consider purchasing a copper face mask. Copper antiviral masks are known to destroy pathogens on the surface because of copper's antiviral and anti-bacterial properties.  But no matter what type of mask you prefer, be sure you have an ample supply.
Sanitizer – Carry as many bottles of alcohol-based sanitizers as you want if you're travelling by road. But if you're travelling by air, you will be allowed to carry roughly 355 ml or 12 ounces per passenger through a checkpoint. And since the quantity in these bottles is more than the standard 3.4 ounces or 100 ml, expect to spend some extra time for a separate screening of sanitizer bottles.
Disinfecting Wipes – Antibacterial wipes are very important since you run the risk of getting infected through contaminated surfaces, including elevator buttons, luggage carts, door handles, etc. Make sure you sanitize public surfaces before directly touching them. If you're travelling by air, you can carry jumbo-size wipe containers in both your carry-on and checked luggage.  Please be conscientious with the disposal of wipes so no one else needs to handle the wipe.
First Aid Kit – When travelling, your goal should be avoiding unnecessary stops and doctor visits. So, carry a first aid kit.  Consider stocking up on Vitamin C pills for immunity, digestion remedies, and other necessary pills for cold, stomach-aches, etc. Also carry wraps, bandages, anti-septic wound cleaners, etc. for emergencies.
Travel Thermometer – Carry a travel thermometer for temperature measurements in case you feel even slight discomfort.  This is the first question a healthcare worker will ask you – have you had a fever?
Clothing:
Extra Layers – Carry a bag of extra layers such as coats or light jackets that you can pull on immediately and if you're stepping out in a relatively crowded area where you may be jostled by other people.  Having layers means you won't have to travel the entire day in the same clothes that may have gotten the virus on them.
Skull Caps – Hair can get in your eyes. So, pack skull caps, or scarves to cover your hair completely.
Gloves – You wouldn't want to touch a contaminated surface accidentally. So, pack some disposable gloves.
Food: 
It's best to avoid eating at places you do not know anything about. Even the packaging of ready-to-eat food in stores may be contaminated. So, whenever possible, carry enough food supplies that can last the entire duration of your outing while you're on the road. Even when you're travelling by air, it is better to have your own food onboard that you're sure is completely safe.
Here are some foods that you can carry easily:
Chocolates and candies
Cookies
Crackers
Granola bars
Nuts
Fruits
Muffins
Juice and bottled water  (if convenient, carry a mini cooler), etc.
Other Essentials:
Ziplock Bags – Use ziplock bags to store trash, so you can avoid some stops to dump the trash. Moreover, you can also use ziplock bags to immediately pack away disposable gloves and masks after the use instead of waiting to find a garbage bin.
Cash – Using ATMs may not be safe in unfamiliar areas, so carry sufficient cash.  Whenever possible, pay by credit card since you will be the only one touching the card.  If someone asks to see you card or identification, hold it up to be seen, don't pass it over.
Pillow Covers and Sheets – If you're staying at a hotel, you can use your own pillow covers  extra peace of mind. Travel sheets can  also come in handy in a hotel or if you have to sit in a public space. Extra precautions never hurt.
In addition to packing smartly, keep a safe distance from everyone and everything unless it's absolutely necessary. Follow hygiene etiquette diligently throughout the trip.
Travelling during the pandemic can only be fun if you plan everything and make health and safety your priority. Stay safe and enjoy!
**************************************
About The Author:   Kunal is a passionate entrepreneur, fascinated by the workings of the human body and natural solutions for common health problems. He's single-minded in his aim to make Copper Clothing a brand that's recognized across the globe, by partnering with global brands to make these high-tech materials easily accessible for everyone.