A Day Hike to Rainbow Mountain Will Be an Adventure of a Lifetime!

History of Rainbow Mountain
Rainbow Mountain, also called the Vinicunca Mountain, or Winkikunka Mountain, is part of the Vilcanota Mountain Range in the Andes, Peru. Since its discovery, Rainbow Mountain has been growing in popularity every year. Its beauty makes it look like an artist carefully painted the different contrasting colors onto the mountain to appear like a rainbow. The colors are vibrant, ranging from reds, purples, greens, and yellows. The pictures you see online, even with the filters to enhance the colors, nearly match what you see with your own eyes. There are only two other places in the world where you can find a mountain like this, Argentina and China. The bright colors were formed from the minerals' exposure to the elements.  A hike to Rainbow Mountain will be an adventure you won't soon forget!
The history of Rainbow Mountain is relatively new. Until 2015, the mountains were covered by snow, hiding the popular colors that we know today. It is becoming increasingly popular for tourists because it is located close to Cusco, Peru. Cusco is the old Inca City where tourists stay before hiking Machu Pichu. Thousands of tourists that go to Machu Pichu every year now have another unique attraction to visit close by.
How to Get to Rainbow Mountain, Peru
Coming through Cusco, the Rainbow Mountains are very accessible. There are daily flights and buses from Lima. Though affordable and comfortable, buses may take up to 16 hours from Lima due to travel through the Andes. From Cusco, Rainbow Mountain is about a three-hour drive. You can book a tour guide online or find a tour guide company in Cusco. It's always recommended to plan ahead, but you can find a tour guide a day before. You can organize a private guide or go with a group of people. The guides will pick you up from your hotel early in the morning. Find a guide that arrives at the earliest time in the morning because there will be a lot of tourists. Most guides will stop for breakfast along the way to Rainbow Mountain. For about half the trip, the road will be smooth, and the other half will be very bumpy. You will be driving through some tiny villages, and the streets were not built for large tourist vehicles.
The Trail – What to Expect When Hiking to Rainbow Mountain?
The length and altitude gain may challenge you physically, depending on your physical shape or how well your body adapts to high altitude. Just imagine trying to summit a mountain in Colorado that is 14,000 feet tall, it's challenging. The Rainbow Mountains are similar, but 2,000 feet taller and harder! If you live in a city that is close to sea level, you will feel the altitude affects. You may experience some form of altitude sickness, so be sure to drink plenty of water and eat when you can. Before traveling to Rainbow Mountain, it's recommended to acclimate in Cusco for a couple of days. There is no rush to getting to the top, so take your time, and catch your breath. If you feel that you will not be able to make it to the top, you can pay for a horse or donkey to take you the majority of the way.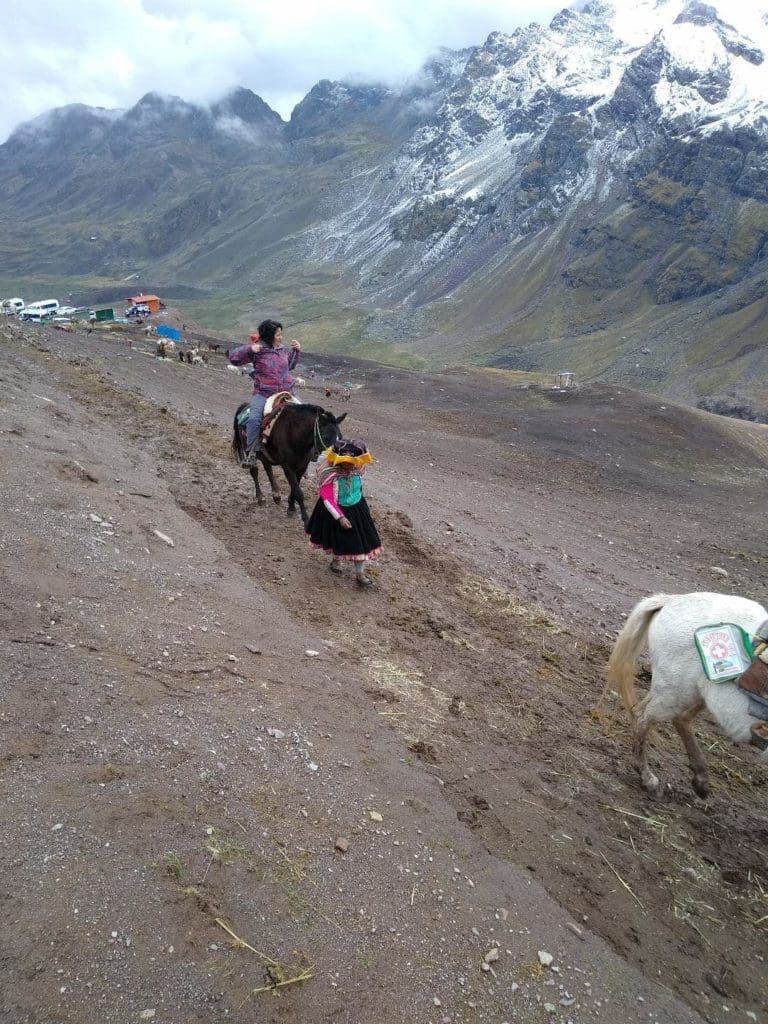 The round trip hike is 15 kilometers, which is about 9 miles. The trail used to be much longer, but they have shortened it, so more tourists have a chance to go. It's a beautiful hike that starts in the valley where you can see glaciers at the top of the mountains. The trail is well maintained and wide enough where you can walk side by side with someone. Some parts of the path may be muddy because of the train, so be careful if you hike with sandals. Halfway on the trail, there will be latrines that cost one sol to use. Some locals sell coca leaves, water, tea, and food at this point.
The beginning of the trail is relatively easy. There are no switchbacks, and the incline is low until you hike out of the valley and start heading up to the saddle of the rainbow mountain. The horse and donkeys do not go past this point. This is where you will undoubtedly begin to feel the altitude, and your heart rate will begin to increase. Here, there no switchbacks, but the trail is wide enough where you can make your own switchbacks by hiking sideways to help save your strength.
Once you arrive at the top of the saddle, you can start to see the colors that make up Rainbow Mountain. At this spot, there are more vendors and tourist attractions. You can have your passport stamped for a few soles that say you went to Rainbow Mountain. There are locals selling water or food like choclo con queso (corn on the cob with a side of cheese, it's highly recommended). You can take your picture with lamas that are dressed up. However, this is not the summit of Rainbow Mountain. Many people arrive at this location and do not continue to the summit because they think it's too hard to continue, or they don't know that they may continue. It might be difficult to hike the rest of the way, but it doesn't take that much longer, and it is worth the effort.
Winkikunka Mountain Summit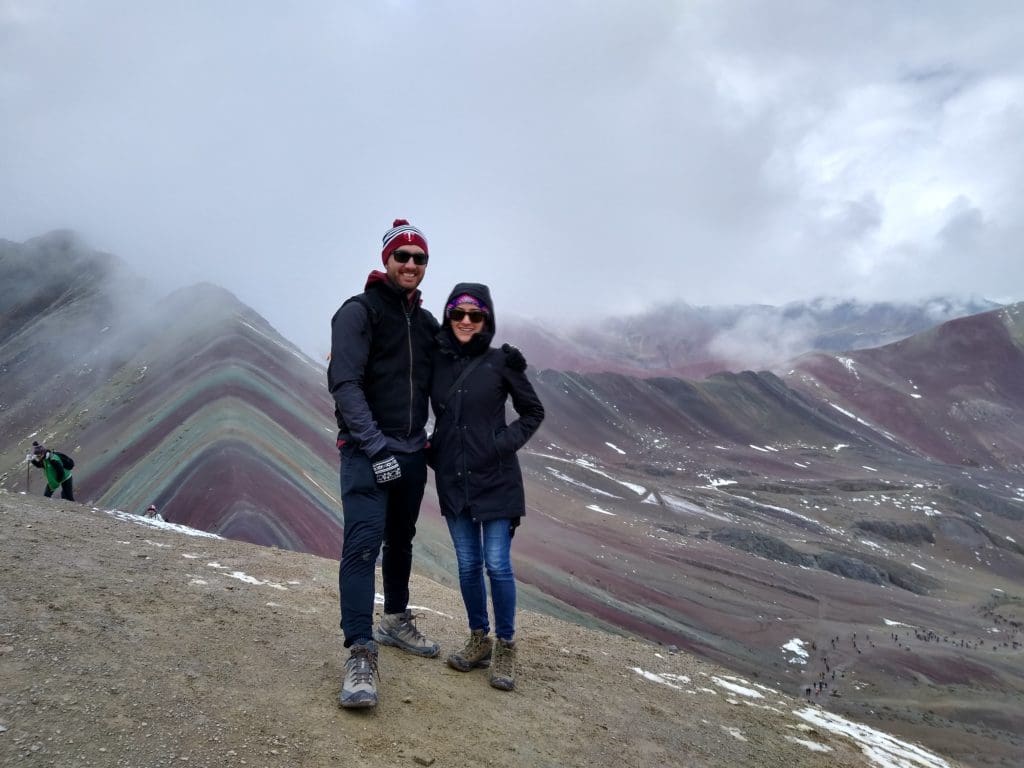 Once you reach the top of Winkikunka Mountain, you have a better advantage point to see all the colors and contrasts. The altitude at this point is 5,000 meters, which is 16,404 feet. The summit offers a magnificent view of the surrounding areas. You can see more glaciers and mountain ranges in the distance. You are so high that you might be looking down on clouds that are passing through the valley. Depending on the weather, it may be difficult to see the colors or the mountain because of the cloud cover. Don't worry, the clouds will pass, and you will be able to capture that photo.
********************************
About the Author:  James Lantz has traveled over 600,000 miles in the last five years. He is an outdoor enthusiast who is passionate about hiking, fishing, and biking. He runs the website, Trip to the Wild, which provides tips and tricks for any outdoor enthusiast, no matter if you are a beginner or experienced person.