Discover the charms of Bergen with these 9 Awesome Things To Do During Your Visit

Bergen has a long and illustrious history, with lots of wins. It was once the largest city in Scandinavia and was the capital of Norway for a very long time during what can be considered Norway's most influential epoch. Today, it remains the second-largest city in Norway. This country not only plays a significant economic role in the country but also a cultural one, is nestled between the fjords and the mountains. If you're planning to visit Bergen anytime soon, then here are 9 awesome things to see and do while you're in this magnificent city.
Floibanen and Floyen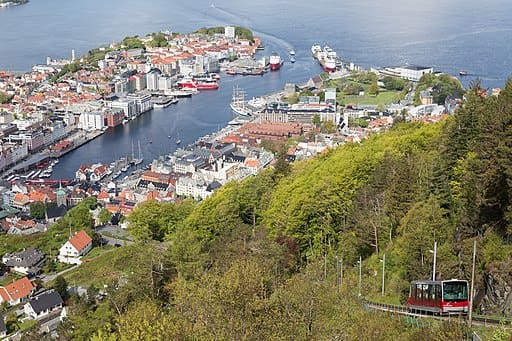 Wikimedia Commons by: JoachimKohlerBremen
Bergen is popularly known in Norway as the City of the Seven Mountains, and so it certainly makes sense to go out and visit one of those mountains. The easiest of these to access is the mountain of Floyen, which stands quite close to the city center. To get to Floyen, you can use Floibanen, the funicular that connects it to the city. In less than 10 minutes you should be right at the top of the mountain, where you can enjoy breathtaking views of the surrounding area, including the magnificent city below. Take the funicular back, or forego it in lieu of a walk down the mountain, or engage your wanderlust and go for a hike deeper into the mountains.
Bryggen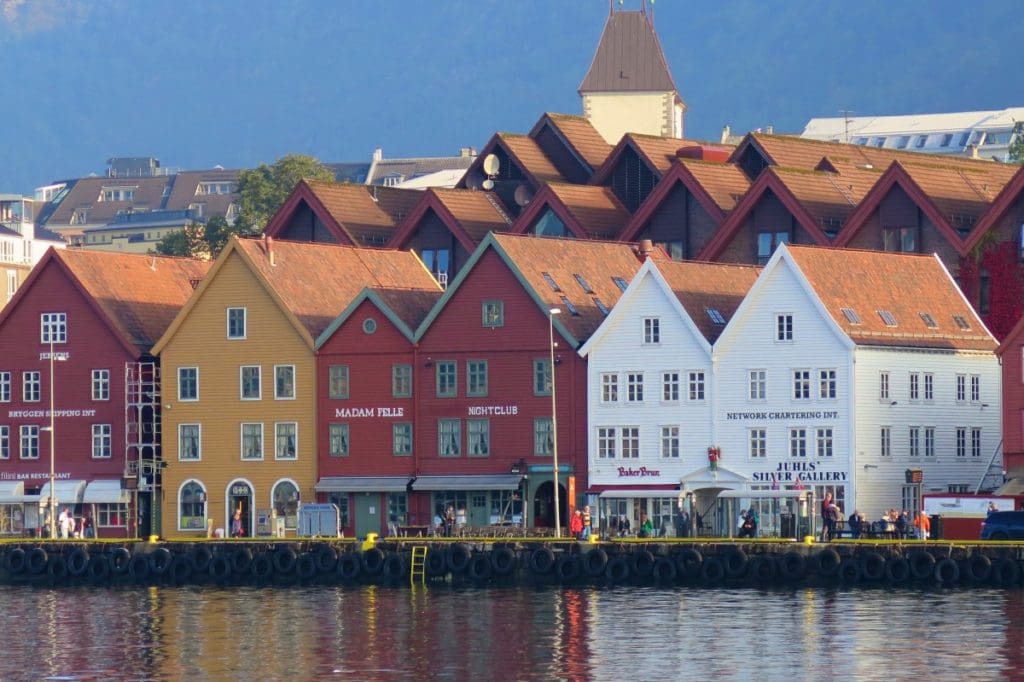 The most iconic site in Bergen is no doubt the Bryggen façade. Bryggen is a Hanseatic wharf dating back to the 14th century and reminiscent of the Hanseatic League that had its home in Bergen. It has always been a place of great significance, both economically and culturally. A fire razed it down in 1702, after which the picturesque wooden structures seen today were built. These later came to be so important to the cultural heritage of Bergen that they were named a World Heritage Site by UNESCO and many dissertations written about them. There is a small museum on the wharf, as well as restaurants, stores, and cafes, making this a vibrant melting point for both visitors and locals.
The Bergen Aquarium
The Bergen Aquarium is definitely a place you must visit while you're in the city. There are dozens and aquariums and tanks here, with incredible displays of many different species, ranging from seaweed to fish to sea lions, crocodiles, penguins, and monkeys. Live demonstrations are in plenty, as well as screenings and events that are sure to capture your imagination and make your visit worthwhile.
The Bergen Fish Market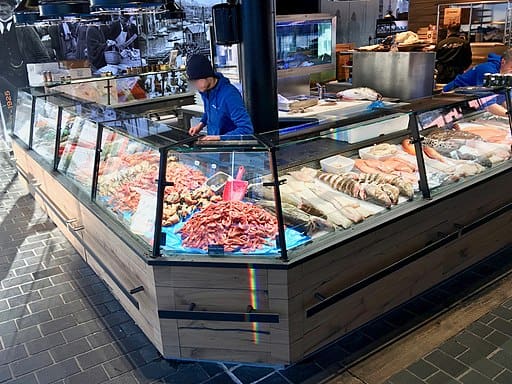 Wikimedia Common by: Wolfmann
Once you're done with the aquarium you should be excited to check out the Bergen fish market. Norway has quite an extensive coastline, with the sea industries contributing a significant amount to the economy of the country. Bergen happens to be the busiest seaport in Norway, and the fish market is pretty popular for those who want to buy some fresh seafood. It sits right in the middle of the city, with a vibrant atmosphere and a great and varied selection of sea delicacies. The fish market is quite popular, and you'll find just about everything there, from fish to groceries to handcrafted souvenirs to take back home with you.
KODE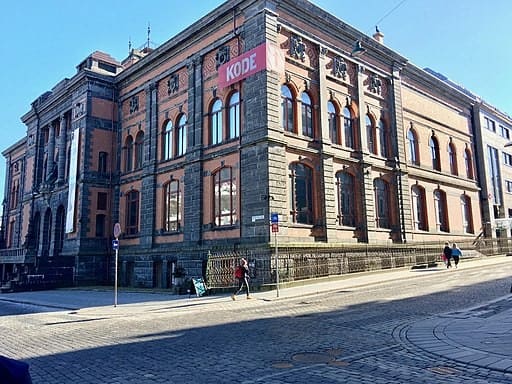 Wikimedia Common by: Wolfmann
KODE holds a reputation as one of the largest museums in the Nordic countries dedicated to music, art and design. It has a large collection of artists' homes as well as its own central buildings where displays of the works of contemporary artists are held. There are also permanent displays of works by great artists like Nikolai Astrup, JC Dahl, and others. If you're a great fan of art and want to get the full experience of what the Norwegian art scene has to offer, then you should definitely include KODE in your itinerary.
Troldhaugen
The Troldhaugen was Edvard Grieg's house. Edvard Grieg was one of the most famous composers in Norway in the 19th and 20th centuries and lived in this cozy home, which he built in 1885, with his wife. As a composer, he was one of the most prominent figures of the Romantic Movement and helped establish an identity for Norway, which was a newly formed nation back then.
Edvard Grieg's house is now a museum, where his life is documented through exhibitions. You can see them in the villa as well as the famous Composer's Hut, where the composer created some of his most popular works. Whether it's getting to see his personal piano, or listening to his music, you're certainly going to enjoy this trip.
Old Bergen Museum
Bergen has always been one of the largest cities in Europe, and for a long time it had mostly wooden buildings, exposing it to many great fires. It, therefore, had to change rapidly, adopting other kinds of building materials in the process. The Old Bergen Museum is an open-air museum that was built to preserve the memories of the old city before it changed. The streets are constructed in the old style with buildings on either side also constructed in the same old authentic style. This experience should help you get a feel for the beauty Old Bergen was, even as you appreciate the beauty New Bergen has become.
Fjord Cruise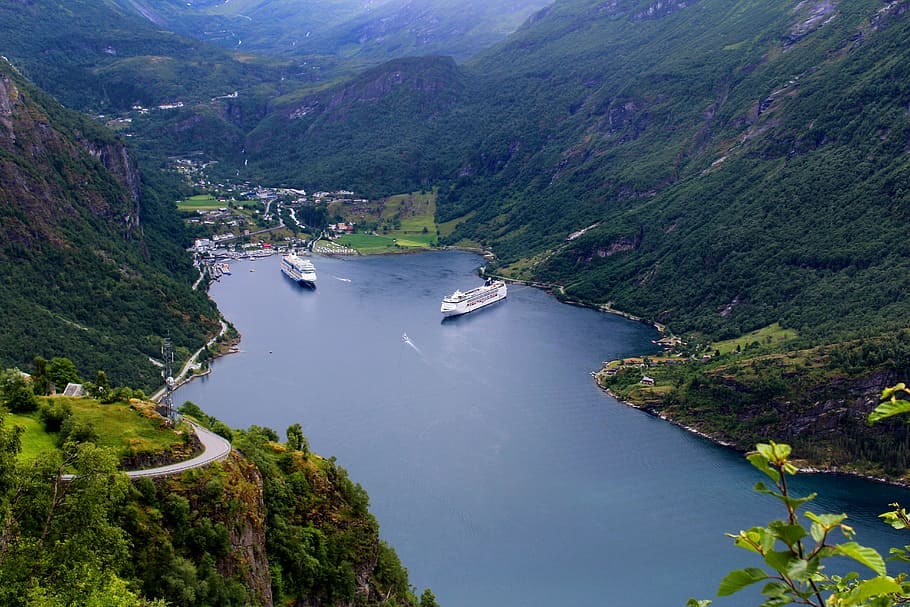 Bergen is intimately connected to the surrounding fjords, and so there are lots of cruise companies and their HR software ready to take you around to neighboring cities and towns on a picturesque cruise. Hurtigruten is one of the most popular of these cruises, starting at Bergen and traversing the Norwegian coast all the way to the north. There are also other trips that take you to neighbor fjords and even the smallest castle in Norway, Baronet Rosendal.
Fantoft Stave Church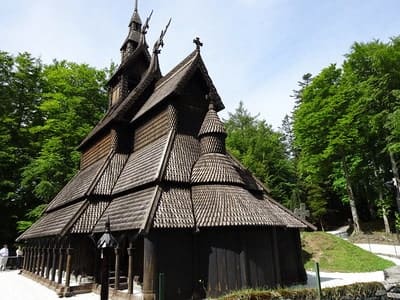 Flickr by: amanderson2
The stave churches are heavily ornamented and a proud expression of the national heritage of Norway. They range from the very simple to the very complex. The Fantoft Stave Church is one of these. It was built mid-12th century but was completely razed by a fire in 1992. It was then reconstructed, though in the same style that stave churches are famous for, making it a perfect example of Norwegian artistic and cultural heritage.
Conclusion
As you can see, there's plenty to see and do in Bergen, much of which will leave you with sweet memories when you go back home. These are some great places to start, but be sure there's plenty more to see in this beautiful country, much of which you will deeply appreciate.
***************************************
About The Author:  Kurt Walker has been working as an editor and essay writer at Masterpapers Review in London, offering assignment help for the paper service for 3 years. He is also a professional content writer and journalist in such topics as inspiration, productivity, education, and technology.