5 Best Destinations to Go Hiking in Switzerland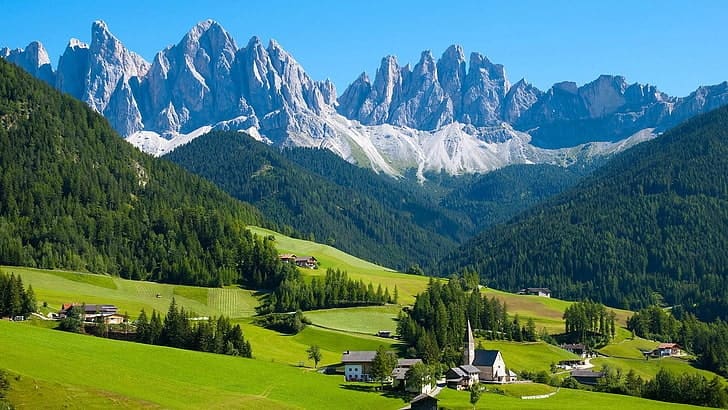 Switzerland is, for sure, one of the most popular travel destinations in Europe.  According to CEIC, last year, Switzerland was visited by almost 10 million travelers from around the globe, the majority of which came in July 2019.  Travelers choose Switzerland for its great museums, wonderful architecture, unique cuisine as well as its beautiful scenery and wonderful views of the Alps.  For many, these bucolic scenes became the inspiration that later turned into immortal pieces of art and literature such as Middle Earth in Tolkien's The Hobbit and The Lord of the Rings.  Alps. Hiking in Switzerland is one of the best experiences for travelers visiting this beautiful country.  

J.R.R. Tolkien arrived in Switzerland back in 1911, when he was 19, and, with a group of 11 people he visited some of the country's best hiking destinations. During his journey, he went through experiences that laid the foundation of the magical realm of Middle Earth.  So, let's retrace the journey and look at the hiking locations he visited in Switzerland to wake up an adventurer in you and inspire you to explore these hiking destinations.
Interlaken 
Location: Bernese Oberland, central Switzerland
Hotel prices: $156 a night in a 3-star hotel
Largest nearby airport: Bern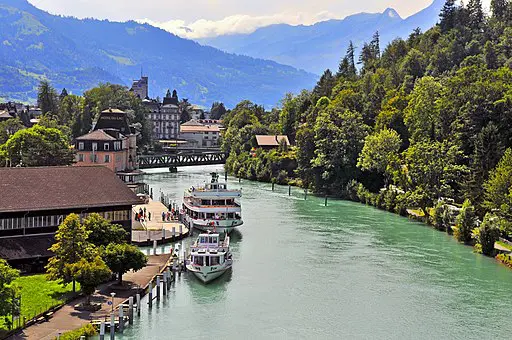 Interlaken is one of the most popular traditional resort towns in Switzerland, meaning that tourism and vacationing are the primary sources that feed Interlaken's economy.
The town is situated in the mountain valley around the lakes Thun and Brienz, and, up in the mountains, travelers will find a bunch of hiking trails through thick forests, picturesque meadows, and breathtaking glaciers.
Professor Tolkien visited this location during his trip to Switzerland. Interlaken inspired the Middle Earth's Rivendell – the magical realm of elves. Proof of this is St. Beatus Caves, located next to the lakes, a 10-minute drive from Interlaken.
St Beauts Caves are over 14 km (~9 miles) of tunnels and pathways with huge halls of stalactites and stalagmites, as well as untouched vegetation. Individual travelers, as well as groups, are allowed to stay in the caves for up to 75 minutes, taking photos of the beautiful underground scenery.
Zermatt
Location: Valais canton, southern Switzerland
Hotel prices: $181 a night in a 3-star hotel
Largest nearby airport: Geneva, Zurich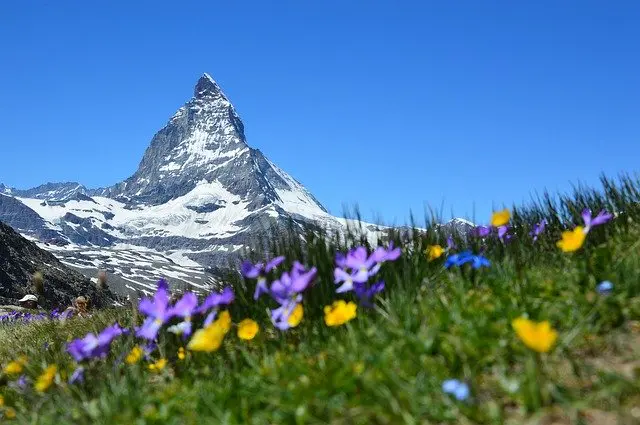 Besides hiking, Zermatt is popular for its skiing and climbing locations. All this thanks to a mountainous region, with dozens of mountain peaks, the queen of which is the Matterhorn peak – the pyramid-shaped mountain, which you may know from the packaging of your favorite Toblerone chocolate bar.
Tolkien traveled to Zermatt to stay in a hut nearby the Matterhorn mountain, the view of which inspired the Lonely Mountain, which you may have seen or read about in The Hobbit. 
Zermatt is a 400 km-long hiking and mountain-biking destination, equipped with modern facilities for hikers on all routes. There are also mule traders' routes that date back to the Middle Ages, which hikers also can explore while admiring the breathtaking scenery of the mountains.
Aletsch Glacier
Location: Valais canton, eastern Bernese Alps
Hotel prices: $222 a night in a 3-star hotel in a nearby town of Bettmaralp or Fiesch
Largest nearby airport: Geneva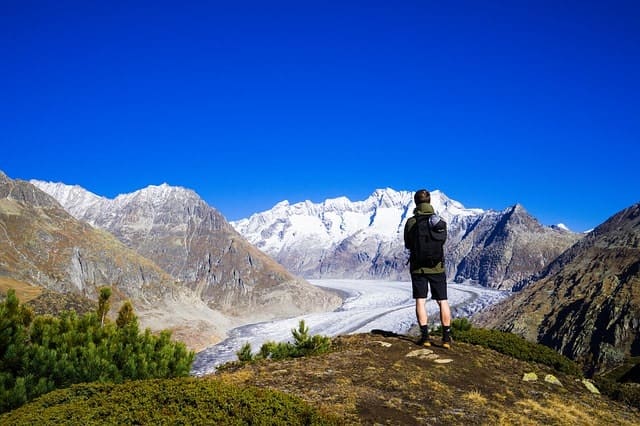 Aletsch is a perfect hiking destination for travelers, who want to admire the wintery view of the mountains. Aletsch Glacier is the biggest glacier in the Alps, covering about 82 m2 in the Bernese Alps.
Professor Tolkien visited the Aletsch Glacier, which nearly became the place of his death. During one of the hikes, Tolkien nearly fell into an underground cave in the mountains – the event that happened to Bilbo Baggins, when he was traveling with the dwarves to the Lonely Mountain.
Among other inspiring hiking destinations around the Aletsch Glacier is the Aletsch Wald, the forest that lies amongst little mounts, carved by the glacier. These forests are picturesque, albeit a bit eerie, with exciting wildlife and breathtaking hiking trails.
Lauterbrunnen Valley
Location: Bernese canton, Interlaken-Oberhasli administrative district
Hotel prices: $144 a night in a 3-star hotel
Largest nearby airport: Bern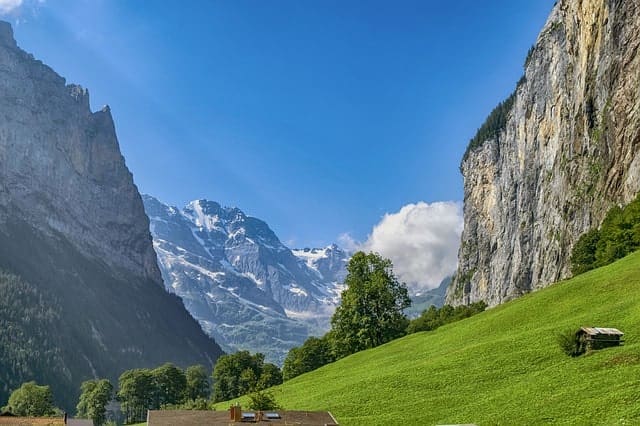 Another real-world inspiration for Tolkien's Rivendell, Lauterbrunnen is a village in the Swiss Alps. The name of the village can be translated as "Loud Waterfalls" due to an overwhelming amount of waterfalls cascading from high mountains surrounding the village.
Waterfalls, however, are not the only thing that travelers can admire at Lauterbrunnen. There are plenty of hiking trails, which go through secluded green valleys and large meadows. There are also tiny inns in the mountains, where you can take a rest and drink a cup of tea with a piece of Cremeschnitte, a traditional Swiss custard desert.
Lauterbrunnen is included in the list of unique conservation areas in Switzerland. This means that hikers should be careful during this journey, making sure they don't damage unique vegetation and wildlife.
Grindelwald
Location:  the Bernese Alps, near Jungfrau region
Hotel prices: $161 a night in a 3-star hotel
Largest nearby airport: Zurich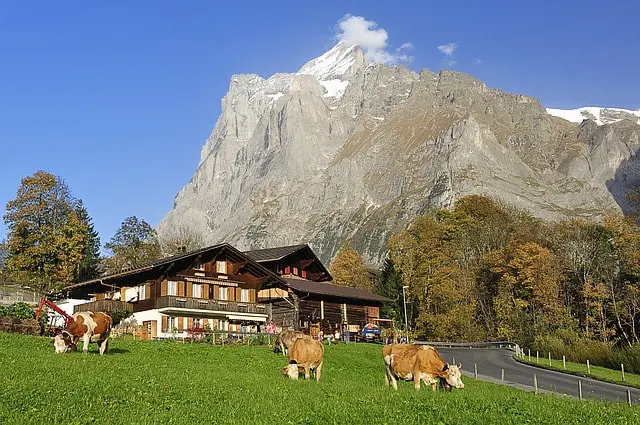 Grindelwald is a post-card perfect destination for travelers and hiking fans. After climbing up one of the mountains, surrounding the Grindelwald village, you can watch the most breathtaking sunsets and take the most Instagram-perfect pictures.
From the mountains, you can enjoy the view of the little villages situated on the green picturesque meadows. Mountain valleys are interspersed with frisky mountain streams and waterfalls – another location that became an inspiration of Tolkien's Rivendell.
Besides hiking, travelers can also enjoy several ski areas and mountain-biking facilities available near the village. And, if you feel like having a rest, the nearby inns offer travelers a true Switzerland experience, with an evening spent near the crackling fire over the tasty fondue dinner.
Take a Tour of Breathtaking Swiss Hiking Destinations!
Breathtaking is the right word to use here, as you just have to take a look at the photo of these destinations to be completely taken aback by the incredible beauty of the Swiss Alps.
Good news for all hiking fans – all these locations are equipped with the facilities necessary for your comfort and positive experience. Switzerland caters to all your needs, from active hiking experiences to relaxation and spa opportunities for the weary travelers.
And, for all our Tolkien admirers – you can visit the Greisinger Museum near Chur in Switzerland, where, apart from the scenery, you can check out a recreated Hobbit Hole from The Lord of the Rings and The Hobbit movies.
********************************
Author's bio. Daniela McVicker is a contributor to Topwritersreview. She is also an experienced writer with a degree in social psychology from Durham University. Daniela is primarily focused on writing about self-improvement. She has authored a number of insightful and motivating articles like "Making The Right Choices Every Day" and "7 Steps To Open Yourself To New Opportunities & Possibilities".