Top Surfing Destinations in Australia for the Best Waves
If you are a surfing enthusiast and plan to travel to the world's top spots with the best waves that the world has to offer, you should know that there are tons of impressive surfing destinations in Australia for your consideration.  Austalia is a mecca for the surfing culture with thousands of miles with pristine coastal beaches perfect for catching a wave.  This country is truly a surfer's paradise and any serious boarder should make a pilgrimage here to experience the top surfing beaches in Australia.  Here's where to find the top surf beaches in Australia.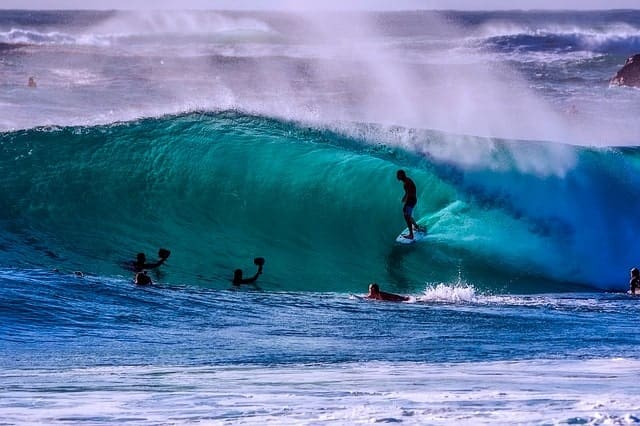 Whether you are planning to learn to surf, or you are a pro surfer, countless surf camps line the coastal beaches and cater to all levels. You can also experience a wide variety of wave sizes in Australia, depending on which part of the country you visit.
8 Top Surfing Destinations in Australia
With the country exposed to an expansive swell window, Australian beaches deliver waves in great consistency. Although there are peak seasons for surfing, you'll enjoy the experience of the surf in the country all-year-round.
To help you plan your next trip to the country, here are the top eight must-visit surfing destinations in Australia.
#1. Bondi Beach, Sydney (NSW)
Bondi Beach is one of the most popular beaches, not only in Australia but all over the world as well. It's also a famous surfing spot in the country for all types of surfers, from those wanting to learn the sport, the newbies, and professional surfers.  It's easy proximity to the city of Sydney makes it particularly popular with locals and visitors alike.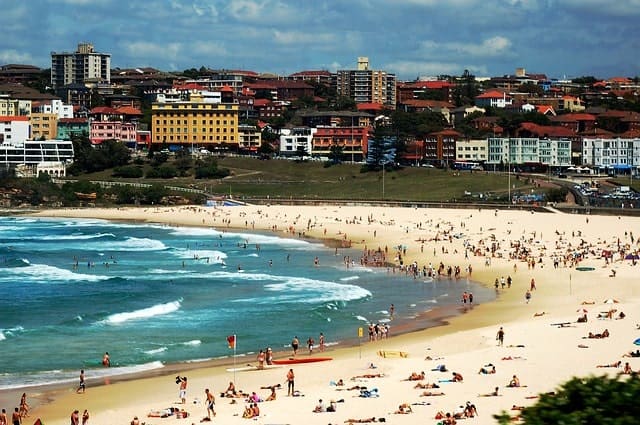 In the northern to the middle part of the beach, you'll usually see beginner surfers trying on much calmer waves. However, in the southern end of Bondi Beach, that is where expert surfers go to experience more powerful and challenging right-handers.
Bondi Beach, however, tends to get a bit crowded, especially on the weekends in the northern part of the beach.
#2. Aussie Pipe, Jervis Bay (NSW)
The southern part of Jervis Bay in New South Wales is home to Aussie Pipe, one Australia's best destinations for advanced surfers. It goes by various names such as Pipeline, Summercloud Bay, and Black Rock.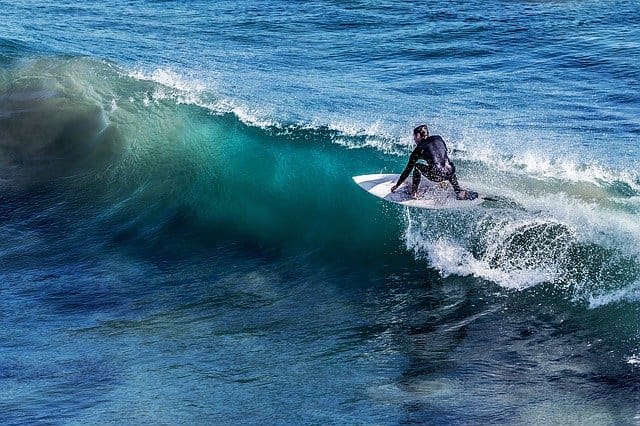 This is a must-visit location if you are looking for challenging waves. Aussie Pipe is known for being an epic spot where surfers can enjoy the most photogenic and hollow waves in the country. The left-hand breaks in Aussie Pipe are extremely powerful but super shallow at the same time. It is perfect for surfers who want short but intense rides.
However, there's a catch. The bottom of the water has tons of sea urchins, which is thrilling for some surfers. The best time to visit Aussie Pipe is during the winter season (June to August) when you can get southeasterly swells. However, you can also get consistent breaks during the summer (December to February), but the beach can get crowded this time of year.
#3. Bells Beach, Torquay (VIC)
There is nothing better when it comes to a surfing spot than the historical and spiritual home of surfing in the country, Bells Beach. It's the home of the Rip Curl Pro Surf and Music Festival, the most prestigious and oldest surfing event in Australia, which began in 1962.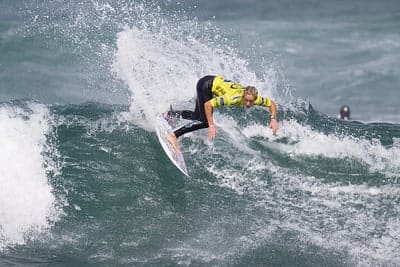 Flickr by:  SurfGlassy
A hundred kilometers from Melbourne, you'll find the shallow reefs and powerful waves in Bells Beach. It's one of the top surfing destinations in Australia for advanced surfers, a must-visit if you want challenging breaks.
#4. The Pass and The Wreck, Byron Bay (NSW)
Byron Bay, located at the easternmost edge of mainland Australia, was once a quiet fishing town. However, it has become an authentic coastal city lined with beach houses of the rich and famous over the years.  Behind the glitz, Byron Bay remains to be one of the top surfing destinations in Australia and all over the world. You can have your pick in the seven surf beaches in the area, but two of the most popular are The Pass and The Point.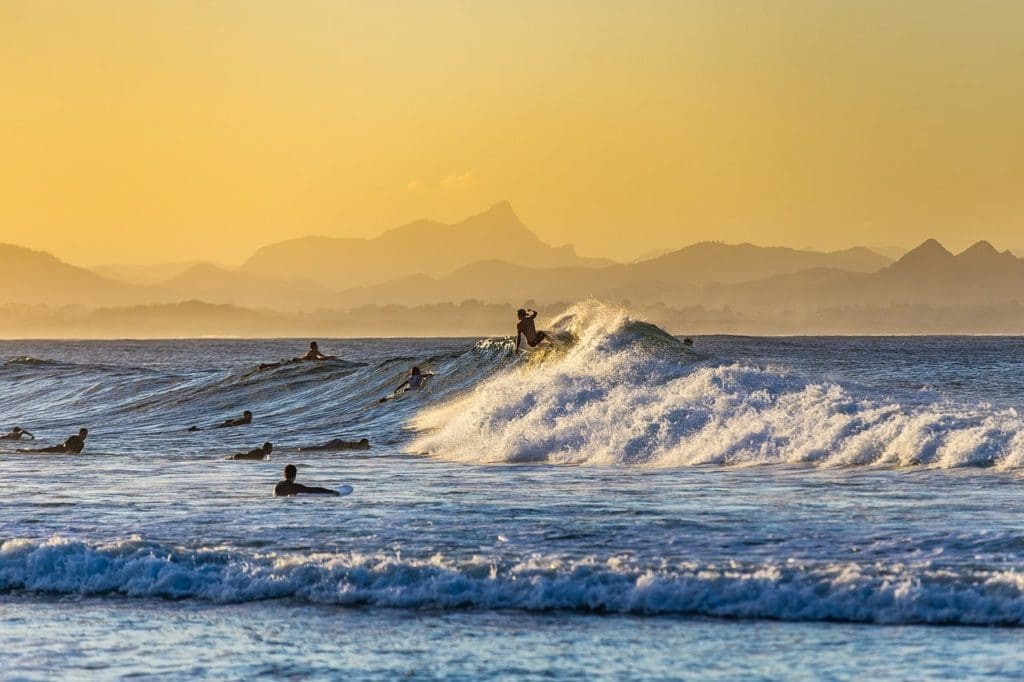 The Pass is on the northern edge of Byron Bay, which delivers long, fast, and hollow waves that are perfect for pro surfers.  If you are an experienced surfer, The Wreck is one of the top surfing destinations with its treacherous tides and rips just off the Main Beach.
#5. Northern Beaches, Sydney (NSW)
The coastline of northern Sydney spans around 20 kilometers, giving you tons of surfing destinations in Australia. Northern Beaches are also accessible through public transport, which is another reason why the beaches can get crowded most times. However, if you got further north, you'll see beaches with much thinner crowds.
Northern Beaches has some of the most popular and iconic surfing spots in the country. Manly, in particular, is among the most popular Australian surfing beaches. It's a great spot for learning how to surf with its different breaks to cater to all surfing levels.
Meanwhile, the Dee Why Point in Northern Beaches is a top choice for local hardcore surfers. It delivers sucking right-handers that can keep advanced riders on their toes.
One of the great surfing destinations in Australia at Northern Beaches is Long Reef Bombora, which is famous for big wave surfing. It has powerful and hollow breaks for long rides up to 300 meters.
#6. Angourie, Yamba (NSW)
In the northern part of New South Wales is the National Surfing Spot, Angourie, which is the first one in NSW and second in the country. It is the home break for the Australian surf legend Nat Young and is famous for its world-class waves.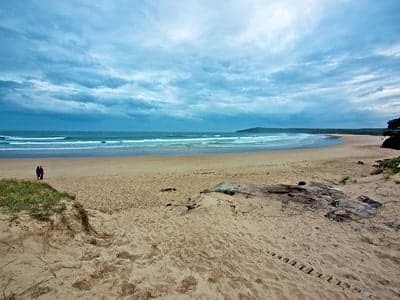 Flickr by: Angourie Accommodation
You can choose between two breaks in the area, the Angourie Left and Angourie Point. The first one is mostly reserved for advanced and pro surfers, while the latter has world-class waves suited to all surfing levels.
It's among the top surfing destinations in Australia for great and consistent waves all-year-round, especially the Angourie Point, although it tends to get crowded on weekends.
#7. Main Break, Margaret River (WA)
There are a lot of things that Margaret River is famous for, such as its vineyards, whale-watching spots, and bushwalks. Aside from that, Margaret River is a popular surfing scene in Australia. It boasts more than 75 surf spots known for their dangerous and treacherous waves. Although there are a few breaks for beginners, most of the surfers you will see in the area are those who are thrill-seekers.
One of the most iconic and famous surfing spots in Margaret River is Main Break. It is a home of the most consistent waves in the country, which can shoot to as much as six meters over a traitorous reef. If you want the most challenging surfing destinations in Australia, Main Break is a must-visit, although it's not for the faint of heart. It is also one of the very few surfing hubs in the country where you can find pro surfers donning helmets, and no one is making fun of them.
Margaret Rivers works very well when there are westerly swells, which usually come between September and April.
#8. Noosa Heads, Sunshine Coast (QLD)
In the north of Brisbane on Sunshine Coast is another one of the best surfing spots in Australia. Noosa Heads is known for being the country's beginner surfer's paradise.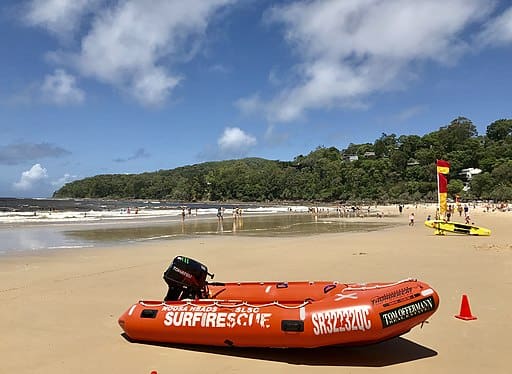 Wikimedia Commons by: Kgbo
If you enjoy longboard surfing, Noosa Heads delivers some of the smallest swells, which is excellent for longboarding and surfing newbies. Even with the big waves from time to time, they are never too harsh.
Noosa Heads will be a good surfing spot for expert surfers who want a relaxing time on the water or looking to better their techniques. You can get some of the smaller yet longer waves in here, which can go as much as 200 meters.
As home to the world's surfing culture, there are tons of surfing destinations in Australia if you are looking for world-class waves ranging from small and calm swells to challenging breaks over treacherous reefs.
*********************************************
About the Author: Derek is an avid surfer living in Southern California and likes to spend his free time biking along the Pacific Coast Highway and reading up on the latest outdoor magazines. He is also a frequent contributor to Surf Hungry.