Locals Share 5 Hidden Gems of Ho Chi Minh City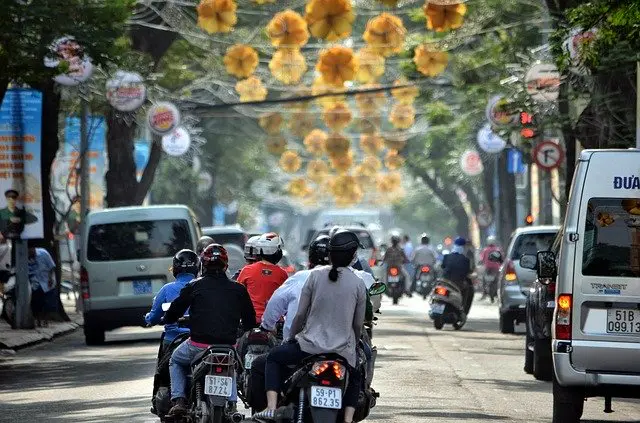 Ho Chi Minh city, the largest and most chaotic city in southern Vietnam, is sure to be an amazing destination to go on a future vacation. For any first-time visitors, there is a lot to explore as the city is a treasure trove of experiences. To those who have spent numerous occasions here, Ho Chi Minh is no less intriguing. If you have ticked off the main attractions, the city still offers some amazing hidden gems for you to discover. I have created an exciting list of the less-touristy but awesome places including 5 hidden gems in Ho Chi Minh city. Let's find out what they are!
Binh Quoi Tourist Village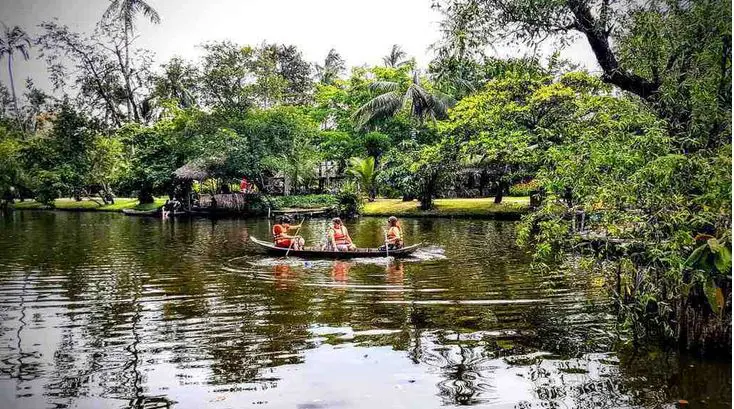 In spite of having the word "tourist village" in its name, this place is less known by Western tourists. The majority of visitors to Binh Quoi is Vietnamese locals who are big fans of the national traditional values.
Just 8 km from the city centre, this laidback rural-looking village will make you feel like entering a new world with small cottages, fish ponds shaded by the water coconut palm gardens, and beautiful stretches of green grasslands. Binh Quoi Village is divided into 3 areas, numbered 1, 2, and 3. Binh Quoi 1 is for plenty of activities, Binh Quoi 2 is a must-try spot for sports lovers, and Binh Quoi 3 with a rustic space will be an ideal stop-off for enjoying a meal or just a drink by the river.
Location: 1147 Binh Quoi, Binh Thanh district, Ho Chi Minh city, Vietnam
The Floating Temple (Mieu Noi or Phu Chau)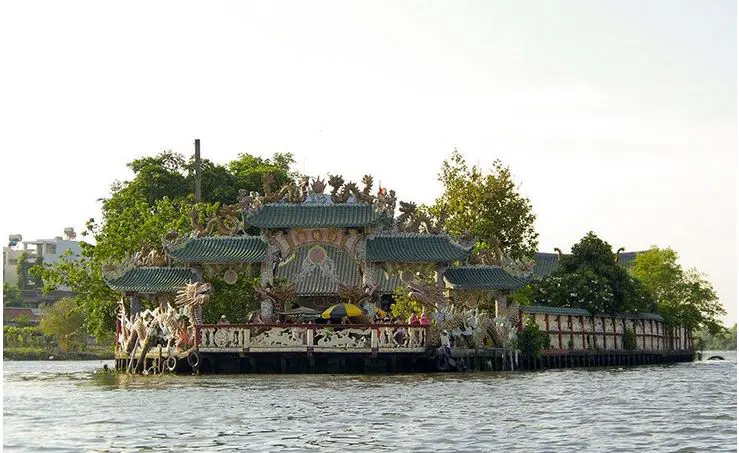 Religion plays an important part in daily life of Vietnamese people, with more than 12% of the population are Buddhism worshippers.
Phu Chau temple was built to serve the spiritual needs of those in District 5, Ho Chi Minh City. As its name suggests, you will find the temple afloat on the water surface. Ferry is the only way to get into this only floating temple in Saigon. Coming here, you will have a chance to admire its amazing natural landscape and unique piece of architecture.
There are also hundreds of sophisticated carved sculptures and statues. Less known by the tourists, you can have more spaces to explore this 300-year-old temple and snap some beautiful photos. The ideal time to visit Phu Chau floating temple would be the 1st and 15th day of lunar month when travellers can meet a lot of Vietnamese people coming to pray for luck, health, money, and happiness. It sounds cool, doesn't it?
Location: Vam Thuat River, Ward 5, Go Vap district, Ho Chi Minh city, Vietnam
Thanh An Island
For nature explorers, Thanh An Island is a must-visit place in Ho Chi Minh city. This hidden gem covers an area of more than 130 square kms. Taking a 3-hour ride from the city center, you will see this relatively peaceful attraction without so many tourists.
Its natural beauty remains untouched with long stretches of fine sands. However, it would be a little challenging for you to find a hotel on this island without researching in advance.
Most travellers choose to have a day-camp here to fully enjoy the island. If you are a foodaholic, this hidden gem is truly a paradise as it offers fresh and delicious seafood at a reasonable price. Besides, the kind-hearted people living here by fishing and salt-making will definitely make your trip more than a scenic one.
Location: Can Gio District, Ho Chi Minh city, Vietnam
Mockingbird Cafe 
Have you ever heard about Vietnamese coffee? It is the pride of Vietnamese people with various kinds of delicious coffee, from iced coffee, yogurt coffee, egg coffee,…to drip coffee. If you want to take an insight into the coffee culture of Vietnam, there is nowhere else than Mockingbird Cafe – a hidden coffee shop in Ho Chi Minh city.
Setting in the colonial apartment block, the cafe offers a great view over the busiest streets of the city. Stepping inside, most customers are amazed by arts prints and chalk murals on the walls. Here, you can try black coffee, coffee with condensed milk, coffee with rum, or coffee with ice-cream. The price for one of these wonderful coffee cups is only from VND 20.000 to VND 55.000 (~1-3 USD). So, don't miss your chance sitting at its balcony, enjoying coffee and taking gorgeous pictures of Saigon streets from this vintage cafe.
Location: 4th floor, Old Apartment Building, 14 Ton That Dam street, District 1, Ho Chi Minh city, Vietnam
Golden Dragon Water Puppet Theatre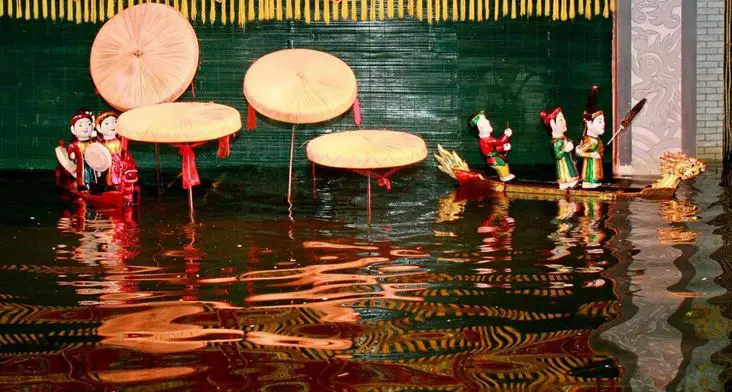 Water Puppet Shows are one of the Vietnamese cultural and traditional draws for many travellers to Ho Chi Minh city. Wondering what it is like? Just head to the Golden Dragon Water Puppet Theatre where you can enjoy amazing performances by the most talented puppeteers.
Having won countless awards across the world, this art form mainly uses movements of the puppets on the stage of water to tell the story about Vietnamese villages and daily life of local people. Vietnamese traditional music which is played on authentic instruments like tambourines, bamboo tocsins, etc. brings magical feelings to the story. There are only 2 shows/day in the Golden Dragon Water Puppet Theatre with limited seats. Therefore, we highly recommend buying the tickets for your favorite performances in advance.
Location: 55B Nguyen Thi Minh Khai street, Ben Thanh ward, District 1, Ho Chi Minh city, Vietnam.
Forget the usual haunts of Cu Chi Tunnels and Bui Vien street, you should dig out hidden gems that usual tourists in Saigon probably wouldn't know about to feel a different side of Saigon. These back-alleys that only locals know will make you feel like you are discovering Saigon again for the first time.
***********************************************
About The Author:  Hi! It's Jane. I have spent more than 10 years travelling around the world. Writing about the places I've set my foot on is my major passion. By doing this, I wish to share my journey with the most useful and honest travel guides and tips to every traveller. Now, you can find my articles at Vietnamdiscovery.com!