Traveling with Friends? Chartering A Private Jet Is Not As Expensive As You May Think.  Here are our private jet chartering how-to tips.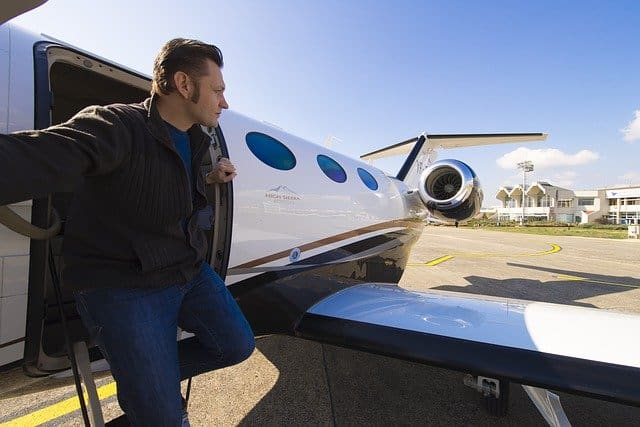 Whether you and your friends are flying to sunny Miami, going to New York on business, or off to bask in the rich cultures of Europe, there's no better way to travel the world than by private jet! In the current days of uncertainty in the airline industry, it may be time to give private jet travel a look.  And before you say, "Uhm, we can't afford that!" Let us tell you this: flying private isn't as expensive as you think.  Here are our how-to tips for chartering a private jet for your next business trip or group getaway.
Nowadays, private jet flights are no longer exclusive to the rich and the elites. Though renting a private jet plane can still run to a couple of thousand dollars – maybe more, if you choose to fly on a larger aircraft, it's overall nowhere near as expensive as it used to be.
With more competition than ever, private jet charter companies have begun offering discounted fees and last-minute deals to passengers. Some of them may even calculate rental costs based on the mileage you will be flying. And if you know where and how to look, you might just score a private flight for almost the same price as a first-class seat in a commercial airline.
How to Save Money on Chartered Flights
It's normal to compare prices when booking flights on commercial airlines; you should, too, when chartering planes. Private jet charters have become more accessible in recent years, and unlike before, when you still need brokers to book private aircraft, you can now easily compare charter prices online or through apps.
Although flying private has become more affordable than ever, chartering a private jet at the standard rate can still be too hefty. Luckily, you and your friends can still travel in luxury without hurting your vacation budget.
Empty-Leg Flights, Anyone?
Chartered jets often have empty legs or backhaul flights. This happens when clients charter a plane for a one-way journey, but the jet has to fly back to base without passengers. In such cases, it's common for operators to offer the plane for charter at a massively discounted rate, instead of having to fly back empty.
The thing with empty leg flight, however, is that they're mostly offered at the last minute. Also, you've got a higher chance of finding backhaul flights at a bargain if you're flying to and from bigger cities – say, for example, Houston, LA, or New York.
More frequently-traveled cities are likely to have a couple of empty legs flying between them every week. If your schedule is quite flexible, you should be able to book a backhaul flight around your desired travel dates at 50-70% less than the usual cost.
Idle Planes in the Area.
There are times when clients charter a jet from point A to point B, and then makes the plane wait at point B for a few days before flying back home to point A. During the plane's "idle time," the operator may allow you to charter it, usually for short-distance flights.
If you can find an idle jet waiting for its next trip around your current location, see if you can fill in the free time and squeeze in a charter. Because the downtime on idle flights is more or less already paid for by the main client, you may be able to rent it at a much lower rate.
The More, the Cheaper!
Chartering a jet will cost you the same, whether you're flying alone or with a group. If there's already six of you traveling together, then great! You can divide the total among yourselves, and it would – more or less – set you back just a little bit more than a first-class ticket.
If there's just two or three of you flying together, though, expect to pay more per head. However, if you don't mind sharing the flight with other people or if you know another circle of friends flying to the same destination as you, why not group up? You can all fly in style and comfort, and on a bargain at that!
Do Away with the Frills.
You may argue that flying private is all about being extra, but some private jet charter companies also offer a no-frills option. Ask yourselves, "Do we really need in-flight catering? Can we survive a two-hour flight without champagne?"
If your main goal is getting to your destination in the most convenient yet affordable way possible, consider opting out of the VIP services to cut costs. Also, you may want to consider taking a smaller jet, especially for short-distance flights. Bigger may be better, but not on the pocket – as far as private jets are concerned, at least!
Taking a Vacation Soon? Charter a Jet!
Many people view private jet travel as frivolous and over-the-top. But when you come to think of it, there's more to chartered flights than meets the eye.  Yes, it's style and luxury. But it's also about traveling in comfort and convenience, so you can make the most and truly enjoy your holiday.
Getting to your dream destination on a private jet is hands down the best way to start a trip. Imagine this: No busy airports, no long queues, no dragging your luggage for miles, and no delayed flights! You can even show up 15 minutes late, just because you can!
*******************************************
About The Author:  Melissa Hull is the Content Marketing Strategist for Aviation Charters, a West Trenton, New Jersey-based private aviation company that provides on-demand aircraft charter, aircraft management, and aircraft acquisition services. Aside from her passion in writing, she loves to travel and read espionage books.