A Guide To Cycling In Amsterdam: All Tips You Need To Know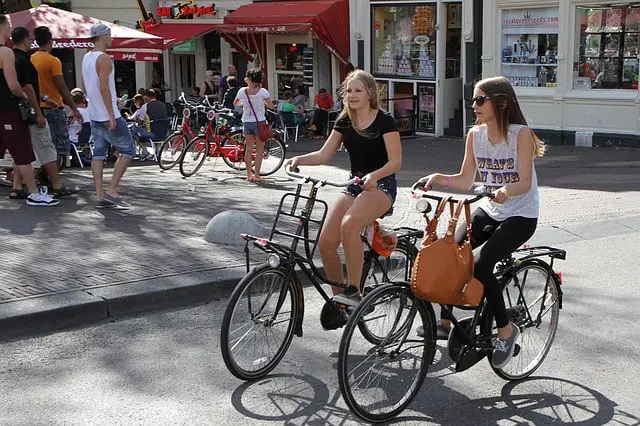 It's not a secret at all that the most popular way to travel in Amsterdam is by bicycle. Just imagine, you can cycle as many as 35 thousand kilometers on specialized tracks. And the cost of bike rental is extremely affordable, which allows everyone to feel the cycling culture and see all the sights of Amsterdam in full glory.
If you have the opportunity to visit Amsterdam, then it will be a real crime not to ride a "steel horse" and blend in with the local flavor. Here you will find a complete guide to cycling in Amsterdam and discover what you need in order to rent a bike and some tips you should not pass by. Ready? Let's start.
How and Where to Rent a Bicycle
Finding a place where you can rent a bike is absolutely no problem! Such companies offer various types of bicycles, whether classic, children's or even electric.
By the way, almost all locals do not use helmets, but nevertheless, you can rent this equipment. In addition to the bike, you will be provided with 2 locks so you can leave your bike on the street safely.
In order to get a lease, you will need an identity document and a security deposit of 50 euros. Do not worry, your document is needed so that a copy is taken from it.
Here are the top companies that you should pay attention to. They are in great demand not only among tourists but also for local residents. Consider the daily rental cost, иге remember that you can rent a bicycle for an hour.
P.S. Please note that prices are subject to change, but nevertheless they remain within similar limits. And in order to find out the location of each rental point, you can go to the official websites of the company.
Important Tips You Should Remember
Now, when you know what you need to rent a bike, let's look at some points that you definitely need to remember if you will be traveling around the Dutch city.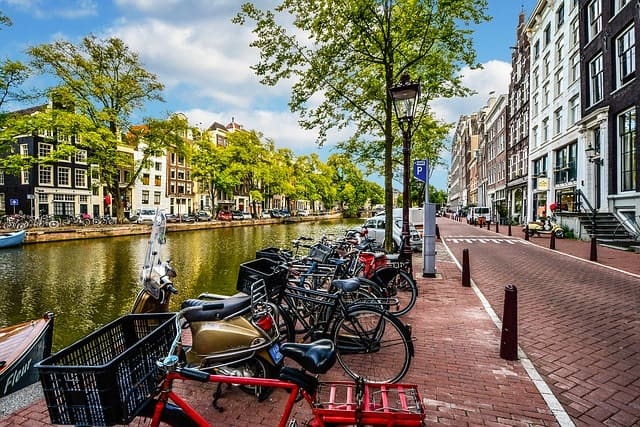 Pay attention to your bike choice. Most models do not provide for the presence of brakes on the steering wheel, but by braking in the opposite direction with the pedals. Therefore, consider this nuance if you have never ridden a bicycle with such brakes before.
Never leave a bicycle without a lock. Even if you leave it next to the coffee shop for just a few minutes. Locking your bike takes just a minute and eliminates the risk of theft.
Follow the rules of the road. You will most likely notice that not all Dutch people follow them, but this does not mean that you should do the same. When turning, do not forget to indicate the direction of movement by raising your hands. Be careful, as police may levy fines for traffic violations.
What do the white triangles mean? Surely you will meet such a sign during a bike ride. They mean that you need to make a stop or give way. How to figure out what this sign refers to you? If it points to you, then you need to perform the above steps. Otherwise, there is a risk of facing fines from a policeman.
Do not ride in pedestrian areas. You will immediately understand where they are. Since they will be indicated by blue signs. Usually, these designations are found in parks and on narrow paths.
You can get an audio guide with which you can save on excursions and enjoy not only cycling but also local sights.
The Final Thoughts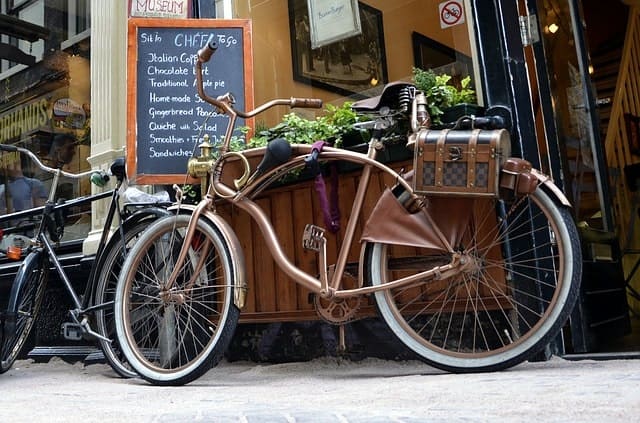 Of course, you can enjoy the local beauties through a walk or get to your destinations by public transport. But is there a reason of doing this when you have the opportunity to experience all the local beauty by bike?
Do not lose the real chance to feel like a native of Amsterdam and experience the local flavor. Just follow our guide to cycling in Amsterdam and make your travel never-to-be-forgotten!
*******************************************
About The Author:   Frank Hamilton has been working as a translator at translation service TheWordPoint. He is a professional writing expert in such topics as blogging, digital marketing and self-education. He also loves traveling and speaks Spanish, French, German and English.