Spring Is The Ideal Season to Visit New Orleans – Here are a Dozen Festive Reasons To Visit Soon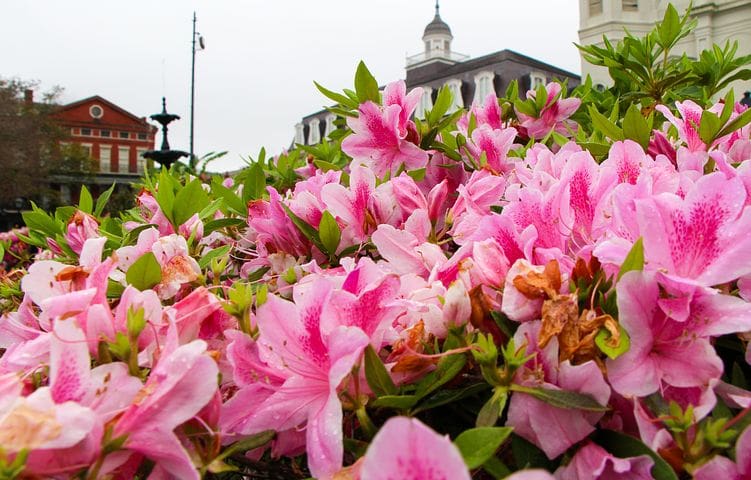 Source:  Pixabay.com
Now that Mardi Gras festivities are winding down, one thing is quite clear… the city of New Orleans is not ready to let the festival atmosphere fade away.  Now is the ideal time to visit New Orleans, before the hot-humid weather of summer descends.  Sightseeing during the day is delightful and an evening stroll through the French Quarter with music guiding your way is downright magical.  Spring is both a lively and beautiful time to visit New Orleans and the city is alive with festivals.  So take advantage of the great airfares this year, and find a great centrally located New Orleans hotel.  I've partnered with our friends at Hotels.com to bring you a look at 12 wonderful spring festivals taking place in New Orleans, Louisiana, this spring.
Wine and Food Festival (3/18-22)
This annual 4-day long culinary extravaganza is packed with specialty gatherings across the city featuring top chefs and renowned restaurants in New Orleans.  The schedule includes wine dinners, workshops, the Royal Street Stroll, brunches and gala parties.
Top Taco Festival (3/19)
This festival that takes place in Woldenerg Park is a battle for the title of Top Taco Champion of New Orleans.  The best restaurants, taquerias, and bars prepare their best taco offerings.  In addition to the unlimited taco and tequila tastings, the festival features live music performances, interactive activities and more.
Hogs For The Cause (3/27-28)
This celebration of all things pork takes place at Uno Waterfront Park for the benefit of children battling brain cancer.  The festival features 85 local and regional BBQ masters together with one of the largest music festivals in the country.  This is a celebration of bacon, BBQ and beer set to the tune of great country bands.
Cajun Zydeco Festival (3/28-29)
The 14th annual Louisiana Cajun-Zydeco Festival is presented by the New Orleans Jazz & Heritage Foundation.  Taking place in Louis Armstrong Park, this free festival celebrates spring in New Orleans not only with great performances but also with outstanding local art and everyone's favorite seafood, crawfish.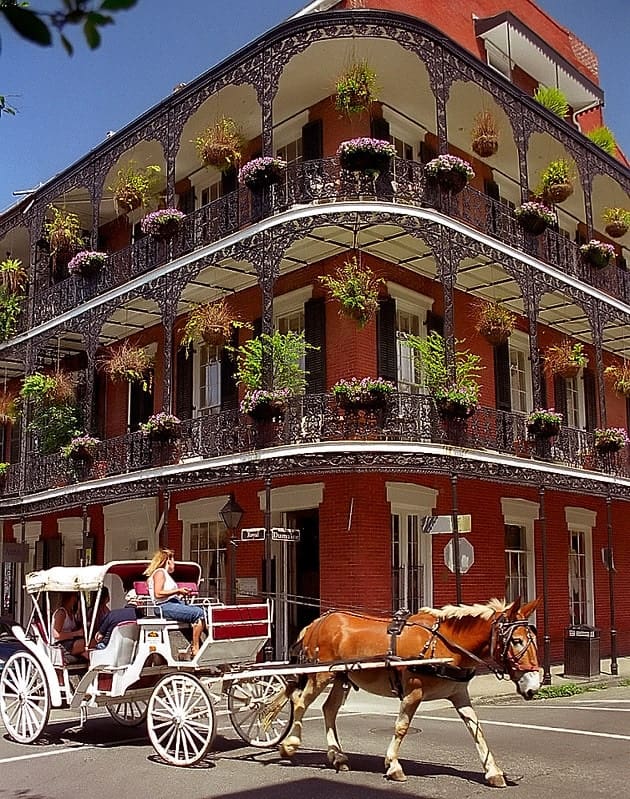 Flickr by: David Ohmer
French Quarter Festival (4/16-19)
Now in its 37th year, this is a massive event that celebrates one of the world's most beloved districts, the French Quarter of New Orleans.  Stages are set up on every corner as the festival is chock full of food, music, art.  It stretches from the Riverfront all the way to Jackson Square.   Guests indulge in locals bites, live music performances, and many special events and activities.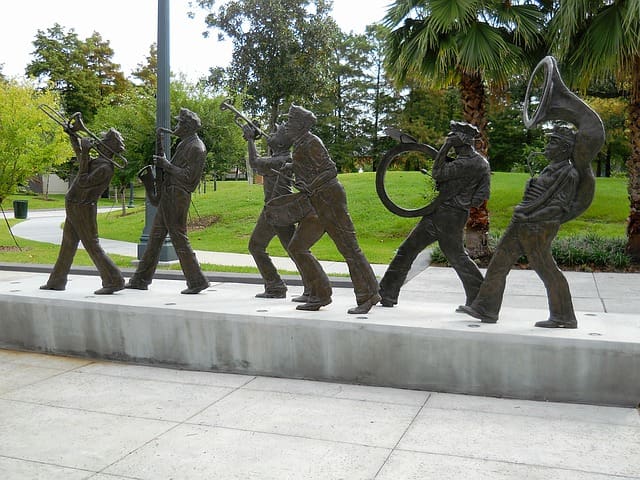 Source: Pixabay.com
New Orleans Jazz and Heritage Festival, aka Jazz Fest (4/23-5/3)
Is there any place on earth that loves Jazz more than New Orleans?  This city has been celebrating its heritage of great jazz performers for 50 years.  The festival is a large daytime fair with multiple stages featuring A-List performers, a wide variety of indigenous music styles, food booths of Louisiana cuisine, and arts and crafts booths.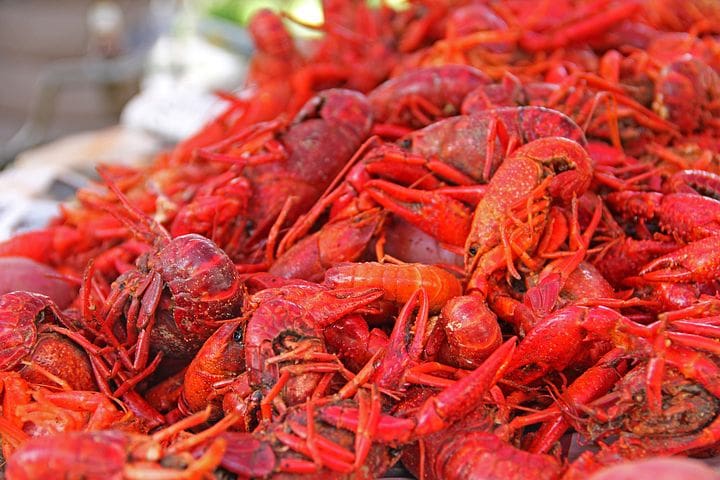 Source:  Pixabay.com
Crawfish Festival (4/27-29)
This is yet another festival celebrating the core traditions of New Orleans.  Spring begins crawfish season and this festival boils up a whopping 6,000 pounds of the tasty crustation.  The event is presented by NOLA Crawfish King and hosted at Central City BBQ , from 3pm – 10pm daily and is accompanied by live music performance from top local artists.
Greek Festival (5/22-24)
This is another beloved festival in New Orleans, now in its 47th year.  Come and tour the cathedral, watch Hellenic Dancers perform, listen and dance to live Greek music, and relax on the Bayou while the kids enjoy the Athenian Playground.  And of course, there are wonderful Greek food specialties to savor.  You won't want to miss the fun on Toga Sunday! Anyone wearing a toga gets free admission!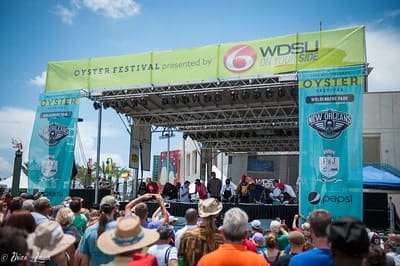 Flickr by: Brian Lauer
Oyster Festival (5/30-31)
Gulf Coast seafood is prized throughout the country, the Louisiana Oyster is no exception.   In fact, New Orleans is considered the Oyster Capital of America so a festival to honor this succulent delicacy is a must.  Join the crowd of oyster slurping fans, visit dozens of food vendors, and maybe participate in a contest or two!
NOLA Pride (6/12-14)
With a mission to "create unity in the communities, bringing together the straight and homosexual communities and to create events that are family-friendly and acceptable to all, this city-side celebration is in its 49th year.  The Gay Pride Parades takes place Sat, Jun 13, 2020 7:30 PM – 10:30 PM and there are events all weekend long.
French Market Creole Tomato Festival (6/13-14)
New Orleans is not just about the seafood and jazz – the tomato is king and here's a festival to celebrate it's place of honor in Cajun cuisine.  You've got to love a festival that is dedicated to yummy food and drinks made from tomatoes that start to ripen in June.  You have to love the market dedicated to Bloody Mary's and all their variations.  Keep an eye out for strolling revelers dressed in tomato costumes and passing out tomato shape fans.  This free festival has delicious concoctions for every taste.
Caribbean Festival (6/19-28)
This celebration to close out New Orleans Caribbean Month has non-stop events, parades and parties stretching over 8 days.  There will be lots of delicious grilling and smoking going on at Central City BBQ, parties and dancing to Caribbean tunes all over the city.
New Orleans is truly one of Americas' most festive cities every month of the year, but in spring the weather is perfect for dancing in the streets and dining under the stars.  Come to New Orleans Louisiana for some festive Cajun fun you won't soon forget.