St. Pete Beach beckons travelers to explore its sunny shores with 7 stunning beach communities.  Guide to Finding Your Perfect St. Pete Beach Paradise.
Our friends at Hotels.com have asked us to share our knowledge of St. Pete Beach and be your guide for deciding which beach community will be your perfect paradise.  Let's take a closer look.
Stretching for more than 30 miles along the Gulf of Mexico, the sugar-white beaches of St. Pete Beach have won accolades for many years.  Voted #1 beach in the United States by Trip Advisor in 2012, St. Pete Beach is a narrow barrier island just offshore from the city of St. Petersburg, Florida.  With waterfront views on both the Gulf of Mexico and the Intracoastal Waterway, there is an ideal waterfront lodging here for everyone.  Beginning south where St. Pete Beach meets the Gulf of Mexico and working north toward Clearwater Beach area, we'll introduce you to Florida's beautiful Sun Coast.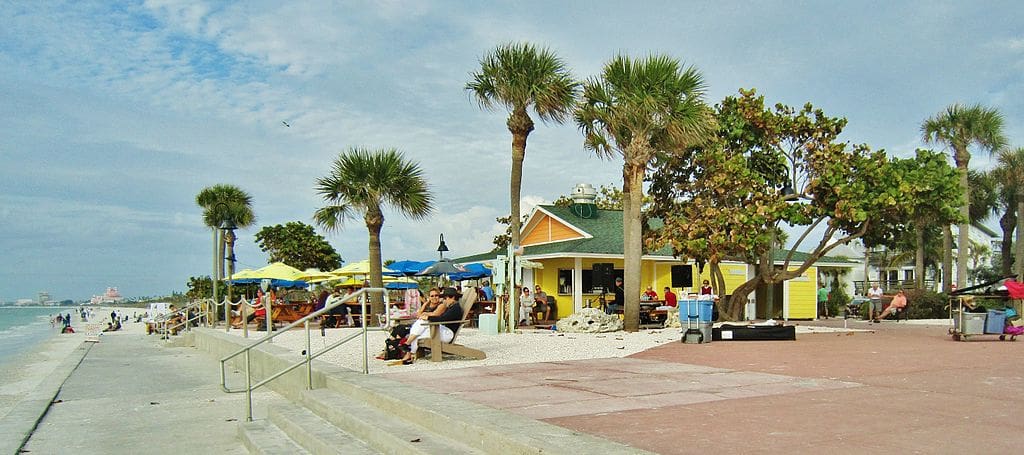 Wikimedia Commons by: Richard Mc Neil
Pass-A-Grille
You will find the 4 mile stretch of Pass A Grille Grill Beach where the Gulf of Mexico meets the Intracoastal Waterway.  This charming beach town is known for its beachfront Grille, soft sand, and laid back vibe.  Many folks wanting a peaceful vacation getaway to explore southern beaches stay in this community.  Relax at the beach, explore the 8th Avenue historic district and catch a shuttle to Shell Key or ferry over to Egmont Key.  And when you need a bit of pampering, you might want to visit the Don CeSar Resort satellite spa.
Fort De Soto State Park, Shell Key, and Egmont Key can all be reached from Pass A Grille.  These smaller keys are filled with gorgeous naturalized beaches, bird sanctuaries, and historic sites.  These keys for are camping only.
The 1,135 acre Fort Desoto State Park This 1,136 acre State Park is comprised of 5 natural sand islands connected by bridges and causeways.  Be sure to check out the history museum exhibit, 2 beaches, 7-miles of paved biking trails, fishing piers, campground and picnic areas.  The islands attract over 300 species of migratory birds, and the windy southern tip is favored by windsurfers and kiteboarders.
Shell Key is a large undeveloped barrier island that is an 1,800 acre sensitive marine habitat.  Of course, shelling is a major attraction here.  There are no restroom facilities on this island, and dogs and alcohol are prohibited.
Take a short ferry ride from Fort DeSoto Park over to pristine Egmont Key, a long, narrow, natural island, and wildlife refuge that is punctuated by a scenic working lighthouse.  This is a wonderful island for snorkeling around exploring the ruins of Fort Dade.
St. Pete Municipal Beach
This iconic beach has been attracting visitors since the opening of the grand Don CeSar Resort in 1928.  Known as the Pink Palace, this Moorish landmark has set the standard for beachfront luxury hospitality for generations.  Today, there are 3,000 lodging choices in this area from ultra-deluxe resorts to budget hotels and family-friendly condos.   You will find all the beach and water sports activities you can imagine, as well as surf shops and boutiques galore.
Treasure Island
Stretching 3 miles from St. Pete Beach to John's Pass, this is a popular beach community for beach bars, waterfront grilles and live music.  You can't miss Gator's Cafe and Saloon, the world's longest waterfront bar.  It has been rocking a party vibe for over 20 years.  Treasure Island is also considered the sandcastle capital of Florida with a celebrated sand sculpting competition that has been taking place each fall for over 10 years.  So bring your sand toys and tools and dig into the soft white beach to create your own masterpiece.
Madeira Beach
Rid of the cool drawbridge from Treasure Island to find Madeira Beach is home to the largest fishing fleet in Florida.   This is the place to head if you want to do some deep-sea fishing on your vacation.  Hubbard Marina is where you'll find fun surf and watersports activities.  This old-Florida style community has a delightful village and a popular boardwalk that leads you past over 100 shops and restaurants.  Ride a jetski, rent a paddleboard or take a sail on a pirate ship named after the early explorer, John Levique.  Often called "Mad Beach" you'll find all the action here to make you mad for St. Pete beaches.
Redington Shores, Redington Beach and North Redington
The "Redingtons" are where many vacationers come to stay.  3 miles of beautiful beach is lined with hotels, condos, inn, motels and boutique properties.  The Redingtons are strategically located mid-way along the string of beach communities that comprise St. Pete Beach.  Take your rod and do some fishing along the 1,200′ fishing pier.
Indian Shores
Indian Shores and Indian Rocks Beach Nature Preserve is a long narrow barrier island with old Florida charm and waterfront views from both the Gulf and Intracoastal Waterway.  The nature reserve hosts a seabird sanctuary and animal hospital.  You'll find lots of beachfront lodging and dozens of beach entry points.  Parking can be a challenge though for day-trippers, arrive early.  Don't miss the historical museum, and your kids will love the Splash Harbor Waterpark and mini-golf course.
Bellair Beach, Bluffs and Shores
The Bellairs are primarily a residential community with 3/4 mile beachfront.  The beach is dotted with stately mansions and the beach has a quiet, relaxed atmosphere.  It's important to note that there are no public facilities or commercial businesses here.  But if you're looking for a lovely beach with solitude, plan a brief visit to this peaceful area.
Now, all these beach communities are simply delightful, but if you're looking for even more wonderful experiences for your vacation, wander over to the amazing city of St. Petersburg.  This is one of Florida's most delightful cities and is packed with world-class museums, restaurants, street markets and art galleries.  And after you've toured St. Petersburg to your heart's content, it will be time to venture a bit further north to the equally beautiful Clearwater Beach area.