Five Free Activities to do in New Rochelle, Westchester Country, New York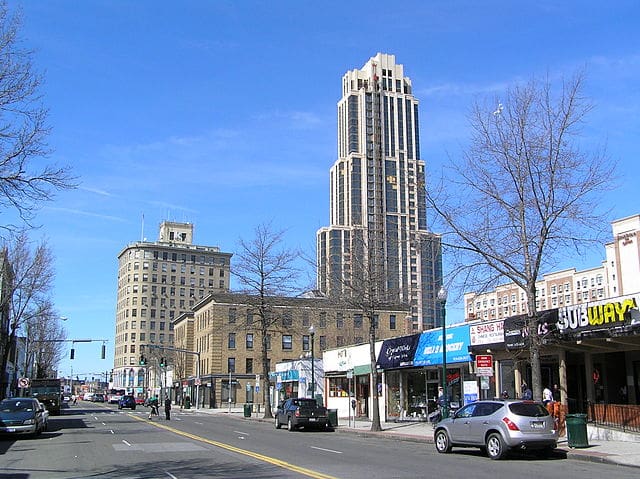 Wikimedia Commons by: Anthony22
Spending some time in beautiful Westchester County this winter?  New Rochelle is just 26 miles from Manhattan, where there is always something to do. But if you don't want to get on a train or drive down 278, there are plenty of activities going on right in the heart of New Rochelle.  And some of them are free!
If you want to have fun without having to leave Westchester County, here are five free activities to do in New Rochelle this winter:
Take in a Show at the Ossie Davis Theater
Presented by the New Rochelle Public Library, the Ossie Davis Theater hosts a wide variety of events. You can enjoy concerts, theater, and dance performances throughout the year.  With only 138 seats in the venue, every performance at the Ossie Davis is a treat. You can see jazz musicians, opera performances, and classical concerts. This theater is home to all sorts of artistic events, so you can get your cultural fill without leaving New Rochelle. Many programs are free of charge, courtesy of the Friends of the New Rochelle Public Library. However, it is courteous to give a least a $2.00 donation. Every penny helps to make future performances possible.  And two bucks is still far less than you'd pay to see a show in New York City!
Get in a Lunchtime Workout
Continue your path to health and wellness or get started on your New Year's resolutions with free lunchtime workouts.  In the 1st-floor Meeting Room of the New Rochelle Public Library, you can attend free 30-minute yoga classes. This is the perfect way to renew your energy and improve your overall well-being!  These free sessions take place several times per week. They're usually scheduled around noon, so you can get some exercise while you're on your lunch break!
Prefer to do your workouts after work? Free Zumba classes are also available! Every evening around 5 p.m, a certified instructor leads an hour of dance exercises designed to help you burn calories.  New Rochelle is home to a variety of fitness centers and sports clubs where you can work out. But if you're new to fitness and want some free training advice, the NRPL is a great place to start!
Brush Up On Your Tech Skills
The New Rochelle Public Library also hosts classes to help you brush up on your tech skills.  For folks interested in basic computer classes, there are plenty of beginner-level courses. In Computer Basics I, you'll learn the basics of Windows and practice using a mouse and keyboard. In Intro to Microsoft Word, you'll learn how to edit, format, and print text documents.  These classes are perfect for aging adults who want to learn some basic PC skills.  The library also hosts PowerPoint courses for those who have some computer experience. And, they have 3D printing classes for teens interested in learning how to use 3D design software.  All computer classes are free, but you'll need to register in advance to reserve a spot.
Click here for a complete list of upcoming events at the New Rochelle Public Library.
Bridal Expo
Getting married in 2020? Starting to make plans for a wedding in 2021?  Whether you're already engaged or hoping to be, don't miss the Bridal Expo at The Radisson.  This event takes place on February 6, 2020, between the hours of 6 p.m and 9 p.m. Tickets cost $5 per person on the day of the show, but you can get free tickets online by registering early.  Whether you need help choosing a photographer, finding a venue, or picking out a dress, this is the place to go. You'll find plenty of vendors at this event to help you plan your special day.  A live DJ and food tastings make it perfect for brides and grooms alike!
Five Islands Park
Five Islands Park is open from sunrise to sunset. It boasts a large playground, an outdoor amphitheater, and plenty of picnic areas. As long as you have a resident pass, entry to the park is always free. The park hosts a variety of different events throughout the spring and summer months, but it's a beautiful place to hang out during any time of year.  During wintertime, it's a lovely place to take in nature and enjoy the scenery. New Rochelle can get cold, but Five Islands park gives it some quaint, east coast charm!
In Summary
New Rochelle is close to many other suburban NY neighborhoods; Eastchester. Scarsdale. Rye. Harrison …. Each of them hosts free events that you can enjoy throughout the year.  If you're in the mood to hop the train or drive 30 miles down the highway, you can easily get to Manhattan. In NYC, you can spend a free day just looking at the architecture and hanging out in Central Park.
But you can also find plenty of fun, free events in New Rochelle.  Check out the New Rochelle Public Library website for a calendar of events. You'll find plenty of family-friendly activities to enjoy year-round. Local stores and hotels host lots of free events, too, so follow your favorites online to stay abreast of what's going on.
New Rochelle is an amazing place to live and visit. And if you're ever in the mood to spend a few bucks, just head downtown. There are plenty of bars and restaurants where you and your family can enjoy hours of quality time!
********************************
About The Author:  Janine Palatucci is the Business Manager for 360 Huguenot, an upscale apartment community in New Rochelle.  She is an experienced manager with a demonstrated history in multi-family housing and hotel hospitality. She is passionate about her work and consistently provides a welcoming environment for her team, residents, and community.