A Guide to Touring Marseille, France in One Day
Marseille is the second biggest city in France and it has recently undergone a sort of revival from a seedy port city into a cultural hotspot with dozens of museums and theaters. If you're touring the South of France or stopping by on a cruise and you only have one day, here are the top things to see and do in this amazing Mediterranean city.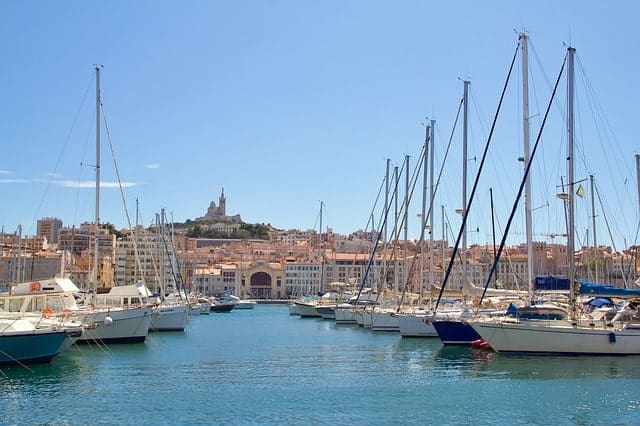 Marseille in a Nutshell
This city was founded 2,600 years ago by the Greeks and it sits on the Mediterranean Sea. For years, it was a gritty port city that wasn't the most pleasant place to visit, but in recent years it's become known for its culture, food, and shopping scene. It's got tons of amazing trendy restaurants, the hotels are very trendy, art galleries abound, and the architecture is very forward-thinking. The city is now a popular weekend destination for Europeans and it's perfect for a day trip. Although you won't be able to see everything this multi-cultural city has to offer, a day allows you to scratch the surface and find out more.
Marseilles was actually named the European Capital of Culture in 2013, so there's no shortage of things to do. It was also the filming location of the popular movie The French Connection. It's made up of 16 arrondissements (sectors or neighborhoods) and 111 quarters. Although it's quite a large city, there is a great transportation network comprising of buses, the metro, and tram.
Top Things to Do
Life in this town centers around the old port, the Vieux-Port, which is full of fishing boats, yachts, and the occasional cruise ship. There are two forts at either end of this district, and the Quai des Belges runs along the length of it. A great suggestion from Olivia Moore, a travel writer, is to take the time to "explore this area early in the day to see the fish market at its most bustling. It's truly a Marseille institution and it's worth going just to see the vendors calling out the catch of the day and local chefs choosing their menu options for that day."
Another stop worth making is the Basilique Notre Dame de la Garde. It's a basilica built on the highest point in the city and dominates the skyline wherever you are. You can walk there from port or take public or private transport, as it goes up a steep 1 km climb. Its architecture is from the Romano-Byzantine era and has a multi-colored edifice reminiscent of Il Duomo in Florence. The basilica was built between 1853 and 1864 and was designed by architect Henri-Jacques Esperandieu.
The most stunning part of this building is a massive gold-leaf statue of the Virgin Mary which stands on top of the bell tower on a pedestal that is itself 12 m high. She is known as the guardian of the city. Enjoy the 360 degree view of the city from this point, and go inside for a visit of the basilica if you wish.
Souvenirs to Buy 
Marseille is well-known for its soap, gentle green or white made with olive or palm oil and hand-stamped with the famous words 'savon de Marseille'. It has been made in the area since the 9th century and is a perfect souvenir to buy for yourself or your loved ones during your time in the city. The soap is apparently quite special due to the combination of the bright sun, salty sea, and gentle winds. As per journalist Frank Armitage, "there are a lot of knock-off soaps and only a handful of authentic soap makers left, so make sure you find a genuine soap maker and vendor, such as La Grande Savonnaire in the Vieux-Port area. Here, you can get the true soap and also stamp it yourself for added memorabilia."
What to Eat
Marseille's famous food is the savory fish stew known as bouillabaisse. There are loads of inexpensive versions of this soup everywhere. However, you'll want to splurge for an authentic eatery to get the real bouillabaisse experience. This can be as expensive as 25 euros, but it's well worth it if you like fish. Look for Le Miramar in the Vieux-Part which offers cooking classes for bouillabaisse and French cuisine in an amazing harbor location.
If you're not a fan of fish, you can choose amazing French cuisine or find any kind of specialty restaurants from African, Italian to Far Eastern options.
This barely scratches the surface of what Marseille has to offer, but it's enough to give you a taste of the city. This charming Mediterranean location is famous for its seafood, art, and culture and it's sure to stay with you in your memories for a long time.
***********************************
About The Author:  Aimee Laurence, a journalist with Academic Writing Service and UKWritings.com, shares her travel and lifestyle experiences. She has visited over 50 countries and is passionate about opening up the world of travel to others. She also creates travel guides and edits for Buy Assignment.