To Stay or Go: Living vs. Visiting Ft Lauderdale, Florida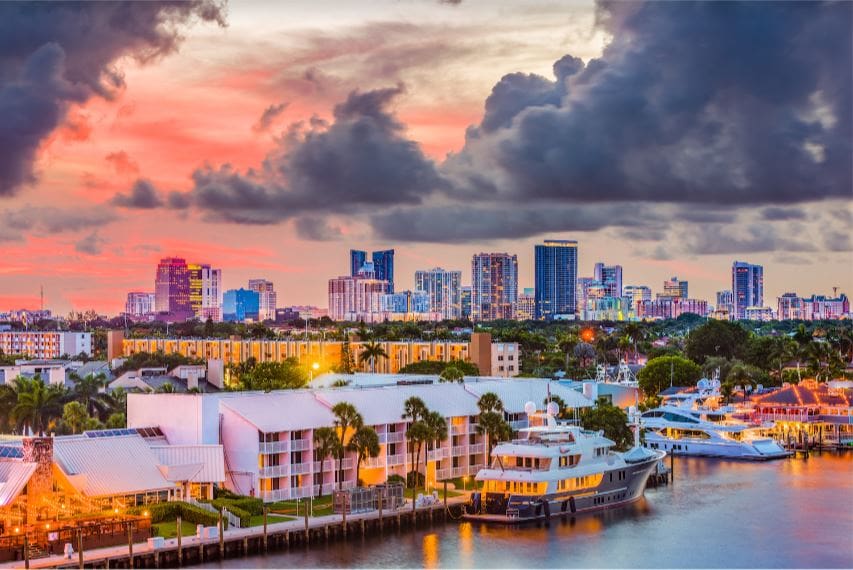 Fort Lauderdale has enjoyed rock star status for many years from surfboard toting bobby-sockers who discovered it's outstanding beaches in the 50's, to wild-child spring breakers, and finally to the uber-wealthy with luxury yachts and mansions the size of small hotels.  Through it all, the city of Fort Lauderdale has offered both visitors and residents a wide variety of experiences for every budget. No matter your interests, you can find wonderful places to visit, vibrant neighborhoods to settle in, and fascinating activities to experience in Ft. Lauderdale.  Here are our recommendations for considerations while visiting or looking for property in the Ft. Lauderdale area.
Get Outside
Fort Lauderdale is blessed with natural beauty. In addition to miles of white beaches, you can enjoy snorkeling on the nearby coastal coral reef. Whether you enjoy fresh or saltwater outings, you can find a space to swim, surf or paddle. If the seas are too rough, you can go boating on the Intracoastal Waterway that winds its way through the city, or it's a short drive to Lake Okeechobee or to the Everglades. Residents and visitors in this area can revel in the wildlife and opportunities to enjoy the beautiful weather of southern Florida.  The Ft. Lauderdale is also a popular destination for golfing, biking and outdoor activities in general.
Live on the Water
There are 40,000 people living in their boats along the coast and canals of Fort Lauderdale. Visitors, as well as residents, can enjoy time on the water and enjoy beautiful sunrises and sunsets glistening off the water as palm trees sway.  Fort Lauderdale offers canals, waterways, marinas and oceanfront beaches and is commonly known as The Venice of America.
Cost of Living
Florida has long been a destination for travelers and for those looking to purchase a home in the sunshine.  Cities along the coast tend to have a higher cost of living and Fort Lauderdale is no different. Both rentals and homes for purchase tend to cost more here than those found further inland.  You will find however that there is a wide diversity of neighborhoods within the city with many different price points.  There are also waterview condos located at the shore and along the Intracoastal Waterway.  Homes and rental a few blocks from direct water access can be considerably less expensive.  Once you have your home base, you will find the cost of living in Florida to your advantage, especially with its low taxation.
Worth Consideration
There is always a risk when considering a large investment in a property along any sea coast. However, the value of properties in Fort Lauderdale offer a good option to build equity as they offer great opportunities for appreciation simply by buying and holding. A home purchase in Fort Lauderdale can likely be resold quickly if need be and may be eligible to be a profitable rental for part of the year, thereby covering most of your expenses.
Local Cultural Attractions
There are multiple options for indoor entertainment in the city of Fort Lauderdale, including the National Geographic Fine Art Gallery. Those with military interests will greatly appreciate the Naval Air Station Fort Lauderdale Museum. Whether you enjoy history, fine art, sculpture, or photography, there are many venues to enjoy man-made beauty when nature sends you indoors.
Find Rewarding Work
Fort Lauderdale is the 10th largest city in the state and offers multiple colleges and universities, including Broward College and Keiser University. The job market in Fort Lauderdale is strong. Current unemployment rates in the area are at 3.2%. The state of Florida offers the chance to work both with students, in the tourism sector and with the elderly as Florida is a haven for retirement living.
Planning Your Move – Hire the Best
Your belongings deserve to be handled by movers who know what they are doing. A project planned with local moving with Suddath means that you can be sure that your belongings will be packed carefully, loaded with skill and settled by professionals when you've got your new home selected. Suddath movers have been working in the city of Fort Lauderdale for more than 60 years.
No matter your long-term plans, the city of Fort Lauderdale will make both your visit and your move a beautiful experience.