Experiencing Tastes Of The Region Along The Great Ocean Road – 5 Best Stops for Local Tastings

If you really want to have a well-rounded experience when you visit the Great Ocean Road, you can't just stop at one place and call it a day. There are so many unique craft beer and locally-produced food options along the way that will give you an experience you'll never forget.
In fact, there are so many that listing every establishment would make this article too long to read. So, we're going to cover five of the best locations to give you a good starting point the next time you have a craving for the distinct flavours that our region offers.
This local brewing facility has just about everything you could possibly want to begin or end your tasting tour. It's known for its massive stock of Prickly Moses craft beers and relaxing atmosphere, but you can also get platters made from the freshest local produce at their tasting room Tastes of the Region. Tastes of the Region is your one-stop tasting room!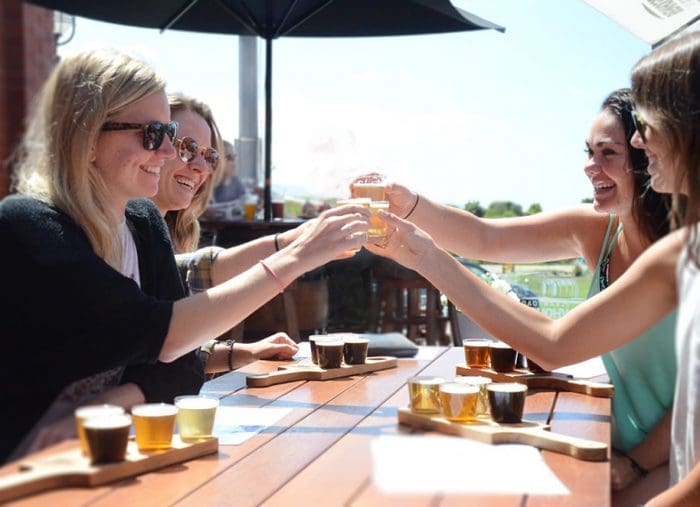 Image:  GreatOceanRoadBrewhouse.com.au
The local business has a beautiful beer garden that you can use to enjoy your beer and an award winning menu. Local musicians often fill the beer garden with the area's best tunes.
If you're interested in visiting it yourself, it's located in Apollo Bay, and it overlooks a beautiful seaside landscape. We personally recommend making it your first stop. The large variety of handcrafted beers will get you in the right mood to taste all of the wine, produce, and cheese that we're about to recommend in the following sections.
What's a better way to enhance your tasting tour than to chow down on expertly-crafted cheeses? Allansford Cheese World produces all of its own Warrnambool cheeses right across the street in a renowned cheese and butter factory.
Cheese world offers a wide variety of cheddar cheeses that can satisfy anyone, but the company's menu also includes local produce, fine wines, and light snacks. There's even a country-style diner if you want to eat something a little heavier.
Visiting Cheese World is a good way to follow up your craft beer experience in Apollo. The light snacks and high-end wines are fun to enjoy, but they're light enough that you can continue your tour without feeling stuffed half-way through.
Bellbrae Estate is a fancier winery that will suit people with refined tastes. You'll find a large selection of locally-produced wines that are aged to perfection, and there's usually a live music event going on to keep you entertained as you slowly enjoy their wines. Produce and other light food options are also available. So, it's a great place to visit if you want a light snack in a fancier environment.
If you enjoy your experience, Bellbrae Estate offers several wine packs that allow you to take home a mixed selection of their most popular vintages. So, you can finish your night off properly when you get home!
St. Anne's Vineyards is the place to go if you're even remotely interested in sampling high-quality wines. St. Anne's doesn't offer a lot in the way of snacks and dining experiences, but it makes up for that with aromatic wines that are made on the premises, and there are several beautiful spots that you can book for your next wedding or formal event.
Like Bellbrae Estate, St. Anne's Vineyards offers take-home bottles of wine that are affordable and made to high standards.
Before you decide to end your tasting tour, you have to stop by GORCI. It doesn't offer wine, beer, or fancy cheese, but it does offer the best homemade ice cream and chocolate in the Victoria area.
This is a location that you'll have to stop at earlier in the evening. It closes at five. However, if you're willing to cut your tasting tour off at an earlier time, you'll be treated to a full experience. First, you can pick up some freshly-churned ice cream. Then, you can watch the company's chocolate makers as they whip up some of the sweetest desserts that money can buy before you taste them yourself!
We recommend making this the last stop on your journey due to how sweet and heavy GORCI's offerings are. You might not have room in your stomach for anything else after visiting the renowned establishment!
Final Thoughts
All of these locations are in the Great Ocean Road region, and they're fairly close to each other. So, it's easy to plan out a day-long trip or weekend trip to try them all. Don't restrict yourself to these five locations, though. There are plenty of other local flavours that are worth making a detour for.