Visiting the Seychelles? Here's Where To Stay In Seychelles on a Budget.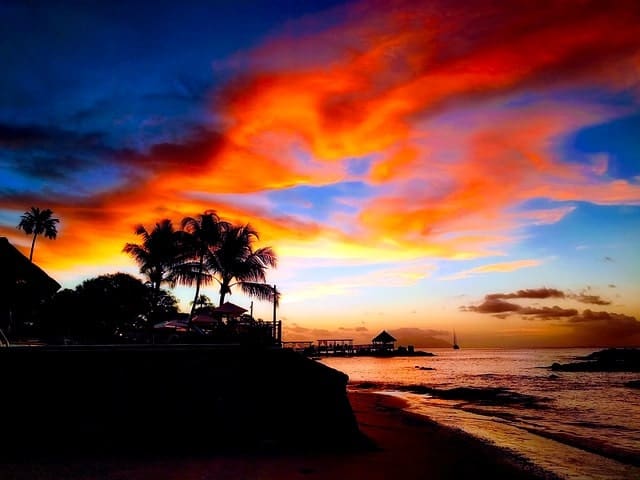 Nestled in the Indian Ocean off the East African coast, there exists an archipelago, primarily known for its coral reefs, exotic fauna and colorful scenery. It is the tropical paradise of the Seychelles – consisting of the islands of Mahe, La Digue, Curieuse, Praslin and 115 others. What sets it apart from other destinations is its collection of luxurious beaches, bordered by tall palms, topaz waters, and talcum-powdered sands.  But like any stunning location, accommodations can be pricey.  If you're traveling on a budget you'll be happy to know that there are some top budget-friendly hotels in the Seychelles to consider.
So, if you've marked Seychelles as your ultimate vacation getaway this year, then you need to start planning right now. This includes working out the flights you're going to take, the food options you're going to explore, the list of attractions you're going to visit and lodging you're going to stay in. In this last category, I can be of tremendous aid to you. The following are some of the best budget-friendly accommodations you can find in the Seychelles.
Hotel L'Ocean, La Digue
Located at Anse Patates, this beautiful beachside hotel has a close proximity to the sea and hosts an open-roof restaurant. The rooms are small yet comfortable, well-lit and air-conditioned. The service is nice and friendly. Plus, it's got a goodly 7.3 rating on Booking.com, based on 304 guest reviews. Facilities include a continental breakfast & bar, sun deck view, designated smoking rooms, and free toiletries. However, you may not find the internet or parking amenities per se in this hotel. Wondering about the rates? It's around $123.79 per night (plus taxes) for a standard sea view room on Booking.com, but the prices are subject to change, depending upon the season you choose to travel in.
Chateau St Cloud, La Digue
On a ten minutes' drive from the Jetty, this hotel has a well-grounded reputation for being a traditional accommodation – ideal for couples, with an 8.1 rating on Booking.com. You'll find clean rooms, live evening music, pool facilities, elegant views of the Anse Reunion palms, bike rental facilities, restaurant + bar amenities, and lush green gardens etc. Moreover, the internet is available as well, but it's not the high-speed Wi-Fi that you're used to. Its usual rates range between $160 to $300 per night for a double room, but I'm sure you can find discounted prices in the off-season.
Rosemary's Guesthouse, Praslin
This beachfront accommodation has an 8.8 rating on Booking.com, based on 298 guest reviews, for the magnificent views that it affords to the weary travels – scenes, which you might have only caught in the movies. Located on Anse Volbert, Rosemary's guesthouse is 0.5 miles away from Praslin Museum, 1.2 miles off the Vallee de Mai Nature Reserve and 3.7 miles from the Praslin Island Airport. Amenities include free parking, bicycle rental, shuttle services, BBQ on the terrace, boat trips, delicious Continental/Italian/Vegetarian breakfast and private bathroom facilities etc. Rates? Around $279 (2 nights, 2 adults) for a double room with a sea view, as shown on Booking.com. If there is one thing which you must try at this beautiful guesthouse, it's the homemade banana jam, which has been especially recommended by the frequent travelers to this place.
Oasis Hotel & Spa, Praslin
If you're looking for a place which offers luxury-on-a-budget, then the Oasis hotel, located on the Domestic Airport Road, is the best option for you, with a 7.5 rating. It is a 3-star resort with a proper spa + outdoor pool facility, complimentary parking, casual restaurant, and an on-site bar. Moreover, it is a two-minute walk away from the beach, giving you easy access to sandy goodness. The rooms are adorned with polished, stone-accented walls, and are equipped with all the modern amenities, like a flat-screen TV, safe, mini-fridge, soaking tubs and balconies – depending on how upgraded a treatment you're paying for. Booking.com shows its price for a night to be $171.42 (plus taxes) for a standard room, subject to season and the kind of coupons you avail.
Carana Hilltop Villa, Mahe
Gently placed on top of a hill on Carana Machabee, this retreat is owned by a nice couple – Eileen and Mike. Due to its high geographical location, this Villa offers a panoramic view of the ocean all the way to the Silhouette Island. You'll have to hike through its jungle-cloaked trail to get to the beach below. Best known for its coffee and continental breakfast, it has an outdoor swimming pool, a beauty shop, a garden from which you can pluck the mangos and guavas. There is a weekly BBQ and self-catering facility too. Wi-Fi is available along with free parking. Its current rate for a night rests at $110 (standard room), according to Booking,com.
Chez Lorna, Mahe
This is a 2.5-star guesthouse in De Quincy Village, which offers a number of beneficial amenities for a price starting from $264 for three nights (Booking.com). There are six guestrooms on the facility, each having a terrace-view, a private bathroom with free toiletries, and a room-service option. Wi-Fi is free and the parking does not cost a penny. It is 4.9 miles away from Beau Vallon Beach and 9.1 miles from the Grand Anse. One of the best features of this guesthouse is the continental-style breakfast, which is offered for an extra charge of EUR 10 per person.
Georgina's Cottage Beach Guesthouse, Mahe
Rated 8.4 by the 54 couples who've frequented this location, Georgiana's Cottage is not as rustic-style as it may sound. It's equipped with modern amenities like flat-screen TVs and coffee-makers. Because of its close proximity to the famed Victoria market, this accommodation is often chosen by people who love to go shopping. Wi-Fi is available throughout the property along with a free parking service.
In conclusion, there are many other B&B options in the Seychelles archipelago, but for now, the aforementioned entries will suffice if you're going for a pocket-friendly option.
***********************************
About The Author:  Rimsha Ather is a professional writer with two years' worth of practical experience in content creation, curation, and marketing. Her blogging interests range from technology to travel, with the latter gaining special attention from the readers. On the side, she is a metal-enthusiast, an occasional painter and a culinary freak with flavorsome stories up her sleeve, which she occasionally pens for this site.
Twitter: @wildflowerdust, Instagram: rimshhh.a, LinkedIn: Rimsha Ather