Winter sun in Cuba – Top Five Beaches to visit in Cuba this Winter!
Fancy some winter sun in Cuba? You've come to the right place! If you find yourself forever chasing the sun and have a love for Cuban culture, a winter vacay in Cuba could be for you. Not only does Cuba offer an array of gorgeous beaches, delicious food, and sultry music, but the temperatures stay at a sweltering 25°C average! So swap your bauble-bearing Christmas tree for coconut-covered palm trees, and your hot cocoa by the fire for a Piña Colada on the beach! Here are some of the best, wonderfully warm destinations for some winter sun in Cuba!
Guardalavaca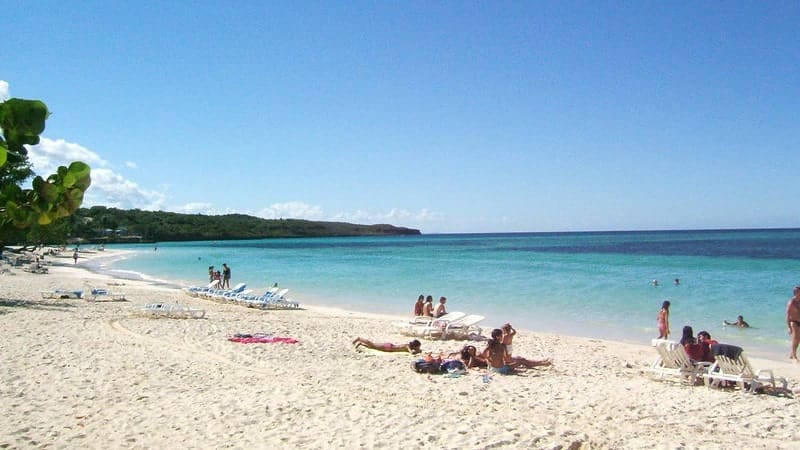 Flickr by: tomatogreezer
The area of Guardalavaca is a perfect holiday spot for both explorers and relaxers, with a mix of beautiful white sand beaches and fun excursions. For those who prefer to sunbathe by the pool or snorkel in the sea, Guardalavaca has a great selection of white, powder-soft stretches of sand, including Esmerelda and Pesquero Beach. Guardalavaca's main strip is also home to many bars and restaurants where you can sit back and enjoy the Cuban cuisine and nightlife! If you want to explore more than just sandy beaches, you can head out and do some sight-seeing. Take a tour into the mountains to visit the native communities or check out how to make Cuban cigars in the Cuban cigar factory! If you're a fan of picturesque scenery, head to Lomo de Cruz and walk up the hillside to get a glimpse of Guardalavaca and the vast landscape.
Cayo Largo del Sur
Perfect for the sun-loving traveller, Cayo Lago del Sur – or Cayo Lago for short, is a small resort island off the southern coast of Cuba. If you want a simple, relaxing, sun-drenched holiday, Cayo Lago is for you! There is only one museum on the island, located in the main village which explores the island's history. The main things to see in Cayo Lago are its fine-sand beaches and turquoise waters. Playa Los Cocos, Playa Blanca and Playa Lindarena are some of the island's best beaches, and sea turtles are known to lay their eggs on the white sand of Playa Tortuga, too. Get down to the Diving Centre to do some snorkelling and scuba-diving – you're bound to see plenty of tropical fish and sealife, maybe even a shark!
Trinidad
The UNESCO World Heritage Site of Trinidad, Cuba has plenty to offer its holiday-goers. With the choice of day trips and seaside stays, Trinidad is another great allrounder! Take a steam train trip to the Valley of the Sugar Mills, where you can learn about Trinidad's sugar and slavery history. Explore the hidden ruins of the saccharine revolution or the remains of the San Isidro de Los Destiladeros. If you enjoy exploring the wilderness, hiking the Escambray mountains might be for you! Follow the trails in the Topes de Collantes park and finish off your hike with a dip in the Caburní waterfall. To catch the perfect tan, sunbathe at Ancon beach and enjoy the surrounding bars and restaurants. You could even try some salsa lessons in your spare time!
Varadero
Another beach resort, the town of Varadero has 20km of Atlantic Ocean coastline and blisteringly hot sandy beaches to admire. Mainly, Varadero is known for its stretch of hotels, spa complexes, and it even hosts a golf course, too. For some Instagram-worthy holiday pictures, visit Josone Park or Ambrosio Cave. Josone Park offers stunning views, with many bars and restaurants to choose from; you can also rent out a pedal boat and float around over the green-blue waters of the lagoon. Ambrosio Cave is a series of historic caves where you can take stunning images and look at ancient art. The caves are also home to some Cuban bats, so be careful not to wake them up!
Baracoa
There's so much to do in Baracoa! From hiking up mountains, trekking in the forests, or just splashing in the sea, this municipality is worth the plane ride. You can take a trip out to the Maguana Beach, an unspoilt, hidden gem where you can relax on a sun lounger and catch a tan by the sea. If you want a little bit of adventure with your beach day, visit Playa Blanca; you'll have to walk along the black sand beaches, travel in rowboats and walk over swing bridges to get to it! You can hike to the top of El Yunque, a flat top mountain, where you can enjoy beautiful views, a stroll through a cocoa plantation, and the Duaba River and its wildlife! If you're looking for somewhere full of sun, sea, and adventure, Baracoa is the place to be!
Most of us want to sit back and relax during our holidays. Unless you stick to tourist areas or have a good knowledge of Spanish, you might find it difficult to strike up a conversation with any Cuban local. With a product like the Mymanu CLIK S, you can keep your worrying to a minimum! These translation earbuds will get you soaking up the Cuban culture and chatting to the locals with real-time translation. Instead of practicing your 'no hablo español' you can feel comfortable chatting away in English while your Cuban companion hears the Spanish translation! Check them out here.