Just picture this:  a glass of wine in your hand, a selection of fine artisans cheeses at your elbow, and a seat at the rail of a historic schooner as it gently sails past craggy granite islands with the sun setting over the bow.  Pure bliss!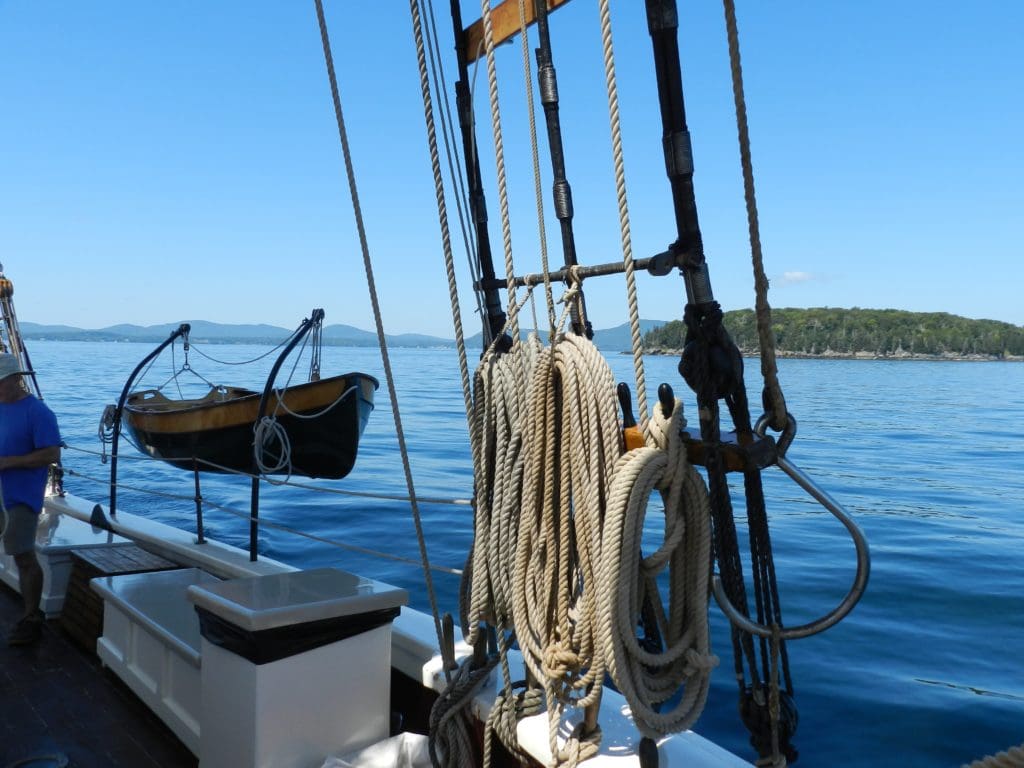 If you are looking for a unique summer adventure that will awaken your senses, tickle your taste buds and renew your vigor, a cruise aboard the historic wooden schooner Stephen Taber out of Rockland Maine, might be the perfect choice.  Come along as we set sail on one of the best culinary experiences of our lives, the Wine, Dine and Chocolate cruise onboard historic sailing ship, the Stephen Taber, oldest continually sailing schooner in America.
2020 Update:  The Maine Windjammer Association Fleet will be sailing this summer!  Sailing with a small group of people in beautiful Penobscot Bay is the perfect social-distancing getaway.
About Maine Windjammer Association Cruises
The tradition of offering affordable "soft-camping" adventures at sea began with the schooner Victory Chimes during the depression years.  Today the Maine Windjammer fleet has grown to 8 wooden sailing ships with an astounding 7 being on the National Register of Historic Places.  They are an impressive sight to behold as they hoist their anchors, raise their sails and venture off to explore Penobscot Bay and the jagged coast of Maine.  Each day's destination is a mystery that reveals itself to the experienced Captain according to the prevailing winds, tides and weather.  From Rockland to Bar Harbor, there are literally thousands of uninhabited islands and quaint fishing villages waiting to be explored.  Land, tall evergreens, sea birds and wildlife are never out of sight.  And one thing is for sure, the food will be outstanding, the companionship of fellow passengers fascinating, and the beauty of coastal Maine away from tourist crowds is simply breathtaking.  Cruises are offered as 3, 4 or 6 day sails and should be booked well in advance as they are very popular in summer months.  The most popular sailings are the theme cruises and the 4 occasions per season when the entire fleet gathers together at sea.
We are sailing on the schooner Stephen Taber with Captain Noah Barnes, his wife Jane, son Oscar and an able crew, for the much-anticipated Wine, Dine, and Chocolate cruise.  They are all dedicated to assuring that we have a memorable and delicious sailing experience.  As 22 passengers gather at the dock with duffle bags in tow, the boat is provisioned with fresh herbs and vegetables from nearby Hope Edge Farm, cases of fine wines, boxes of aged cheeses and crates of live lobsters.  Captain Noah assures us that the food we are about to experience will not only be good but in some cases, it will be life-changing – we can't wait to set sail!
Life Aboard The Stephen Taber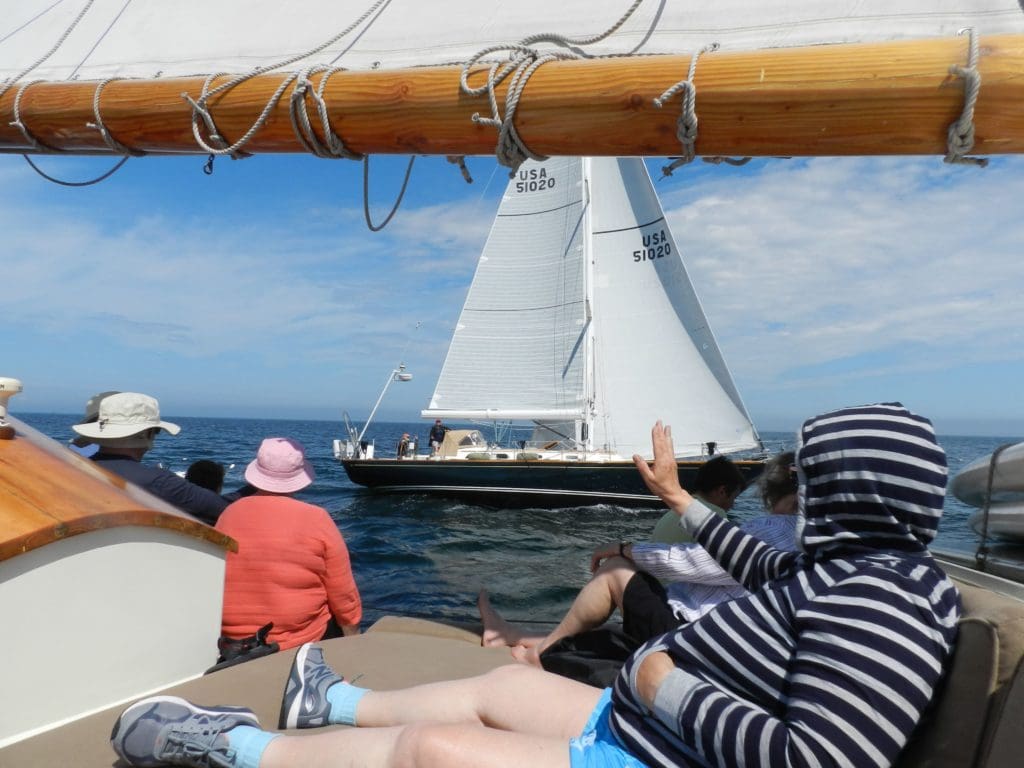 After a quick introduction to essentials, we make ourselves comfortable in our "cozy" cabins below and return to the deck to start socializing in earnest.  The passenger list includes couples from as far away as Texas, many New Englanders, a family with college-age children, and a number of solo travelers.  While our cabins are just large enough for two beds, a sink and space to stand upright to dress, we could care less, it's all about being above deck, meeting fellow passengers, learning about the Maine coast and experiencing life on a schooner.  I equate it to camping with a chef, hosts, and moving scenery.  Each day we sail to a small coastal community or uninhabited island where we can do a bit of walking and stretch our legs.  We have hours of leisurely calm water sailing and sea-life sighting and oh the sunsets!  Evenings are punctuated with shared music, games and starring straight up at the brilliant milky way overhead.
Let The Feasting Begin!
Our days and evenings on board the Stephen Taber unfold in waves of incredibly delicious snacks, meals, desserts and wine tastings.  It seems every time we turn around there's a new treat being unveiled from the galley below.  The dishes are always creatively presented with flourishes of fresh fruit and herbs and beautiful flowers on the buffet.  Breakfast may bring Maine blueberry pancakes, apricot ginger scones, cheesy scrambled eggs served with sausages and home fries, tender poached eggs served on polenta and of course the famous Taber granola.
Lunch always has a magnificent salad as well as offerings like grilled chicken tacos with all the fixins, chowder and make your own sandwich ingredients, warm chocolate chip cookies, colorful fruit salad etc.  An afternoon 'snack' might be warm apple bread pudding or perhaps they could interest you in homemade chocolate-peanut butter bites?
Cocktail Hour each day was over-the-top wonderful.  Each evening brought savory treats, mature cheeses, and a wonderful array of wines to complement each bite.  From smoked goudas, to rich cheddars, creamy brie and camembert rounds, pates, spreads and dips, stuffed zucchini blossoms fried up by the Captain…. the presentations brought gasps of delight.  Here are just a sampling of the offerings:
Dinners included perfectly roasted herb encrusted pork tenderloin, sauteed green beans, salad and homemade rolls; colorful stuffed peppers, salad and warm focaccia bread, and let's not forget the iconic LOBSTER BAKE!  Stephen Taber's crew pulls out all the stops in putting on an authentic New England lobster bake, but they notch it up even more with appetizers and wine on the beach, fire-grilled marinated steak, bbq chicken, and the most orgasmic s'mores you will ever eat (secret recipe!).  And lets not forget the flowing glasses of wine throughout.  All orchestrated on a lovely uninhabited island that we have all to ourselves.  Magnificent – best ever!
Our wonderful sailing adventure was over all too soon, leaving us with cherished memories and the resolve to plan another summer cruise on the Windjammer fleet.  The schooners of the Maine Windjammer Association sail from Memorial Day to Columbus Day each summer.  The ships come in various sizes with varying amenities on board.  If you'd like to learn more about the Windjammer sailing experience, here's another article with great info:  Maine Windjammers, Best Unplugged Vacation in America.   I highly recommend sailing on one of the outings when the whole fleet gathers at sea or on one of the many themed sailings.  The sight of these historic vessels under sail and experiencing the dedication and enthusiasm of their captains and crew is truly a unique vacation you will cherish for years to come.