5 Best Waterfalls to Discover in India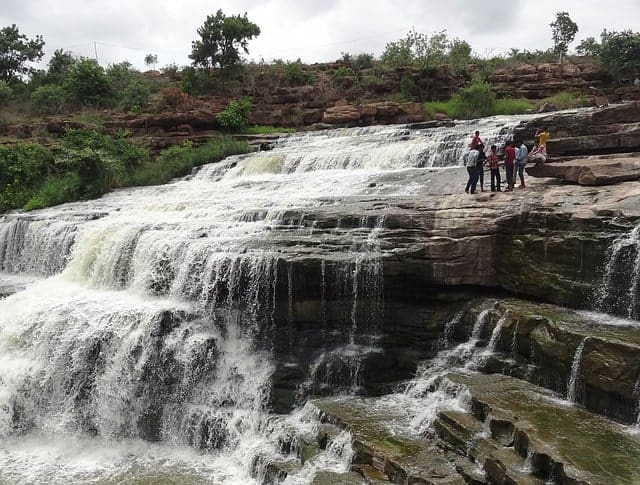 India: The Amazing Beauty!!
India is adorned with many bodies of water such as streams, backwaters, lakes, rivers, sea & ocean. It is also graced with towering snow-capped mountain ranges that provide water flow to supply numerous waterfalls dropping onto rocks from a distance with high force. There are a variety of waterfalls that are accessible for tourists to experience the thrill of observing this natural wonder. The scenery of flora & fauna they harbor on the banks and nearby is an experience to treasure. Some of the top waterfalls in India include the Athirappilly waterfall, Hogenakkal falls, Nohkalikkai Falls, and Shivanasamudra Falls along with Dudhsagar Falls.
Although we have tried giving a snapshot of the five best waterfalls in India this incredible country has a lot of rivers. There are few tourist destinations in Kerala which is well known for multiple waterfalls and popular waterfalls in Munnar like Lakkom, Nyayamakad,  Attukad Waterfalls, Chinnakanal and Valara Waterfalls are also worth exploring . Various falls such as Jog, Chitrakote, Kundala, Abbey, Kunchikkal, Gokak, Dhuandhar, Bogatha, Siruvani, Thosegha, Hundru, Ubbalamadugu, Kempty, Irupu, Suruli, Ethipothala, Vazhachal, Meenmutty, along with Muthyalamaduvu, Thottikallu, Talakona & Mekedatu are also worth mentioning when we talk about waterfalls in India.
Athirappilly Waterfalls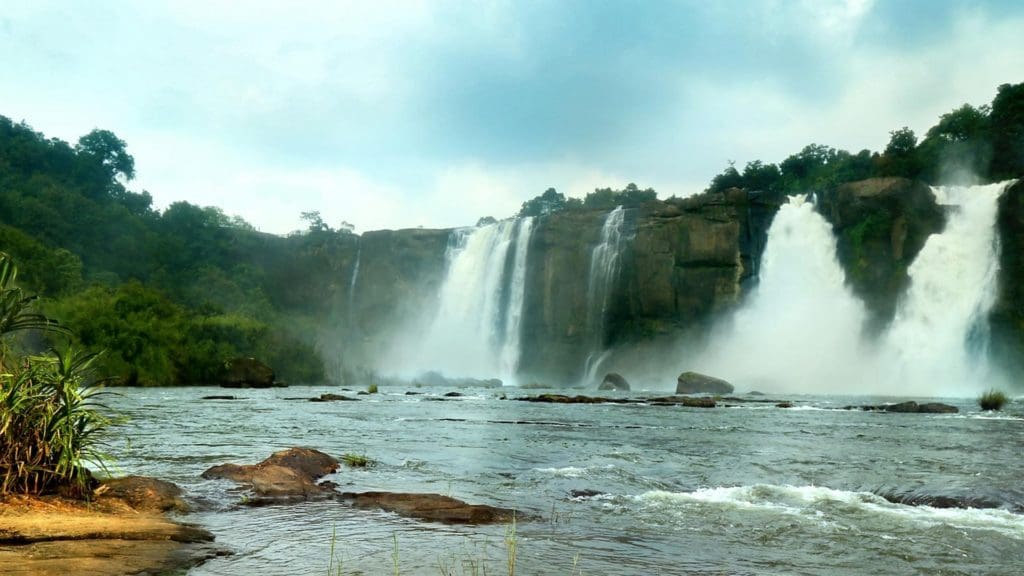 The forest area that surrounds the river or water body into which Athirappilly waterfall flows into, is an area rich with exotic flora & fauna and it houses a variety of endangered species. With International Bird Association declaring the forest, apt for bird watching, ornithologists flock to this area every migratory season. There are 319 species of flora within which 24 are endemic species that belong to the Western Ghats along with 10 of these which are endangered. Kodars, a group of tribal, specialized in collecting natural honey & wax is housed in this forest area.
Vazhachal falls horizontal flowing of the river.  Around 148 diverse species of butterflies can be seen in the forest area surrounding the Athirappilly waterfall. It is an ideal place that these butterflies can use as their natural habitat.
Hogenakkal Waterfalls
This waterfall flows into Kaveri River, which originates from foothills of Western Ghats. Hogenakkal, which means smoking rock, is the place wherein, Kaveri River gets divided into several waterfalls.  At this place, the river gets a chance to spread out forming beaches. Mettur Dam is constructed across Kaveri River. The pool that this dam generates is named as Stanley reservoir. The rocks that are strewn along with the waterfall filter the water repeatedly until it is so pure & clear. Government of Tamilnadu has proposed to use the water from falls as drinking water.
It is a project undertaken by the Government of Tamilnadu to use the water of Kaveri River to treat fluorosis. This project is supposed to be conducted by Tamilnadu Water Supply & Drainage Board with funds from Japan Bank for International Corporation. The main purpose of the project will be to supply drinking water that is safe to drought-prone areas & to people who are affected with fluorosis, a disease condition in which hypo mineralization of tooth enamel takes place.
Nohkalikai Falls
The tallest vertical fall among waterfalls in India, Nohkalikai falls, plunges from a height of 1115 feet or 340 meters. Cherrapunji, in Meghalaya, is one of the wettest places in India & this waterfall is seen in this area.
The natural beauty & environment that surround this area is breathtaking. The pool into which the waterfalls, has a shade of green in summer which turns into crystal clear blue during winter.
A tale recalls a folklore story about an unfortunate woman, who unknowingly cannibalized or ate her daughter. The ensuing grief & anger made her run with a hatchet in hand and jump from where the waterfall originated. Hence the waterfall was named as Nohkalikai.
Shivanasamudra Falls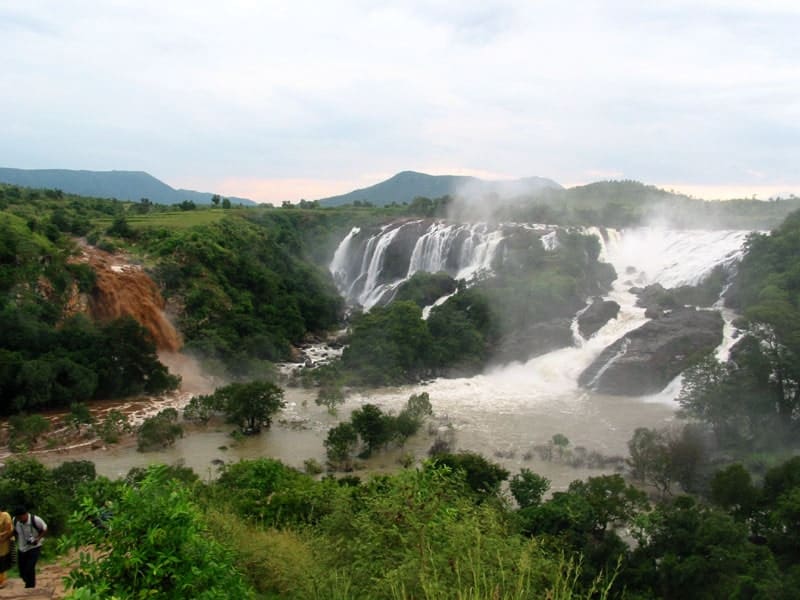 This cascade of water also falls into Kaveri River at two places, near an island town named Shivanasamudra, which divides it into a twin waterfall. It could be regarded as a segmented waterfall & the water is segregated into two or more falls before reaching the reservoir or pools of water at the bottom of Kaveri River. On course of being a twin waterfall, this water body creates the fourth largest island in the path of Kaveri River. There is the best time when the waterfall shows its strength & that would be during the monsoon season of July to October.
India's second power generating hydroelectric station is located where Shivanasamudra Falls flows into Kaveri River & it is fully functional. This power generated was initially used in Kolar Gold Fields.
Dudhsagar Falls
This cascade of waterfalls into a river named Mondovi, in the middle of a deciduous forest. It is a four-tiered waterfall & is now a part of Mollum National Park & Bhagwan Mahaveer Sanctuary. This name, Dudhsagar, literally gets translated to "sea of milk". Mondovi River is in Goa & Dudhsagar is one of the tallest waterfalls of India. It falls from a height of around 310 meters with a width of about 30 meters. This waterfall forms a white milky froth where it touches the reservoir in Mondovi River.
With Dudhsagar falls inside a deciduous forest, one can understand what happens in a forest day in & day out. This place provides with amazing nature walks, good trekking & hiking opportunities and a lot of other activities. Dudhsagar trek is a challenging one for all kind of trekkers alike; however, it is worth every step due to mesmerizing and breathtaking natural environment & surroundings.
The major attractions of these waterfalls are that all the places surrounding them are lush green with awe-inspiring scenery, fertile banks with a lot of exotic flora and fauna, a lot of endemic species & biodiversity hot-spot.
Most tourists enjoy hiking & trekking in these areas as they can breathe in nature as it is while doing some soul-searching as well. They can learn more about forests & various wildlife that harbour all kinds of life form in them. Being one with nature is an experience in itself while enjoying the beauty of waterfalls that forms beautiful cascades of water in their respective reservoirs or pools.
Urging all travel enthusiasts to visit incredible India with mesmerizing waterfalls & show-stopping or breath-taking sceneries.
​