Most Loved Fall Foliage Train Across the USA
Autumn always seems to me to be a bittersweet time of the year.  Brisk mornings mean that soon we'll be pulling out the leather gloves and warm jackets and packing away our summer gear.  Oh how I'll miss fresh breezes making the curtains dance at open windows.  But nature has provided a brilliant trade off with the beginning of fall foliage season.
This year why not let someone else do the driving while you sit back and relax with nothing to disturb your leaf-peeping revelry.  We've pulled together a guide to America's favorite rail journeys that travel past the country's most stunning fall foliage vistas.
New England Fall Foliage Train Routes
Vermont – Green Mountain Flyer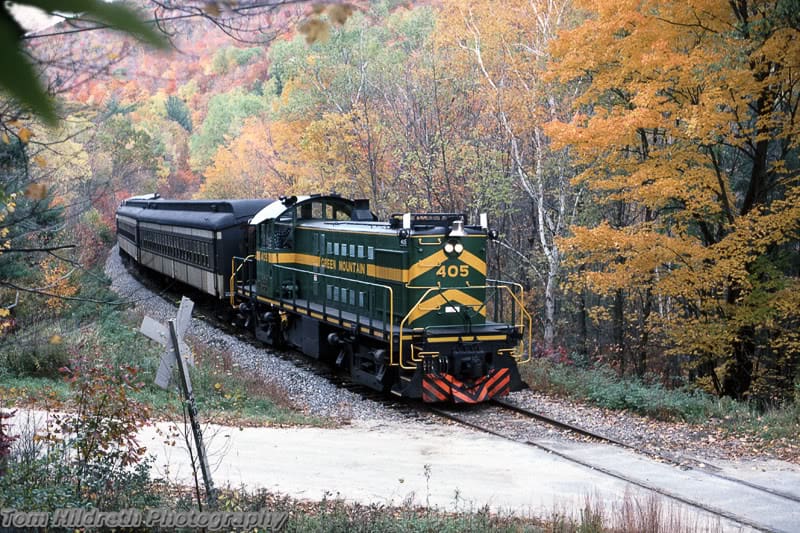 The scenic journey traveled by the Green Mountain Flyer certainly has it all; trestle bridges spanning rushing river crossings, waterfalls, gorges, and glimpses of covered bridges.  The 2 hour route travels from the quaint town of Bellows Falls, where passengers board at the historic train depot and travel along the Connecticut River to Chester, Vermont.  This rail journey is quintessential New England scenery and a wonderful way to view Vermont foliage at its finest.
New Hampshire – The Ultimate Fall Foliage Rail Destination with three scenic trains!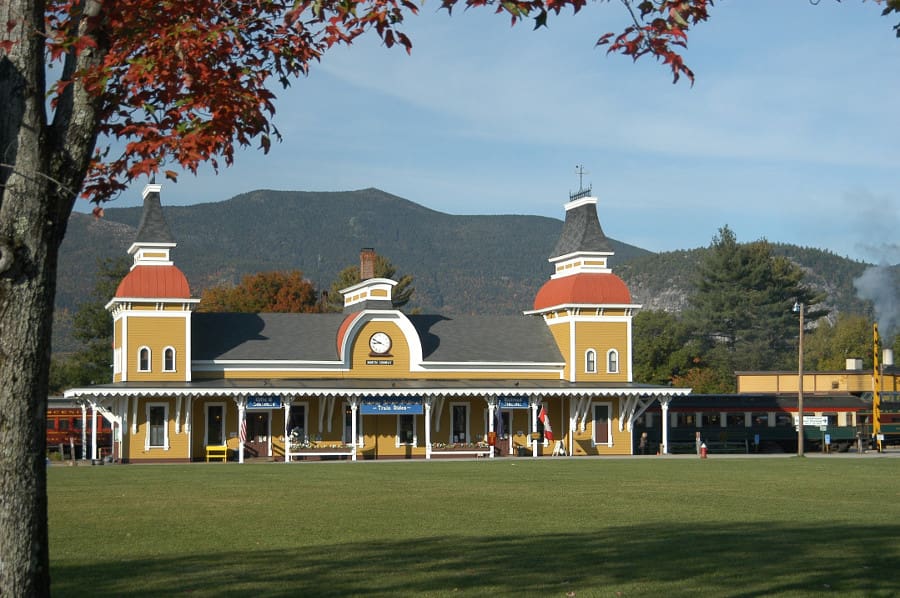 Conway Scenic Railway
Just boarding the train at the iconic North Conway Scenic Railway Station will guarantee life-long memories, but the best is yet to come.  Lovers of mountain adventures will want to climb aboard the Notch Train for a 5 hour round-trip journey up into the scenic notches of the White Mountains National Park.  You'll climb along the dramatic Mountain Division Line past sheer cliffs, rocky streams, steep ravines, and across the Frankenstein Trestle and Willey Brook Bridge on your way to breathtaking Crawford Notch.  For those who prefer a bit less excitement can choose a 1 hour or 1 1/2 hour Valley Train.
Mount Washington Cog Railway
The Mount Washington Cog Railway making the 6,288 ft  climb to the summit of Mt. Washington for 150 years, and is a excursion everyone should take once in their lifetime.  On a clear day, views from the highest point in the Northeast can encompass New Hampshire, Vermont, Maine, Canada and the Atlantic Ocean.  The 3 hour round-trip journey powered by either a vintage coal fired engine or a eco-friendly bio-diesel engine is sure to make lasting memories.  Your visit includes one hour to tour the summit weather observatory, site of the highest recorded winds in the world.
Winnipesaukee Scenic Railway
Leaving from the lakes district in central New Hampshire, the Hobo Winnipesaukee Railway travels downhill from the lovely village of Meredith to Weirs Beach and Lakeport.  The two hour journey reveals dramatic views of Lake Winnipesaukee, Belknap Mountain and the islands.
Maine – Maine Eastern Railway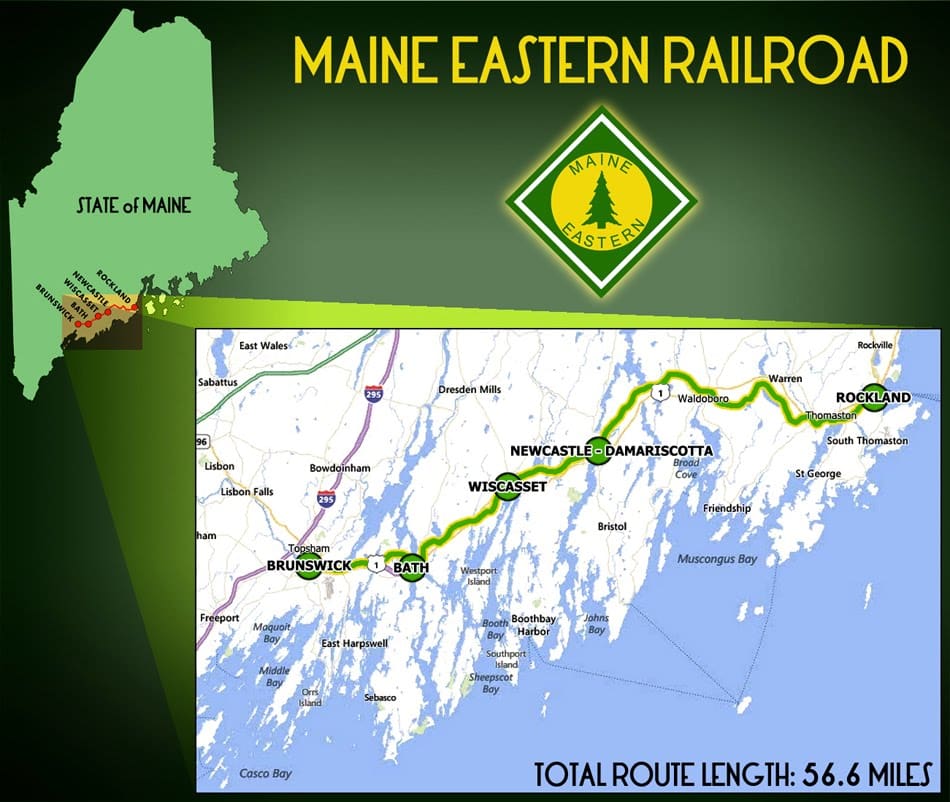 Ride in an historic restored rail car along Maine's treasured Mid-Coast from Brunswick to Rockland and miss all the weekend traffic jams!  This 4 1/2 hour journey touches all the beautiful coastal villages like Wiscasset, Damariscotta and Rockland on its two hour one way route.  For an unforgettable excursion board the Maine Eastern Railway to the Damariscotta Pumpkinfest & Regatta that takes place in 2014 from October 4-13.  For real train enthusiasts, you can connect to this rail service from Portland and Boston via Amtrak's Downeaster.
Massachusetts – Cape Cod Central Railroad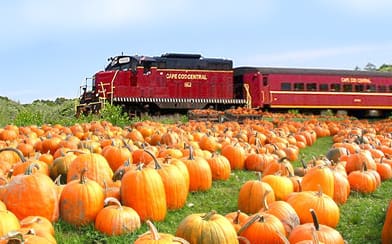 This very social railway offers journeys for couples, friends and families with Dinner Trains, Brunch Trains, Lunch rains, and Family Supper Trains.  The 46 miles, 2 hour journey travels from mid-cape Hyannis up to the Cape Cod Canal in Bourne.  Along the way you will view vibrant reds, golds or orange hues from the cranberry bogs, salt marshes and sand dunes.
Connecticut – The Essex Steam Train and Riverboat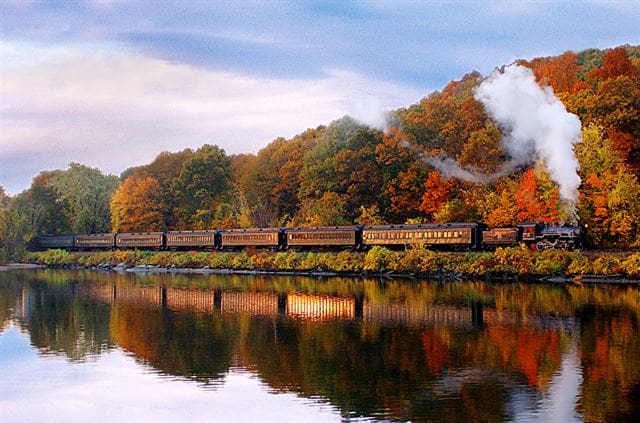 This historic steam train will bring you on a 2 1/2 hour journey through the Connecticut River Valley along side meadows, farms, and a mill pond with waterfall.  The 12 mile round-trip adventure also gives you the opportunity for a 1 1/4 hour sail aboard the historic River Boat, The Becky Thatcher at Deep River Landing.
Rhode Island – Old Colony and Newport Railway 
Departing from the center of Newport, the Old Colony travels an 80 minute, 10 mile route on Sundays during the Fall.  Passengers can ride in either an open platform coach or a 1884 parlor car as they make their way along the coastline of Narraganset Bay.  View the Naval Base, storied sailing ships, and coastal beaches on your journey.
New York Adirondacks – Ethan Allen Express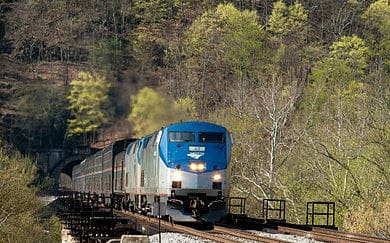 Make a weekend  of it and ride the Ethan Allen Express, operated by Amtrak, from New York City north to beautiful Rutland, Vermont.  Leave the rush of New York City behind on this 5 1/2 hour one-way journey as it travels 241 miles north to the brilliant fall foliage scene in Vermont.  You'll travel through the Catskills in Up-State New York, Saratoga Springs, and Fort Edward, gateway to Lake George, before reaching the Green Mountains of Vermont.  There are plenty of attractions for sightseeing along the way, not to mention lots of fun to be had in the Rutland area.
Foliage Trains Heading South
Heading Into The Wood in West Virginia – Cass Scenic Railroad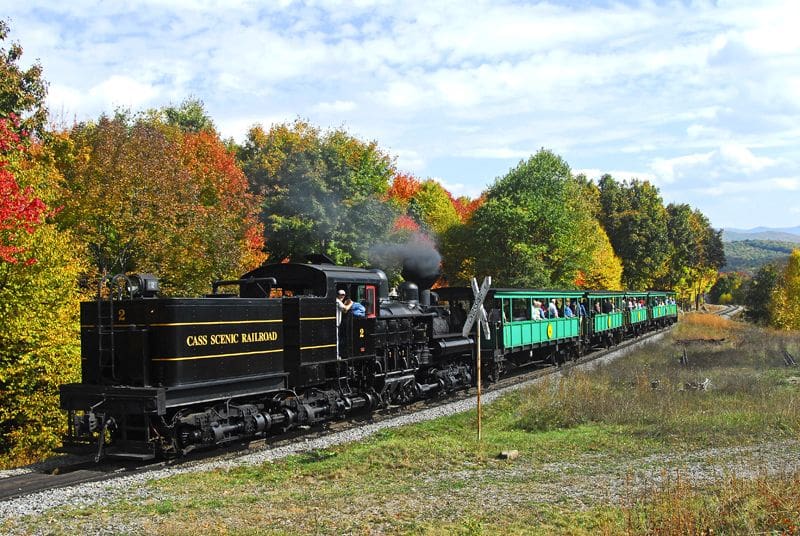 Rich in history and local lore, this 4 1/2 hour round-trip, 22 mile historic rail line travels within the West Virginia State Park, and seemingly back in time.  The rail bed that climbs into the mountains was constructed to support the logging industry in 1901 and the sawmill town of Cass.  Climb into the cars that were originally built to carry timber, but have been adapted for passengers.  You can extend your journey by spending the night in the restored "company" town of Cass.
Bryson City, North Carolina – Great Smoky Mountains Railroad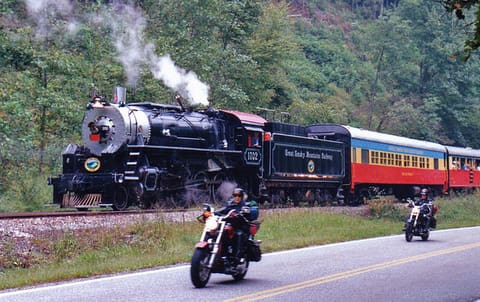 This iconic train brings passengers on  3 1/2 hour journey through river gorges, scenic valleys and soaring mountains.  Beginning at the historic depot in Bryson City, the train climbs 53 miles, through 2 tunnels and over 25 bridges as it rumbles through the Blue Ridge Mountains and the Great Smoky Mountains National Park – a truly impressive journey.  And there's something to entertain everyone with special trains scheduled for families to experience the Peanuts Pumpkin Patch Express, and adults only for a Shine and Dine dinner train serving some of North Carolina's very best moonshine!
Mid-West Scenic Trains
Duluth, Minnesota – Lake Superior and Mississippi Railroad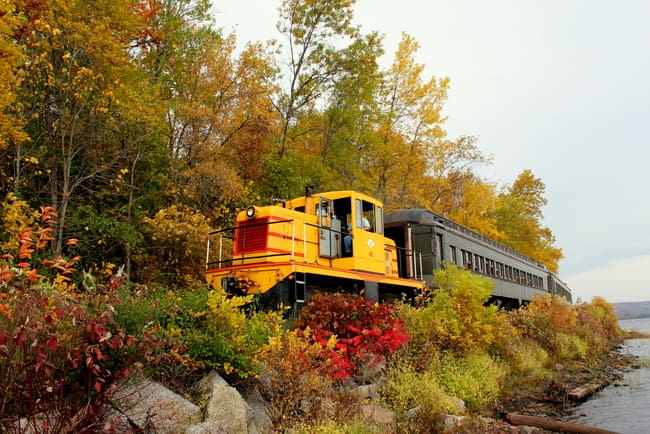 This all volunteer railroad puts on quite a show.  Boarding the train in Duluth Minnesota, the train travels on a 140 year old right of way along the shoreline of the St. Louis River estuary, along Spirit Lake and Mud Lake.  Wildlife sightings are a major attraction along this rail bed with passengers often seeing eagles, great heron, and other aquatic bird species.   The 1 hour and 40 minute ride is accompanied by a lively history narration.
Hill City, South Dakota – Black Hills Central Rail Road, 1880 Train
Here's a great excursion to add to your visit to the Mt. Rushmore National Park and the Crazy Horse Memorial.  Climb aboard a rail car from the 1880's and travel on a vintage steam train into the Black Hills of South Dakota.  Relive the era of the wild west as you travel from Keystone to Hill City, seeing dramatic scenery all along the way.
The Wild West Scenic Trains

Durango, Colorado – Durango & Silverton Narrow Gauge Railroad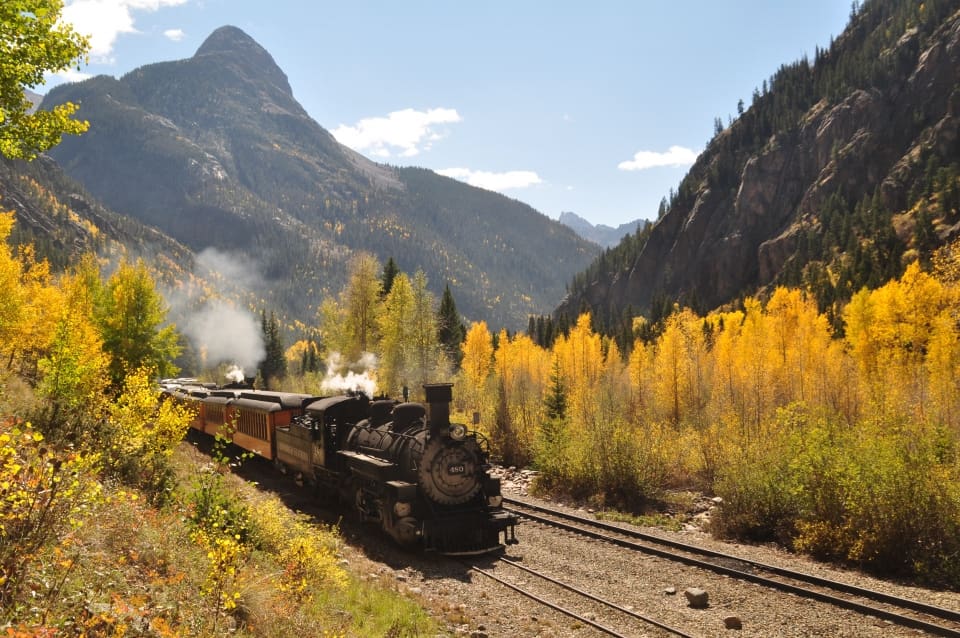 While many train lines across America were built to support lumber harvesting, this line was constructed in 1881 to haul silver and gold!  Servicing mining camps in the San Juan Mountains, this line soon became known for its spectacular cliff-hugging views.   On a full day round trip journey, the train hugs cliff edges and descends into valleys as you make your way from the remote wilderness of Durango to the mining town of Silverton on this historic coal-fired steam train. In late October, the Peanuts Great Pumpkin Patch Express is popular with families.
Williams, Arizona – Grand Canyon Railway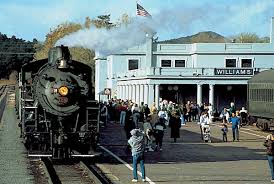 You may think of Arizona as shades of browns, but you might have to adjust your perceptions when you learn about the journey by the Grand Canyon Railway as it climbs into the hills of Flagstaff.  You'll discover vistas of reds and yellows and classic views of canyon lands.  The round trip excursion takes a bit over 8 hours and allows you about 4 hours at the Grand Canyon to do a bit of exploring and dare we say some souvenir shopping – or you may choose to overnight at one of the Park's iconic lodges.  All along the journey you'll be entertained with memorable views, cowboy musicians and even a mock train robbery or two.
Napa California, Napa Valley Wine Train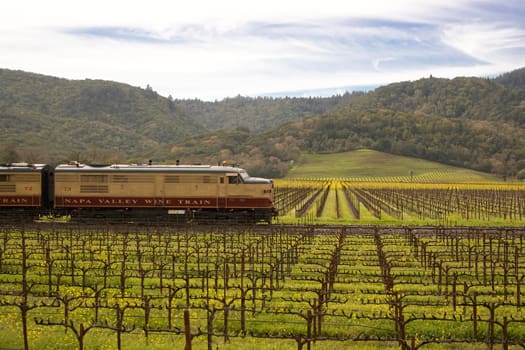 You may find more reds in your glass than out the window, but you will definitely delight in both the red and golds that you see (and taste) along the way.  Fall is a heady time in Napa with grapes ripe and fermenting on the vines and the distant hills changing colors.  So sit back and relax as you sip your favorite varietal – you don't have to drive!  The 36 mile, 3 hour round trip journey travels from the quaint town of Napa through a countryside filled with vineyards to the village of St. Helena and back again. You can ride the train back or leave time for vineyard tastings.