Making the Most of a Visit to Fo Guang Shan
What is Fo Guang Shan?
Boasting an array of unique cultural-religious sites, magnificent natural landscapes, and world-class food, Taiwan is an increasingly popular destination for backpackers and tourists. High on any visitor's list of must-see sights should be Fo Guang Shan, the largest monastery in Taiwan and only a short trip outside of Kaohsiung. Acting as the headquarters of the eponymous Fo Guang Shan Chinese Buddhist order, Fo Guang Shan offers amazing photo opportunities and the chance to learn more about modern Buddhist teachings.
Founded in 1967, Fo Guang Shan is an international monastic Buddhist order, with branches in over 30 countries, that promotes a form of Humanistic Buddhism. Re-representing Buddha's teachings, humanistic Buddhism models itself as a more proactive form of Buddhism aimed at the lay Buddhist through integrating Buddhist practices into the mundane tasks of everyday life.

The Big Buddha and avenue of pagodas in the Buddha Museum
How to Get There
Coming from Kaohsiung, visitors have only one option to get to Fo Guang Shan – bus. The Harvard Express bus (also called the HAFO Express) travels directly to Fo Guang Shan and leaves from Zuoying HSR station, also served by Kaohsiung's MRT line. The journey takes around 35 minutes and a single, one-way ticket costs 70NT; it's worth noting that the bus fare can be paid with exact change or easy card. Buses run frequently with the timetable for going found here and returning here.
If arriving to Zuoying by MRT, the bus stop can be tricky to find as it's on the opposite side of the HSR station. When leaving the MRT station, walk through the HSR station and leave by exit two to street level. If unsure, look out for signs to buses within the HSR station or ask at the HSR information window for directions to the HAFO Express bus stop.
Although other buses travel between Kaohsiung and Fo Guang Shan these are not recommended. Bus 8501 is not a direct line and Buses 8010 & 8011 are very infrequent.
The Three Complexes of Fo Guang Shan
Fo Guang Shan is not a single complex but composed of three separate areas. Most people visit Fo Guang Shan for the Buddha Museum (previously known as the Buddha Memorial Centre). This is a somewhat misleading name, however, as the Buddha Museum consists of a huge area spread across multiple buildings and outdoor spaces. Most famously, the Buddha Museum contains the Big Buddha and avenue of pagodas – the primary reason most people visit Fo Guang Shan – but also the Main Hall (which features several historical and cultural exhibitions) and the Front Hall (which acts as an information centre), outside of which the HAFO Express bus stops.
Although the Buddha Museum is itself worthy of a day trip, one should not overlook the other two areas – the Repository and Monastery. Unlike the Buddha Museum, these don't explicitly cater to tourists but rather function as active facilities for the students and monks at Fo Guang Shan, and, as such, aren't as well signposted or advertised. Regardless, visitors are welcome to explore the Repository and Monastery, and it is certainly worth doing so!
The Repository and Monastery are a short walk up a steep hill adjacent to the Front Hall of the Buddha Museum. Follow the road up the hill to quickly reach the Repository and round further to reach the Monastery. Although these areas aren't explicitly managed for the benefit of tourists, visitors are welcome to explore them, and they provide a serene space to calmly wander and absorb their serenity.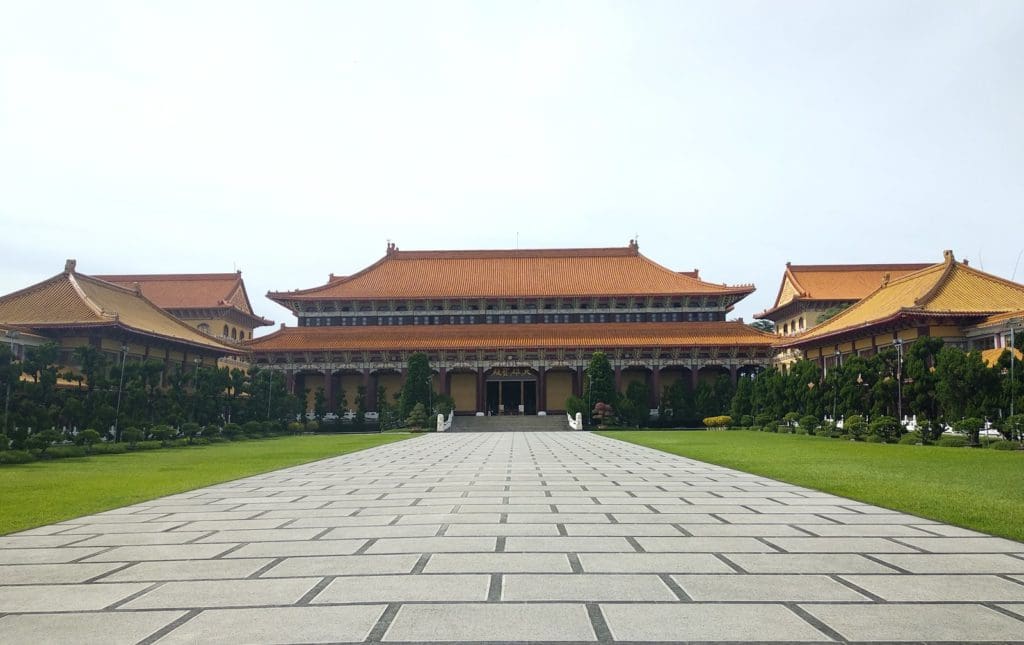 The Main Hall of Fo Guang Shan Monastery
Best Photo Opps
The Buddha Museum is, quite rightly, the most famous sight-seeing spot in Fo Guang Shan. A huge avenue of pagodas leading to golden Big Buddha statue – standing a whopping 108 metres above ground – is an impressive sight and an enviable photo opp. However, don't miss the chance to see its magnificence from above. Talk the short walk up to the Repository, climb one of the towers (or take the indoor lift) and marvel at the dramatic scene from a height that only adds to its grandeur. It's some walk up a steep hill but the view from the top is an amazing reward and even the Repository itself – a grand building boasting a large front courtyard and an imposing main hall, surrounded by tiered towers and intricate front gate – is a site to behold.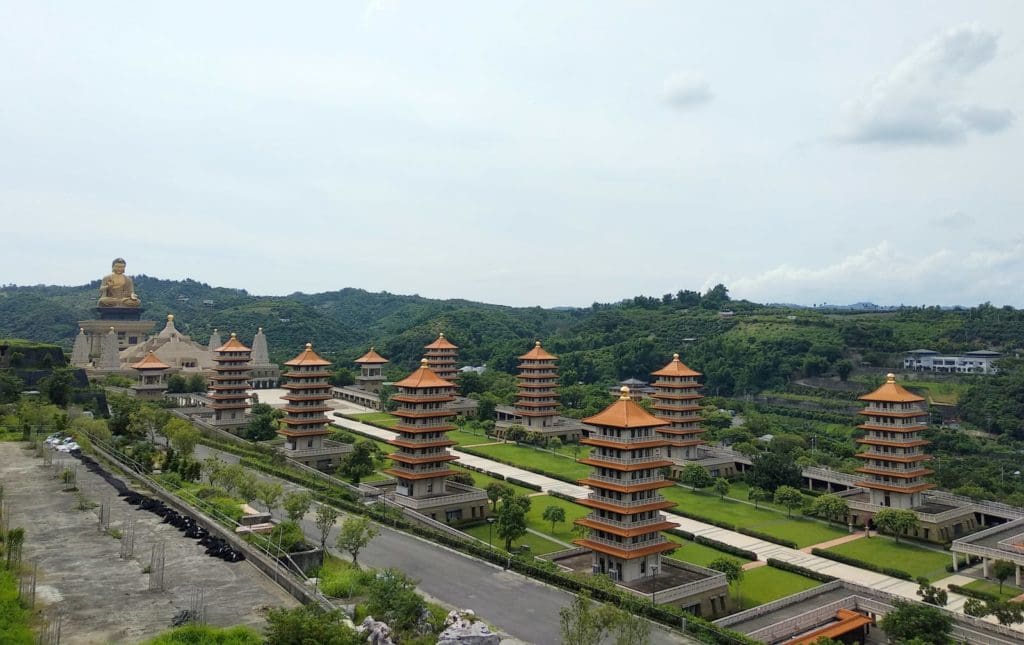 View over the Buddha Museum from the Repository
Also be sure to explore the exhibitions of the Main Hall. As well as museum exhibitions, the second floor is home to several art galleries featuring picture art and sculptures in various artistic styles. There are also exhibitions of intricate artifacts and three shrines – the Avalokitesvara Shrine, Golden Buddha Shrine, and Jade Buddha Shrine. The Jade Buddha Shrine is particularly noteworthy as it contains the treasured Buddha's tooth relic – one of only three in the world.
Finally, don't overlook the sights of Fo Guang Shan's Monastery. Walking through its grounds, you'll find yourself surrounded by striking architecture that calls out to be photographed. The main hall is expansive and ornate, the aptly named Great Buddha Land features rows-upon-rows and of golden Buddha statues, and the gardens of the Monastery are dreamlike in their tranquility. Although the Monastery may not be as dramatic as the more famous Buddha Museum, it's home to a variety of sights that shouldn't be missed.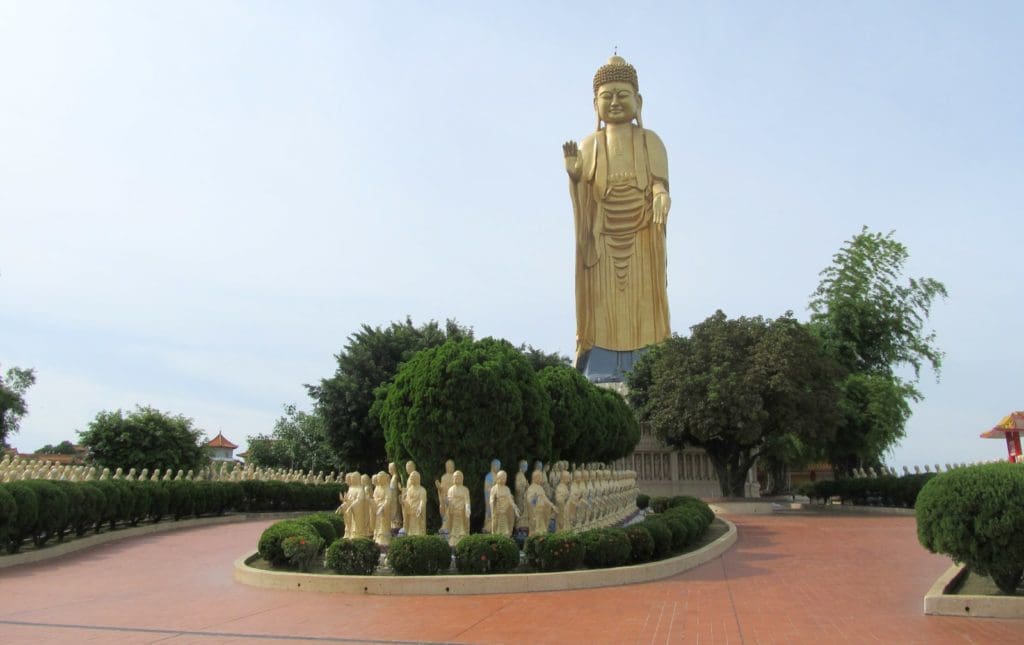 Great Buddha Land in Fo Guang Shan Monastery 
What Else Does Fo Guang Shang Offer? 
Fo Guang Shan is often presented as simply a fantastic photo opportunity, but it offers so much more for visitors to engage with.
One thing that all visitors to Fo Guang Shan will agree on is that the staff of the Buddha Museum and monks of the Monastery are incredibly welcoming. Upon entering any area or exhibition you can be sure that staff members will meet you with a big grin, and if you venture out of the main Buddha Museum to explore the Repository or Monastery you'll be sure to cross paths with many monks who will usually be happy to chat with you, unless busy with their monasterial duties. Use this opportunity to have a genuine conversation with the monks of Fo Guang Shan. Learn about humanistic Buddhist beliefs first-hand from those who have dedicated themselves to the teachings or learn about the history of the relatively young Fo Guang Shan order. It's not every day you get to do so.
While exploring Fo Guang Shan you'll soon notice the amazing number of freebies on offer. Particularly within the Monastery, staff will be eager to give you free tea, coffee or food while you explore the buildings open to the public. Better yet, there's an abundance of free literature on Fo Guang Shan and Humanistic Buddhism available. Of course, don't go overboard – there's no point taking a copy of a book that you know you'll never read – but if you're genuinely interested, go ahead.
Take a break from sightseeing (and the heat) to practice your calligraphy skills in the Main Hall of the Buddha Museum. On the third level of the Main Hall, underneath the Big Buddha, visitors can practice writing Buddhist aphorisms on a small scroll of paper. Don't worry, you don't have to actually know the Chinese alphabet – all the aphorisms are faintly printed on the paper for visitors to trace over – but it still makes a great souvenir!
Summary
Fo Guang Shan makes a great day trip from Kaohsiung. Easily accessible by bus, the compound provides visitors amazing photo opportunities, the chance to learn more about a modern humanistic Buddhist order, and the opportunity to explore a functioning Buddhist monastery. Fo Guang Shan should be on any visitor's list of must-see sights in Taiwan.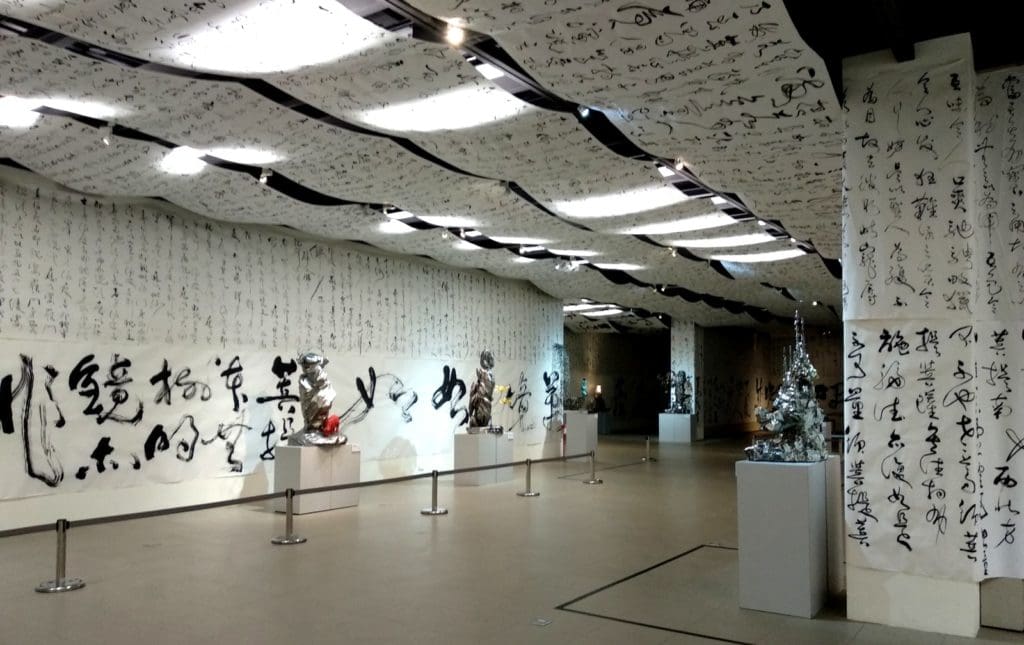 Sculptural exhibition inside the Main Hall of the Buddha Museum
********************************
About The Author:  Callum Bains is a student from the UK recently returned from a year abroad in Australia and Malaysia. Keen to share his travel experience, Callum enjoys writing as well as keeping up with current affairs and playing in local bands.
********************************