Despite stiff competition from the likes of the AAA, Zagats and even Tripadvisor, The Michelin Guide still reigns supreme as the most trusted and well-respected barometer of culinary excellence in the restaurant world. But while Michelin's mysterious inspectors materialize all over the globe, casting their uniquely attuned taste buds over painstakingly prepared dishes, they are yet to visit Orlando, Florida. This leaves the fine dining scene of this city sadly deprived of Michelin stars, but that doesn't mean there aren't restaurants that deserve them!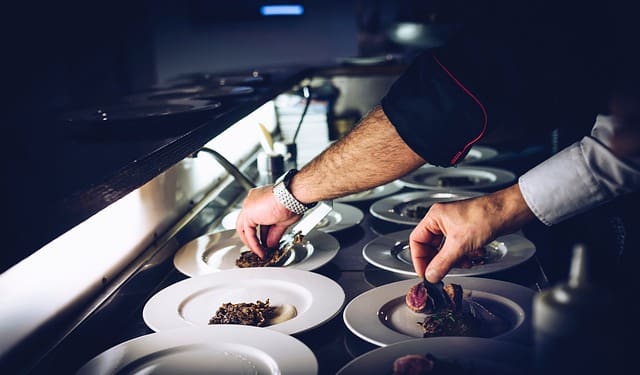 While not without controversy, (a French restaurateur recently demanded to be removed from the list after a critical inspector suggested he used cheddar in his soufflé – if you can imagine such impertinence!) Michelin stars act as a guarantee of quality for prospective diners. You know that, if a restaurant has one, you are extremely unlikely to be disappointed – and if it has two or three, you are in for an exceptional experience.
This is why we at Top Villas think it's worth taking a virtual tour around the best restaurants in Orlando and giving them the Michelin stars they currently miss out on – allowing them to join the USA's other culinary superstars such as Le Bernardin, Per Se and Alinea.
NORMAN'S
Cuisine: Fusion – Our Rating: Two Stars

Drawing from Florida's rich cultural diversity and fantastic homegrown ingredients, NORMAN's offers a celebration of Latin, Caribbean, Asian, African and American flavors in a fine dining format – creating a truly unique culinary experience. The brainchild of Norman Van Aken (the man credited with introducing the concept of "fusion" cookery to the modern lexicon and the founding father of New World Cuisine) this outstanding restaurant is sadly set to shut at its current location in September 2019 – but the Orlando Weekly has been reassured that NORMAN's will be reborn elsewhere.
With a fantastic reputation and 16 years of success behind it, you can understand why no one wants to see this restaurant close its doors. Drawing from Florida's rich cultural diversity and fantastic homegrown ingredients, the Executive Chef Andres Mendoza leads a talented team of cooks in the production of beautiful dishes with deceptively simple names – like "Fried Green Tomatoes" and "Pork Havana".
Chatham's Place
Cuisine: Italian – Our Rating: One Star
Rated "Excellent" in 78% of its Tripadvisor reviews, (for an idea of how unusual that is, you can bear in mind that the exclusive 3-Michelin starred restaurant Alain Ducasse at The Dorchester only manages 58%) Chatham's Place is often thought of as something of a hidden gem. Tucked away in a hard-to-find spot just off Orlando's acclaimed Restaurant Row at Dr Phillips, this restaurant has served happy diners for over twenty years – truly perfecting the fine dining experience.
Chef Tony Lopez and Maître d' Maurice Colindres work hard to ensure that people enjoy something  special when they step through the door of Chatham's Place, providing a seasonal menu which showcases organic produce from the chef's own farm. Setting themselves apart from the usual chain fare through an exceptional level of service, you can expect to be spoilt in elegant surroundings, with the experience accompanied by live music from pianist Bob Rose.
The Venetian Chop House at Caribe Royale
Cuisine: American – Our Rating: One Star
Another restaurant that prides itself on attentive service, The Venetian Chop House is a sumptuous yet welcoming venue located in the Caribe Royale Orlando luxury hotel. The menu offers all the casual indulgence of steak, chops and seafood, elevated to a surprising level of elegance – with the chefs working hard to create detail and flavour that's beyond what you'll find in the average steakhouse.
Cast an eye over the Tripadvisor reviews and you'll find that phrases like "perfectly cooked", "welcoming service" and "beautiful ambience" jump out over and over again, and it appears that this restaurant is enduringly popular with both residents and visitors alike. As a testament to this, The Venetian Chop House was voted one of the best hotel restaurants in Orlando Magazine's Readers Choice awards in 2019, against stiff competition.
1921, Mount Dora
Cuisine: Modern Floridian – Our Rating: One Star
1921 Mount Dora is committed to encompassing the "totality of the State of Florida" – and it achieves this through an authentic yet refined dining experience in a stunning historic setting. Resplendent with fairy lights, this romantic location serves brunch, lunch and dinner, all created from the sustainable local produce of the farmers and food artisans of Florida.
Applying a forward-thinking approach to The Sunshine State's culinary traditions, 1921 is part of Mount Dora's Modernism Museum complex, and its interior is decorated with artworks that are on loan from the museum. It's within this context that you can savor dishes such as the Florida Peach Salad, enjoy a few expertly mixed drinks or nibble on delicious bar snacks (making sure those Happy Hour cocktails don't arrive on an empty stomach!).
Deep Blu
Cuisine: Seafood – Our Rating: Two Stars
Chef Cory York, a self-described "pescophile", pioneered the sustainable "dock to door" menu of Deep Blu after discovering a passion for seafood in Hawaii – training his skilled team and winning Best Chef in Orlando Magazine for two years running. Although subsequently moving on to other projects, the quality of what Chef York created here continues to impress diners from all over the world – with the select menu illustrating the simple pleasure of eating quality ingredients that are perfectly presented.
Deep Blu guarantees a line-to-plate time of no more than 36 hours, allowing diners to indulge in treats such as king crab, scallops, grouper and lobster at their absolute freshest – while those who don't have a taste for seafood can pick from some of the best steaks available in Florida. Perhaps the stand-out dish on the menu, however, is the Deep Blu crab cakes. Molded from 98-99% crab meat, (no stodgy breadcrumbs here) this starter receives a striking amount of praise from those who taste it.
Kadence
Cuisine: Japanese – Our Rating: One Star
The winner of Orlando Magazine's Dining Awards: Critic's Choice for Best Japanese in 2019, this tiny nine-seat restaurant has made a big impact on Orlando's fine dining scene. With a colourful interior housed in an architecturally striking black box, the transitional sushi and sashimi tasting menu at Kadence may be limited, but the seemingly endless sake menu certainly isn't – and there's a few inventive craft cocktails to sample as well.
A trip to Kadence is to surrender choice in your food in favour of an extraordinary experience, where every delicate and nuanced dish can surprise (and hopefully delight!) you. Uncompromising in their approach, this is a truly unique and imaginative place to eat, with their ingenious combinations and dedication to quality creating something you simply can't find elsewhere.
Cala Bella
Cuisine: Tuscan – Our Rating: One Star
As close as you can get to visiting the heart of Italy without leaving American shores, Cala Bella indulges its diners with a gourmet experience inspired by the region of Tuscany – an area where food is taken extremely seriously. This spirit is evident at Cala Bella, which is often thought of as one of the best Italian restaurants in the Orlando area, where the attention to detail and hospitality is second-to-none. Dive into a dish of lobster, scallops and a saffron broth, or enjoy a generous bowl of Rigatoni Bolognese, and find yourself transported.
Another advantage of Cala Bella is its varied wine list and upscale location. Shingle Creek is set in beautiful countryside and boasts everything from spas to golf courses – so a meal at Cala Bella can easily be the culmination of a very enjoyable and relaxing day.
Victoria and Albert's
Cuisine: Haute American – Our Rating: Three Stars
The only central Florida restaurant to be awarded a prestigious 5 Diamonds from the AAA (and one of only 68 restaurants that hold this title), Victoria and Albert's is an Orlando institution which has been leading the way in Floridian fine dining for over thirty years. Chef de Cuisine Aimée Rivera oversees her exceptional team alongside Executive Chef Scott Hunnel, bringing their philosophy of food as an art form to life in the most spectacular manner.
Sourcing the very best ingredients from around the world, (whether that's beef from Japan or truffles from Italy) Victoria and Albert's serves dishes that are somehow classical, modern and distinctly American all at once. As children under ten not allowed in the dining room, this is an undeniably formal experience, with the expressed intention of evoking "another era, when dining was an elegant ritual, with a knowledgeable maître d'hôtel and chefs in classic white toques" – which all adds to this restaurants particular charm.
There is something so uniquely beguiling about a great restaurant, which all the sensory indulgences of food, wine and ambience converging to create something transportive and unforgettable. Whichever of these restaurants you may choose, (and you may even make it your mission to visit them all) you'll be experiencing some of the best that Orlando has to offer – and we wait with bated breath for a Michelin inspector to one day visit and sample them.
*******************************
About The Author:  This post was written by Top Villas, holiday specialists and Florida enthusiasts who help people choose their ideal holiday home in a variety of locations across The Sunshine State, including luxury Reunion Resort rentals in Orlando.
*******************************