Best Paths For Hiking, Biking and Jogging in Sydney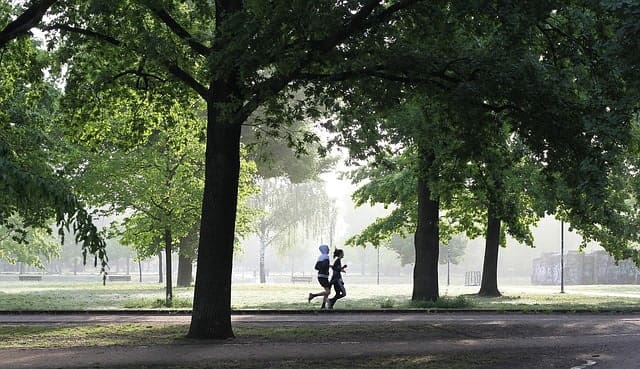 Sydney is a cosmopolitan city filled with mesmerizing parks, luscious nature, and captivating sights. The city is rich with numerous settings ideal to be seen either on foot or on a bike. There are so many hiking, biking and jogging routes in and around the city that it is even hard to rule out one that comprises everything. If you desire scenic sights you would go in the outskirts, but if you prefer the history of the city as you jog you would choose the downtown area. In the end, why not explore it all! From bush paths to gorgeous city roads Sydney is undoubtedly a place where you can reconnect with nature while at the same time feel the roaring city sounds as you hike, jog and bike. Here are the must-see paths for active explorers.
Shelly Beach to Curl Curl
If you are a morning person and keen on jogging and biking with the first glance of the morning sun, the routes from Mainly to North Head and Spit Junction are ideal places to go. As you jog through the serene natural paths you can head your way to Shelly Beach and enliven all your senses by breathing in the dazzling salty air. Hug the famous Shelly Beach shore and make your way t the renowned Manly Beach then climb the stairs at Queenscliff and gently find your path to the finish line – Curl Curl.
Centennial Park
Amongst many other astonishing parks in Sydney, Centennial Park is one of the first choices for novice to skilled bikers due to its beautiful landscape and a mix of paths for people of all skill levels. Furthermore, if you are in for an easy ride or evening stroll with family then thing no more. Centennial Park attracts more than 700 000 cyclists annually since it is spread around 360 hectares of lush parkland with well-maintained pathways. However, this path is also very much used by hikers and joggers, and you may even encounter gregarious people having a picnic and barbecue.
Experience the Kamay Trail
Sydney has adventurous paths for all those hikers fond of a more active way of exercising. The energizing hiking and jogging activities last throughout whole spring for athletes aiming to compete, but the long courses of Kamay trail are open all year round for freelance hikers. You will have the unique opportunity to go through bush setting utilizing the diverse trails of the St Ives Wildflower Gardens. Later you may encounter rougher trail through Ku-ring-gai National Park, but if you are using True Protein supplements that will give your performance edge and boost and make that trail a real piece of cake.
Parramatta Park to Olympic Park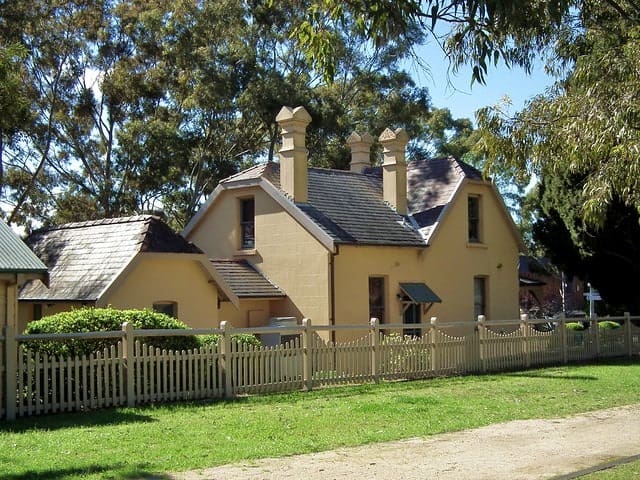 Macquarie Street Gatehouse – Parramatta Park, Flickr by sv1ambo
All sporting enthusiasts who live out west knows about Parramatta Lakes and its stunning historic surrounding perfect for all kinds of outdoor activities. But little do other people know, that by heading out south-east towards Olympic Park they will be in for a real biking and jogging treat. In the Olympic Park, you will encounter 35 kilometers of safe cycle paths, passing shipwrecks, outdoor art installations, lookouts, and wildlife refuges. When you arrive at the scene of some of Australia's greatest international sporting triumphs, you will have the opportunity to cycle along 7,6 kilometer Olympic Circuit, 5,5-kilometer Parklands Circuits, or the 11-kilometer River Heritage Circuit. Or if you are on foot, simply make a lap of Bicentennial Park and jog back to Parramatta.
Unwind Around Cooks River
One of Sydney's oldest, most popular and epic cycling and jogging shared paths is undoubtedly Cooks River route. As you are going north towards Kyeemagh, you will see (and feel) many grassy areas and footpaths all the way along Cooks River, giving you an abundance of opportunities to unwind in a slow ride, hike or jog. If you want to follow the classical cycling path, you can start at Settlers Park in Ryde, meander through Gough Whitlam Park and finish at peaceful Botany Bay, following the enticing Cooks River most of the way. On this gorgeous path be prepared to pass many railway stations, cafe's, and restaurants. So, you can take a break anywhere your heart desires and spend a whole day immersed in this tranquil Sydney's path.
The buzz path along Barangaroo Reserve to Sydney Opera House
Nowadays, the new fun and active way of exploring the west side of CBD is on foot or bike. Barangaroo Reserve was opened in September 2015 on a site that used to be a vacant wharf, and it actually an entertainment space and a park that runs over a number of levels with panoramic views of Sydney Harbour. By exploring this scenic route either jogging or cycling you will have the chance to see the buzzing ferries that go in and out of the harbour, as well as the ultra-modern skyscrapers in the city. Making your way towards Sydney's famous landmark you will need to pass the cafés of Welsh Bay and then head along Circular Quay until you have reached your destination.
Sydney Harbour Bridge to ANZAC Bridge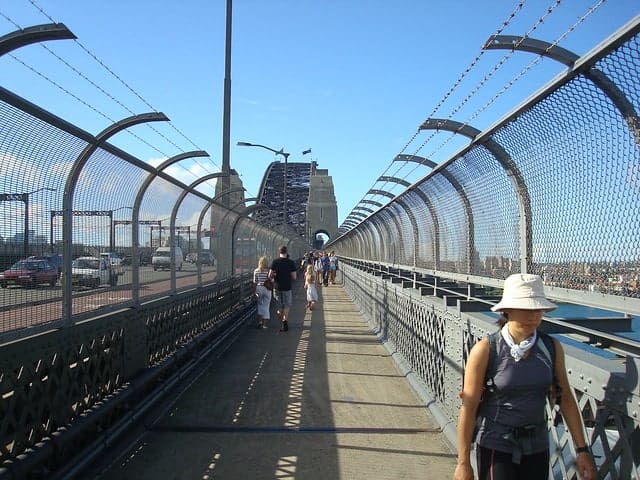 Once you head our way along the harbour it would be a real shame to miss out a great jogging and biking paths around the iconic Sydney Harbour Bridge and the streets that lead to the ANZAC Bridge. This is actually reckoned by the local as perfect urban biking and jogging experience with a course that is 2600 meters long and moderately difficult. However, you won't need to worry about the traffic and bustling surrounding since it has protected bike lanes for a safe line separated from traffic. The bigger problem might be the over-crowding issue since many cycling enthusiasts adore this path. Nevertheless, if you opt to bike or jog you can start at the foot of the bridge on the north shore and go over the harbour, connecting to the adjoining Kent Street and pass along Western Distributor overpass to cross the Pyrmont Bridge. Then, make your way along the town center of Pyrmont until you reach the bedazzling ANZAC Bridge.
The famous Bay Run following the shores of Iron Cove
This path is ideal for expert runners or joggers striving to push their limits and exceed their expectations in order to achieve boosting results. Even though the paths are shared between the pedestrians, cyclists, and joggers, this seven-kilometer path is perfect for enhancing your performance. The Iron Cove Bay loop, also known as the Bay Run goes all the way along the waterfront, where you are never more than 20 meters from the water on this pleasing flat route. What is more, you are seemingly far away from the city traffic enabling you to jog or ride your bike undistractedly. Cyclist and joggers are treated with the excellent view of the Bay, and if you give it a few practice laps you can test your mettle against the Inner West's finest runners in the annual race in August.
The Manly Dam
When it comes to hiking, you really don't need to go to far places in order to get the most out of the experience. Most people would assume that you would need to go west to the Blue Mountains or south to the Royal National Park, but one of Sydney's native bushwalks is actually closer. Known as a bush walk, the Manly Dam is certainly one of the best Sydney's bushwalks hikers could wish for. First, you encounter a scenic start on the shores of the dam, then it leads to a mix of technical single trails, waterfalls, fire trails, and of course, lovely dam views. Be prepared to hike 21 kilometers and overlooking some beautiful harbour views. In the end, you can cool down with a short dip in the dam after your hike.
Narrabeen Lagoon
Innumerable cyclists do have many routes and paths to roam around in Sydney, but not so many areas are as serene and outlandish as the newly completed Narrabeen Lagoon Trail. Finished in 2015, this 8,4-kilometer adventure follows the lagoon's shorelines, passing through several wildlife protected areas. The site constantly attracts visitors, and it is one of the favorite gathering sites for the locals. As you make your way to cycle or jog get ready to explore the delightful displays of nature and witness some of the unique flora and fauna marvels. Keep an eye for black swans, powerful owls, diamond pythons and fishing baths.
The Maroubra Beach
Maroubra means 'good thunder' in the language of old residents, and as you hike or jog through this beach you will really be able to hear majestic waves breaking on the shore. Less famous then Bondi Beach, and not as touristy as its neighbor Coogee Beach, the Maroubra Beach is splendid for people who like to get their activity-dose alone. The path perches on a 1,1-kilometer long bay surrounded by windswept dunes, wild bushland, and rocky headland. If the day is simply too hot and humid, you can easily go swimming and cool down in the mesmerizing ocean.
Sydney is rich with impeccable nature, flawless wildlife and untamed nature all of which should be explored either on foot or by bike. Take at least two hours per day to visit a different place on this list, and you will surely have a blast.