Rekindle Love: 8 Reasons Why You Need to Travel to Botswana with Your Partner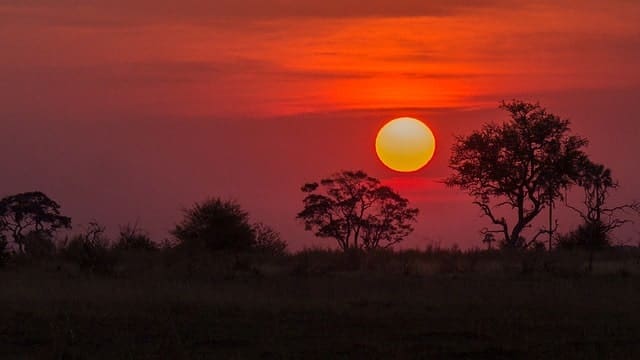 Botswana ranks at the top of favorite adventure destinations for couples looking to rekindle romance while going on a grand adventure they will remember for a lifetime.
It's the ultimate safari destination because it's a country with diverse landscapes – an epitome of natural beauty and bounteous wildlife. Botswana has maintained a steady controlled tourism volume to avoid pollution and negative effects of tourism on wildlife.
If you're into nature and wildlife then there won't be a better place than Botswana. Here are 8 reasons that will reduce every ounce of skepticism you may have regarding this destination and convince you that it should be your next romantic adventure destination.
Try A Canoe Expedition
Botswana is the only place where you can embark on a canoe safari. Rather than being stuck on a vehicle for a whole day, you would have a peaceful travel through canoe. Moreover, many parts of the delta are not even reachable by the ordinary roads.
You can slowly move, stop by to smell some beautiful African flowers and get them for your better half. The whole journey would allow you to feel more connected with nature.
A Fascinating Ride on a Houseboat
A Chobe River Safari lets you enjoy one of the stunning views in Botswana – you get to watch hippos and crocodiles jostling for a riverside spot, elephants swimming with their trunks high.
Here you'll find a variety of birds – you witness some pied kingfishers all over the water, fish eagles and herons pirouetting through the water. You witness all these spectacular sights as they drift by.
This is once-in-a-lifetime experience. If your stay is of at least 24 hours, then the houseboat stay is highly recommended. Since Botswana excels in luxury houseboats, you will have a splendid time with your partner. You both can simply sit across the pool and enjoy the peaceful sound of waves.
Moremi Game Reserve
This place is voted as the best game reserve in Africa. It is situated on the east side of Okavango Delta and offers some glorious scenery with an impressive ecosystem.
Apart from its scenic beauty, this park also provides area for camping. So what could be better than spending a romantic night at a campsite with your partner?!
A Visit to Okavango Delta
It is one of the last remaining wild areas of Africa, which haven't been spoiled by tourists. This area is enormous and expands across 16,000 square kilometers.
This place is not just famous for wildlife but also for its breathtaking beauty. The water fans out into the Okavango Delta which forms a wetland system of some beautiful palm channels and lagoon islands. Herds of elephants come to drink water from here. Moreover, since it is wildlife, animals are not caged. If you're looking to explore this delta, then the best way to do this is on a dugout canoe.
Adventurous Safaris
Botswana offers the opportunity to explore yourselves better. To name a few, there are horseback safaris and mountain biking safaris which allow you to ride a horse or bike alongside elephants – for a thrilling adventure that will thrill you and your partner.
If you're an adventure junkie, a four-wheel drive outing is also a good option as it lets you glide along the water Mokoro. So make sure you plan a whole day with your partner to thoroughly visit Botswana luxury safari.
A Splendid View of Elephants
Chobe National Park is one of the biggest wildlife destinations located in the northern Botswana. This place has the largest population of elephants. There are around 120,000 elephants solely in this park. In order to witness this huge elephant population, you need to stay at Ngoma Safari Lodge that is located on the bank of River Chobe. It gives a wonderful view from your room, which you can cherish with your partner.
Apart from elephants, this place also has a huge snake park, consisting of 50 snakes of different species. Another attraction includes a huge Baobab tree – it's so large that humans can even enter it.
So don't forget to get a picture clicked with your better half at this spot!
Linyanti Wildlife Reserve
Linyanti Wildlife Reserve is an exclusive safari area in Botswana. If you and your partner are adventure freaks then this place is for you.
There are peaceful private reserves, which cover almost 308,000 acres. Being famous for its lion prides, a large population of elephants and some endangered species, this reserve provides plenty of wildlife spotting opportunities. Therefore, you need to allocate time efficiently so as to not miss out on any of the species.
The Makgadikgadi Pans
Previously, this was a lake, but it eventually dried up. It covers a huge area and is known as the world's largest salt flat.
This place has large salt mines, which are dotted by various animals including zebras, bushbuck, ostriches, giraffes, and cheetahs. What if we tell you that you can experience all these animals hunting live?  It may be a little intimidating at first, but when your better half is there with you, the entire experience becomes unforgettable. You also get to witness the mass migration of zebras, which is one of the Botswana's greatest sights.
If you think this isn't enough, there are several other activities specifically designed for couples such as hand-in-hand bush walks, bird watching and a lot more.
Botswana is a very famous tourist destination, especially for couples who are into wildlife and nature. Full of splendid sceneries and soothing atmosphere, Botswana is a destination to both relax and have some adventurous time with your loved one.
*************************************
About The Author: Monica Albert is a passionate and creative blogger who loves to write on traveling and relationships. Her writings are focused on prevailing topics and her long term vision is to empower youth in making their decisions.
*************************************