An absolute must-visit on Dubai holidays! 6 Best Theme Parks in Dubai
Dubai features as a popular destination in travel bucket lists of most leisure holiday makers and family vacationers.  Among its tourist attractions, Dubai's impressive and innovative theme parks have captivated its visitors to enjoy their Dubai holidays amid thrill and fun. While there is no doubt that Dubai's soaring skyscraper, deserts, and laid back beaches steal the show when it comes to sightseeing, Dubai's theme parks are an ideal way to spend quality time with near and dear ones in a fun filled surrounding. Check out our selection of top amusement and Dubai theme parks that are ideal for a fun family or group holidays.
   Dubai Parks and Resorts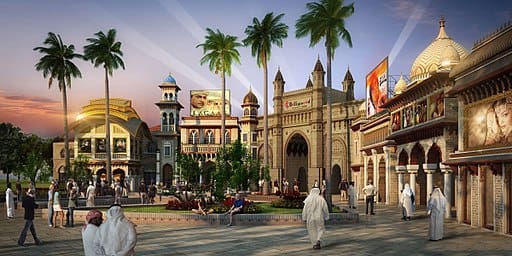 Wikimedia Commons by DPR 2016
Let's start with the grandest of the amusement parks in Dubai. Dubai Parks and Resorts is the Middle East's largest integrated theme park. Located in Sheikh Zayed Road, it can easily be referred to as an amusement park district as it stretches to over 25 million square feet and unfurls a world of movies and around 100 exciting rides. It consists of three amazing themed zones, one shopping and dining village along with a Polynesian themed resort. Experience the stellar fusion of Hollywood and Bollywood at Motiongate Dubai and Bollywood Parks Dubai. However, the biggest attraction is the Legoland Dubai and Legoland Waterpark – one of the first Lego-themed amusement parks in the Middle East. These set of two Lego franchised waterparks is a big hit among children and teens as it offers some pretty amazing rides and attractions. In summary, you can plan an entire family holiday on Dubai Parks and Resorts as it keeps you enthralled in some of the best thrills and entertainment in Dubai.
   IMG Worlds of Adventure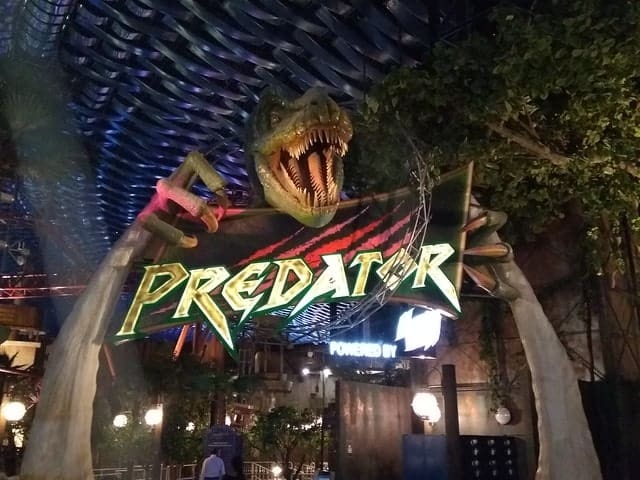 Flickr by: Martin Lewison
One of Dubai's top indoor theme park, IMG Worlds of Adventure is a real treat for thrill seekers. Also considered to be the world's largest indoor theme park, it is said to be so vast that it can fit 28 football fields in it! It features four zones where you can meet your favorite characters from Cartoon Network and Marvel superheroes and also go back in time to encounter dinosaurs. The theme park offers an amazing array of thrill rides right from hair rising to delightful ones. The park also has an impressive multiplex with 22 cinema screens. You can also meet your favorite heroes like Ironman, Thor and cartoon characters such as Power puff girls on a meet and greet services. For the brave hearts, try the Velociprator roller coaster which is the fastest and tallest roller coaster ride in Dubai and accelerates to 100km in just 2.5 seconds. IMG Worlds of Adventure is located within the City of Arabia, along Sheikh Mohammad Bin Zayed Road.
   Aquaventure Water Park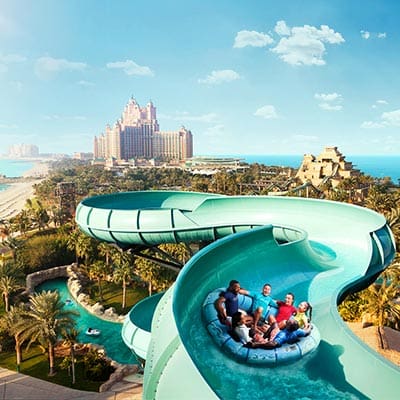 Wikimedia Commons by: visiit
The best way to cool off the desert heat is to spend a day at Dubai's impressive water parks. Of all the Dubai water parks, Aquaventure inarguably takes the top spot. Located at Atlantis the Palm Resort, Aquaventure Water Park is designed around the lost city of Atlantis and consists of some of the most adrenaline rushing water rides and slides in all of Middle East. Every ride gives you a unique level of excitement. Some of the must do water rides for the daredevils which are surely going to skyrocket your adrenaline rush is the Poseidon's Revenge, The Leap Of Faith, Aquaconda which is the world's largest waterslide.  You can also enjoy a cow nose ray feeding session or an underwater walk in Shark Lagoon. Kids can have their share of thrill at Splashers Children's Play area and on private beach dedicated exclusively to Aquaventure water park guests. This waterpark is an amazing way to makes some memorable family memories while spending quality time in Dubai.
   Ski Dubai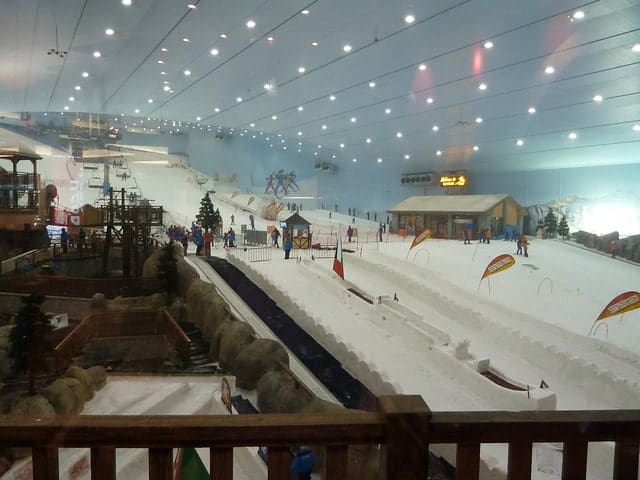 Flickr by: Mike Hauser
Water parks are a great option to beat the desert heat in Dubai, but the ultimate way to chill is at Ski Dubai. This snow park in Dubai is one of kind attraction and offers its visitors a wintry wonderland that operates throughout the year. Located inside the Mall of the Emirates, Ski Dubai is UAE's first indoor ski park. Replicating a mountain ski resort, this snow park offers amazing snow activities like skiing, snowboarding, tobogganing, and ziplining. Try your hand at skiing, make snow angels and snowman, start a snow fight with your family and watch the delightful group of penguins waddling around, Ski Dubai is definitely one of the places to visit in Dubai if you are traveling with children. They would absolutely have a delightful time at Ski Dubai.
   Laguna Waterpark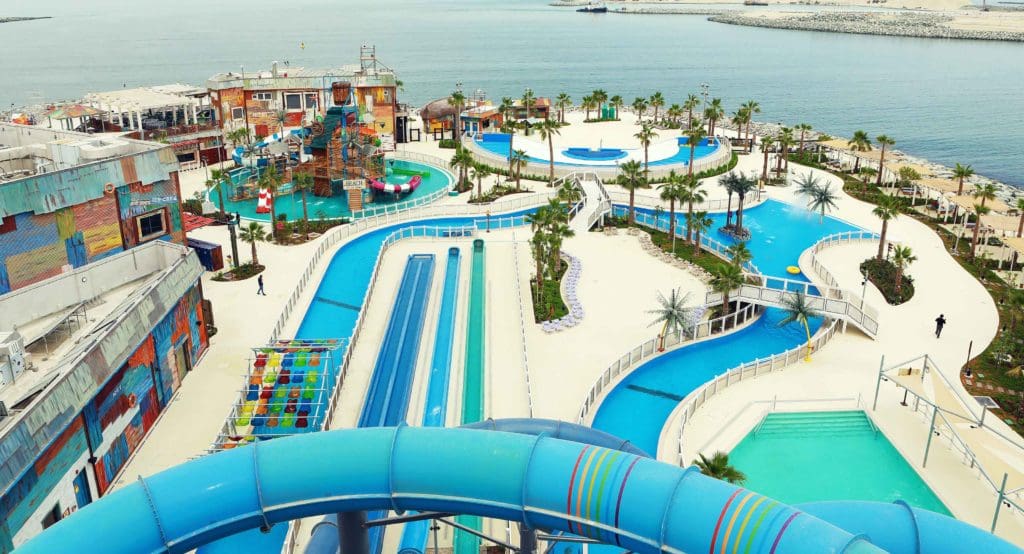 LagunaWaterpark.com
A brand new address for some splashing fun in Dubai, Laguna Waterpark at La Mer offers a beachfront setting along with four fun zones. Here you get to simply relax in the lazy river or you can test your surfing skills at WaveOz 180 FloRider – one of the only three surfing simulator pool in the world. There is plenty of thrilling water slides like The Manta, Constrictor, The Loop, Freefall to enjoy plus a splash pad where children can have their share of water fun. Being strategically located on the beach front, you also get to view the panoramic city skyline views of Dubai while you are on top of a slide waiting to plunge down in exhilaration.
   Wild Wadi Water Park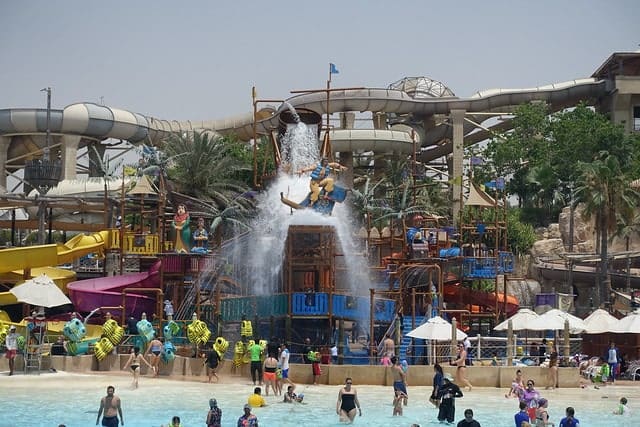 The very first water park of Dubai – Wild Wadi Water Park might have lost in competing to the new and innovative waterparks that have popped up in Dubai in recent years, yet its charm still allures guests to enjoy a day filled with splashy fun. Being Dubai's first successful attempt to give visitors a respite from desert heat with a cool water park, it is still one of the popular theme parks of Dubai. Located right across the magnificent Burj Al Arab, Wild Wadi Water Park offers exciting water rides and recreational facilities to all age groups. The whole water park is themed on the Arabian folklore character Juha and offers around 30 rides and attractions including heated or cooled pools, and two artificial surfing machines. It is also home to the largest wave pool in the Middle East and the tallest and fastest free-fall water slide outside America. Wild Wadi Water Park is an ideal place to enjoy an authentic Arabian water adventure.
Dubai has gradually caught the world's attention as the most exciting adventure playground in the world. When it comes to amusement parks, Dubai makes it a point to flaunt its signature styles – that they should be grander and better than any other parks in the world. The theme parks of Dubai have Dubai flair and offer its guests the best choices in top-class rides, attractions, creative dining venues, and entertainment. It can be assumed that in the coming years, Dubai will dominate the world as the theme park capital of the world. These theme parks have now become a usual inclusion in Dubai packages. So if you are headed to Dubai this year, then take your pick from this list of the theme parks in Dubai and transform your vacation into an adventure and thrilling experience.