Where To Find Flea Markets and Second-Hand Shopping in Amsterdam
Looking for flea markets and places to go second-hand shopping in Amsterdam? Fortunately, the city of Amsterdam is packed with a number of fabulous flea markets and vintage stores where you can experience the local Dutch life without having to spend a lot of cash. Whether you are searching for clothes and accessories or you wish to purchase collectibles and antiques, the markets in Amsterdam offer something for everyone. To help you decide where to go, here is a list of my favorite flea markets and second-hand shops in the city.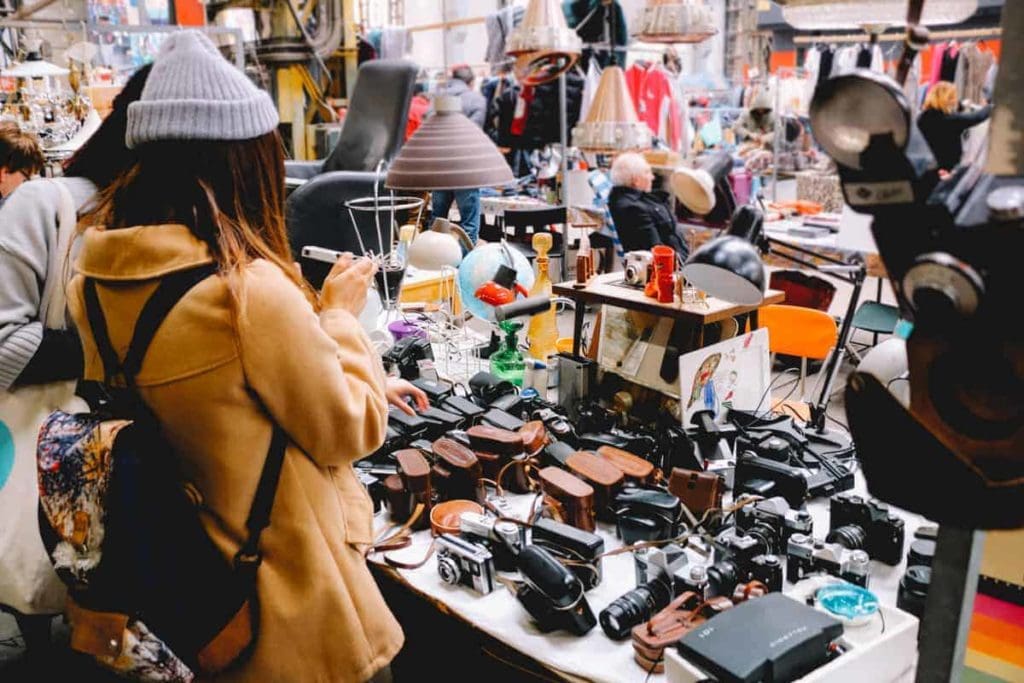 One of the largest flea markets in Europe, IJ Hallen houses over 750 vendors ranging from private sellers to local artisans. Shopping here feels like a real adventure. From antique chairs and kitchen supplies to some seriously cool military gear, toys, and vintage clothes, there are plenty of second-hand treasures that you can find here at IJ Hallen. What I like about this flea market is that most of the items are really cheap. For example, you can get an old-school leather jacket for like 7 euro and a nice pair of shoes under 15 euros. To beat large crowds of visitors, arriving early is recommended.
Waterlooplein Market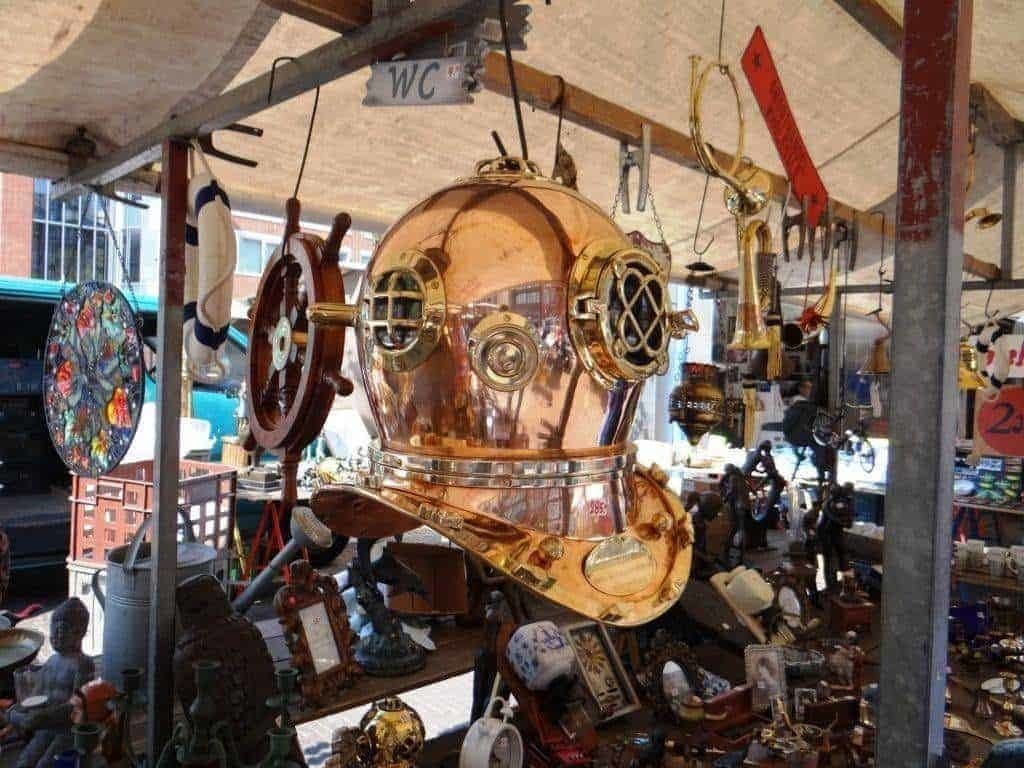 Home to over 300 stalls, Waterlooplein Market is the most centrally located flea market it the city and a perfect place to get to know Amsterdam. Here, you will find everything from second-hand clothes including jackets, hats, pants, and bags to cheap trinkets, antiques, and jewelry. I also like it that they sell vinyl records, as well as old books, music instruments, and vintage toys from the 80s. If you need a bicycle to get around the city, Waterlooplein Market is an ideal place to get one at a cheap price.
Albert Cuyp Market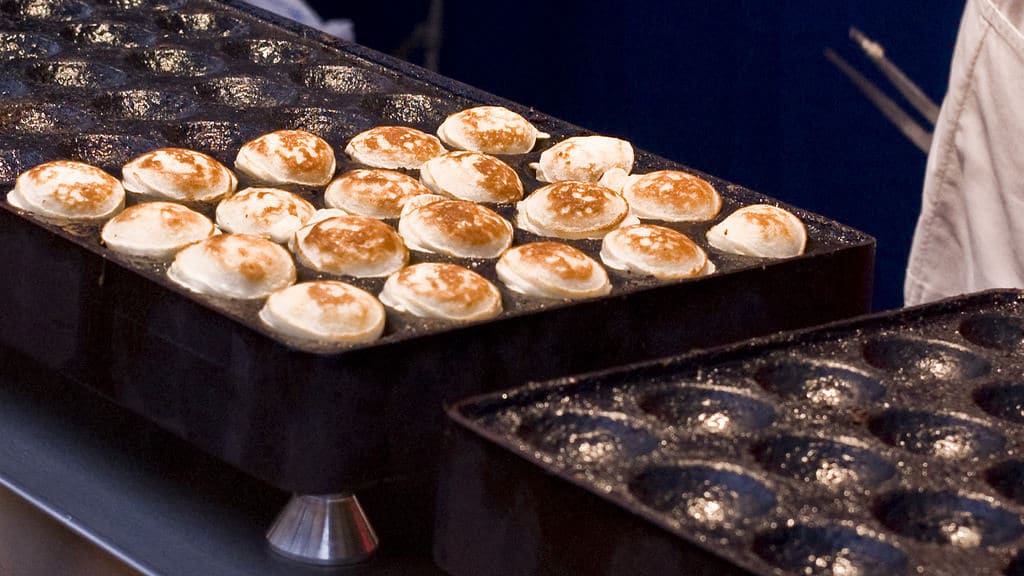 There is no shortage of exciting things to do in Amsterdam on the weekends and a visit to the Albert Cuyp Market is one of them. Also known as the Cuyp, this lovely flea markets is a place where you can shop for clothing, souvenirs, jewelry, and much more. They also sell fresh fruits, meats, and veggies here. I recommend trying the popular stroopwafels which are basically small cookie-like waffles and they are extremely delicious. If you wish to have a proper meal, go for raw herring and roast chicken.
Dappermarkt
With about 160 merchants and 250 stands, Dappermarkt is a great flea market for inexpensive shopping. Back in 2007, the National Geographic Traveler rated this market as one of the best shopping streets in the world and for a reason. From warm clothing and stationery items to exotic foods, the variety of things available for purchase here is huge. Travelers who wish to try authentic local food and International cuisine won't be disappointed. From Vietnamese dishes and Indian stores that sell cool spices to some fine Dutch cuisine and Jewish shops that sell authentic food products, there is plenty to choose from.
Second-Hand Shopping in Amsterdam
The capital of the Netherlands is home to many vintage shops and second-hand stores. The good news is that some of the best vintage stores are located close to the city's historic center, which means you won't have to spend a lot of time on transportation. Here are some of the best places to shop for second-hand and vintage clothing in Amsterdam.
Episode
Episode is one of the biggest vintage clothing stores in the city and there is an Episode store in almost every neighborhood in central Amsterdam. There are also branches of this place in other European cities like Brussels, Paris, and London. What will I find here? A huge variety of men's and women's vintage clothing and accessories is available for sale at Episode. From Halloween costumes and shiny leather jackets from the '80s to second-hand retro sweaters and printed t-shirts, the collection here at Episode is really great. You will find the chain's largest store on Waterlooplein.
Laura Dols
Laura Dols is all about retro party wear! There are evening gowns and fun costumes for the ladies and retro evening wear for men. They also have a nice selection of towels, tablecloths, and napkins, as well as accessories like beaded bags and belts. If you are invited to a cocktail party, this is the place to go shopping for some awesome retro clothes.
Zipper
One of the largest second-hand stores in the city, Zipper is spread across two floors which are packed with vintage clothing and accessories that that back to the 50's. You can basically find everything here. From costume pieces for Carnivals to sundresses, jeans, and flannel shirts, the shelves at Zipper's are always fully stocked. What I like about this place is that they regularly update their collection and also recycle clothes to create their own designs.
******************************
About the Author: Passionate traveler and an experienced travel writer, describing all the cool places I've seen, and planning future trips for myself and for my readers.  Dejan Badnjarevic
******************************