Top 5 Amazing Places in Ukraine You Have Never Heard About
Cold winters are not really my cup of tea. You know those snowy days when everything seems so quiet and… stuck? Yeah; that. I'd like to avoid that as much as possible. And that's exactly how I used to imagine Ukraine. I thought it was a cold, ever-snowy place with nothing interesting to see.
But I was in for a surprise.  Here's my Ukraine Trip Report to show you just how amazing it is.
A friend's mom is from Ukraine. She always dreamed about visiting the country of her roots. Since she's my best travel buddy, who I dragged throughout Peru for two months, I decided it was time for me to return the favor.
I booked us the tickets and that was her birthday present. After the (huge!) surprise and a day of disbelief, Olly was finally ready to start planning our trip. She promised me an adventure I wouldn't forget, and boy did she deliver.
What's So Special about Ukraine, Anyway?
Let me start by saying that Ukraine is special as a whole. It has that warm, welcoming feeling that makes you feel like you belong there. It makes you feel like you're exactly where you're supposed to be, doing exactly what you're supposed to be doing.
Another great thing about Ukraine is that it's perfect for freelancers. Olly works as a writer for the best term paper writing service, so she was able to work while we were there. The WiFi was great all the time, and most malls and good stores were open until 9PM. So there was time for everything.
Now that I covered the basics, let me share the most special thing about the country: it's full of places most people have never heard about! These are not your typical tourist destinations. I'm talking about places and experiences that push you to explore, learn, and expand your boundaries. Ukraine has a lot to offer in that aspect.
5 Amazing Places in Ukraine that Most People Don't Recognize
Of course I had to start with this one.  Pripyat is not "amazing" in terms of "beautiful". It's a ghost town that stands as a reminder of where human inventions can take us.
Pripyat was founded as a closed nuclear city in 1970. It served the nearby Chernobyl Nuclear Power Plant. Yes; that one.
The abandoned city made me feel like I was part of a real-life horror movie. Then it strikes me: this was a horror-like experience for real people, who lived here and went through something beyond the limits of my imagination. The schools, playground, apartments… I've never had bigger goosebumps in my life.
Fortunately, we made this visit at the end of our trip. I was unable to think of anything else for several days after.  Don't get me wrong; I firmly believe that this is something that everyone should see in their lifetime. Seeing Pripyat changes how you see humanity and yourself as someone with responsibility to prevent things like this happening again.
Khortytsia Nature Reserve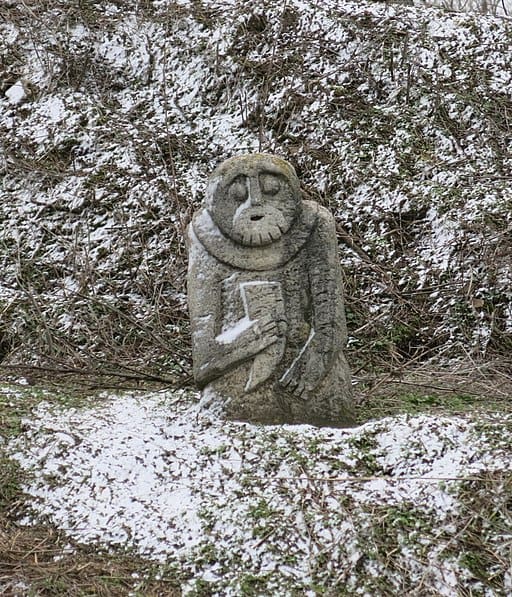 Khortytsia by Ирина Шатов
Khortytsia is an island in the Dnieper River. It's special because on this small area, it features all Ukraine's geographies, from the mountains to the steppe to the deserts. Over a hundred of endemic species of plants are found there.
What's the most impressive thing about this island? Horses. OK, I'm lying. It was actually the Zaporozhian Cossacks I was most impressed with… and their horses. There's a museum that showcases the history and lifestyle of these people.
I love historical museums, and this is one of the most charming ones I've ever seen.
It was late spring when we went to Ukraine. So the timing was perfect for hiking. And Askania Nova Reserve is the perfect place for hiking. When I checked out to see what this place was before we headed off, I read it was "one of Europe's Corner fescue-feather grass steppes, which was never touched by a plow." To process that into simpler words, it means nature. Untouched, pure, raw, impressive nature.
We saw all nature's colors in a single place. We ran barefoot through the grass, and I can honestly say I've never felt more free and powerful in my entire life.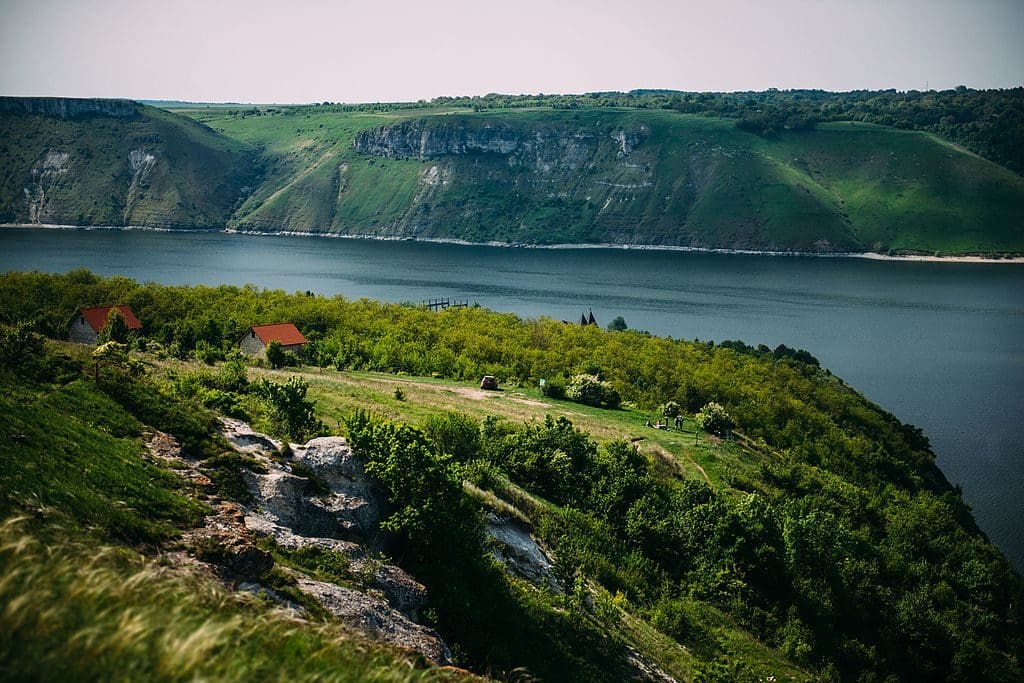 Wikimedia Commons by: Lev in love with sun
Bakota is not something you'll usually see in Ukraine travel guides. It's a God-forgotten place that looks like paradise.
Bakota is a village in Western Ukraine. It's surrounded by breathtaking nature. It took us some effort to reach the best views and the ancient monastery, but it was all worth it. Let me just warn you: the roads leading to Bakota are terrible, so you might want to equip yourself with patience before you head off.
The Caves in Ternopil Region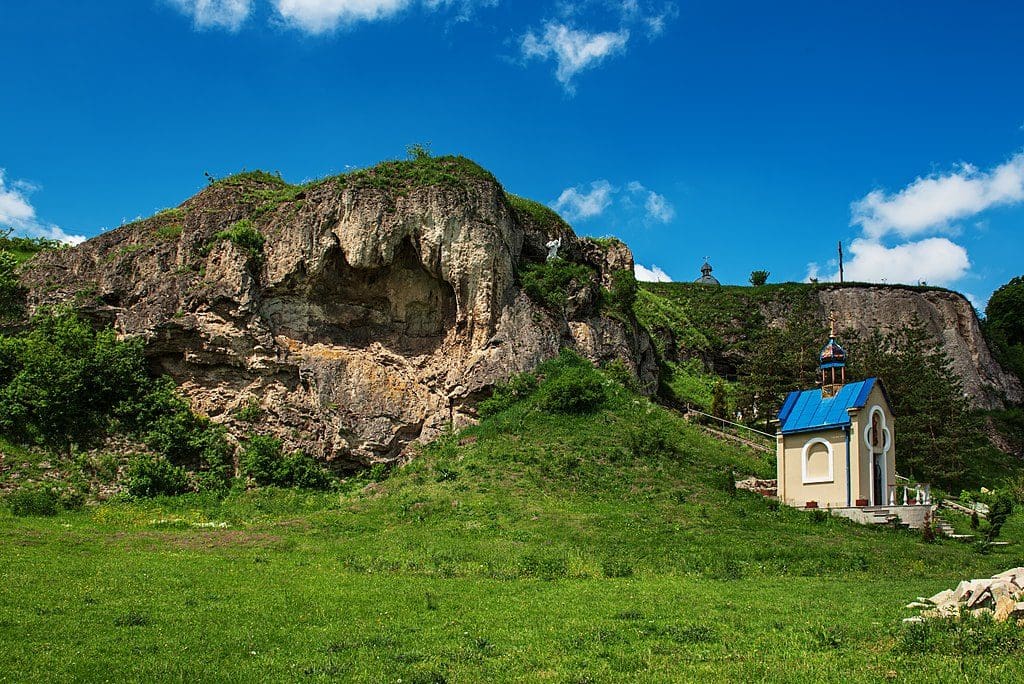 Wikimedia Commons by: Roksana.Bashyrova
There are over a hundred of caves in this region. We visited several in a day, and each one was unique. The underground corridors are spooky, but it's an experience I would never miss out on.
The Crystal Cave at Kryvche was the most impressive one. It was amazing how we all stayed quiet while in there… it's like Nature found its way to finally make us shut up, admire, and respect.
Ukraine Has A LOT to Offer
We spent two months in Ukraine and it was not nearly enough for us to see everything we wanted to see. The country is huge, so it takes a great deal of planning and moving around if you want to see as much as possible.
But I'd do it again, anytime!
********************************
About The Author: Cathy Baylis is a freelance content writer for AustralianWritings.net. She also writes guest blog posts for MyAssignmentWriting.com.au. Her job as a writer allows her to travel all around the world, and that's exactly what she plans on doing for at least a decade to follow.
*********************************