Oh The Places You'll Go When Visiting KCMO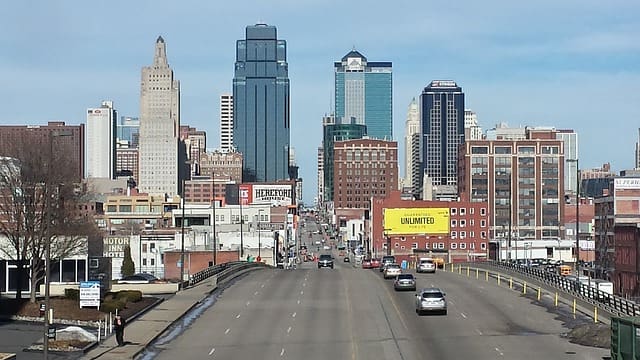 Kansas City, Missouri, also known as KCMO, is an oasis in the U.S. midwest plains. Founded as a Missouri River post in the 1830s, Kansas City sits on the western border of Missouri bordering Kansas. The largest city in Missouri is at the center of the Kansas City metropolitan area, where tall buildings and historic landmarks demonstrate an old yet modern U.S. town that has become a central point for urbanization in the plains region. Kansas City is the 23rd largest city in the U.S. by area and the 36th largest city by population, and is especially known for its cuisine, its position during the American Civil War, and its long history in jazz music and culture.
Places to Explore in KC
If you're hoping to start your day with a dose of history, begin by exploring Union Station, one of Kansas City's most prized destinations. Kansas City Union Station is Missouri's second-busiest train station and home to theaters, ongoing museum exhibits, and the current traveling attractions. Union Station replaced a smaller union depot in 1914, and hit its prime in 1945 at the end of World War II, serving over 670,000 passengers annually. However, business declined in the 1950s and the station was closed in 1985, only to be reopened again in 1999 as part of a restoration project. Today the station receives trains once more since Amtrak began providing public transportation services in 2002.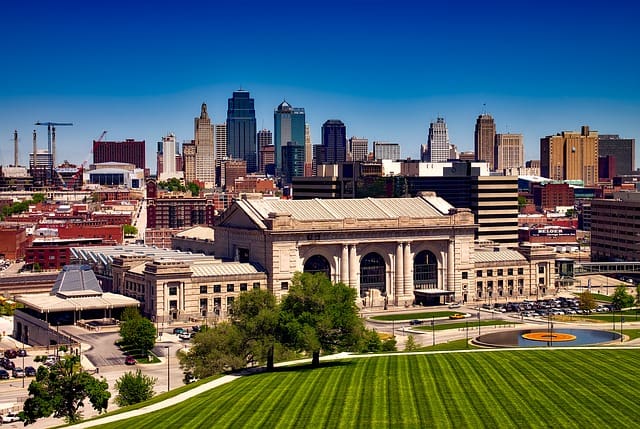 After Union Station, you can walk across the street to the National World War I Museum and Memorial. This museum is home to one of the largest Great War collections in the world, and uses its collection to tell more than just the American story. Exhibitions take a comprehensive look at the entire war, from the first shots fired in 1914, to the last attempts at peace in 1919. As an educational resource of memorials, collections, and exhibitions, this museum provides an insightful timeline that helps visitors get a firm grasp on the first world war 100 years ago. Other museums in KC include the Historic 18th & Vine District, hosting The Negro Leagues Baseball Museum and American Jazz Museum, and The Nelson-Atkins Museum of Art.

Like many cities across the U.S., Kansas City hosts a city market that locals and tourists both love. Full of flowers, breakfast, lunch, and fresh produce, this little downtown market right by the Missouri River is a great place to go for a stroll and do some shopping. If you're not a fan of city markets, you can head to the Country Club Plaza, a historic outdoor mall that will really make you feel you're in the City of Fountains. Made up of classic Spanish architecture, this shopping center was the first in the world designed to accommodate shoppers arriving by automobile.

Each of these locations are within walking distance from each other, giving you a chance to stretch your legs and explore the city. Kansas City is also working on making the list for most pedestrian friendly cities, after the community voted to approve a ballot measure last year that would provide the city with 800 million dollars over the next 20 years to improve its infrastructure, 150 million of which is being dedicated to improving sidewalks. Exploring the city by foot also gives you a chance to try a variety of Kansas City's famous barbeque restaurants, many of which are known to offer vegetarian options as well, so everyone can enjoy the sauce.
Taking in the Districts

Although Kansas City has a ton of historic value, it's also very well known for its vibrant nightlife and lively entertainment and music scene. Districts like Power and Light, Westport, Crossroads and West Bottoms offer hot spots for food and drink, vintage art exploring, opera and concert houses, and more. As a dominating metropolitan area in the midwest, Kansas City draws in visitors from nearby cities and states to provide entertainment for everyone.

The Power and Light district, a decade old entertainment district; and Westport, the city's oldest entertainment district, are the two big nightlife districts in town. The Power and Light district is filled with expensive food and drink locations, lines, covers, and is popular with a younger crowd and college students. Westport is usually less expensive, and known as a quieter and edgier location for locals to enjoy their favorite bars and music venues.

The West Bottoms is a former Kansas City ghost town that is being built back up, offering monthly antique and vintage goods markets open in old warehouses that are usually accompanied with food trucks and live music. This neighborhood has an industrial feel, with eclectic contemporary art galleries showing work daily.

Crossroads is another famous KC district, centered around the very contemporary Kauffman Center that hosts opera, ballet, and concerts. This neighborhood is loaded with restored warehouses turned art galleries, and hip coffee bars and craft breweries. This district is also full of small fashion boutiques and independent handcrafted jewelry businesses. Like West Bottoms, monthly art shows and food trucks draw big crowds to this district of town.

However, if your favorite aspect of this midwestern metropolitan spot are the museums and the history of the old west, there are plenty of small old towns, like Fort Scott, just an hour away from Kansas City. The midwest gets a bad rap for being in the middle of the vast U.S., but there's always value ingrained in these historic American cities that are constantly rebuilding themselves and finding new life as time passes on.