Tag: where to party Thailand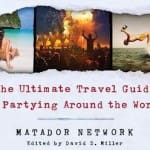 The vast majority of travel guides that crowd dusty shelves in books stores and personal libraries tell you where to find the best hotels, countless museums and endless architecturally significant churches, but they're missing one of the most important reasons we travel – to discover where locals go to party!
Where To Party Around The World. The Matador Network, a community of young travel bloggers who tell it like it is, has just published the "ultimate guide to partying around the world", with 101 Places To Get F*cked Up Before You Die.