Tag: Where To Find Waterfalls in New England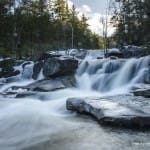 In New Hampshire's Mt. Washington Valley granite cliffs and glacier carved ravines produce an abundance of beautiful, easily accessible waterfalls just waiting for you to explore.
Follow us to discover 9 spectacular waterfalls in the Mt. Washington Valley that are easily accessible just off paved roads and in short distance from each other. Plan an unforgettable adventure to explore these cascading waterfalls and don't miss the chance to see them in their full spring rushing glory!