Tag: Wacky World Sayings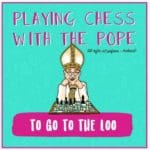 10 of the World's Weirdest Sayings!
It's possible you may have experienced the pain of hitting your funny bone or had a frog in your throat from time to time. But have you ever sweated carrots? Or played chess with the pope? Or had a mouse in your chest?
Weird and wonderful sayings are used all over the world to describe a variety of feelings and conditions, some odder than others! Here's a round-up of 10 of the quirkiest international idioms, with fun illustrations from Work The World!