Tag: Villa Rentals Hawaii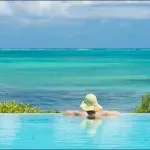 Chase your winter blues away, with a blues immersion of a completely different kind! Ease your body and soul into an incredibly seductive aqua-blue infinity pool, imagining that you can gaze out on this mesmerizing oceanfront scene forever.
Well, all this can be yours for at least an unforgettable vacation stay if not forever. We've found perhaps the most inviting infinity pool vacation rentals imaginable that are all just a few hours flight away.