Tag: Vietnamese Popular Dishes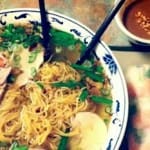 Vietnam is known for its natural beauty, unique culture and traditions, rich history, friendly people, and a vibrant atmosphere. For the last couple of years, tourists everywhere have increasingly taken a shine to this enigmatic Southeast Asian country as it is one of the few tourist destinations that offer a wide range of experiences.
Apart from the sights and the sounds, the tastes and flavors of the country also gains eminence among travelers. A country's cuisine is one of the major attractions for visitors. Here's a guide to the most popular (and delicious) food dishes in Vietnam that every traveler should try.