Tag: USA Yard Sale Weekend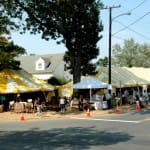 Yard sales are one of the best ways to bring in a little extra cash or find a hidden treasure. Did you know that the late singer Marvin Gaye's passport was recently found in a vinyl album cover bought at a yard sale?
While most yard sales only span the width of a single yard, some go the whole nine yards and beyond, stretching 100 miles or more! Many BnBFinder inns are located along these lengthy routes, providing comfortable lodging and delicious food amidst all the bargains you are sure to come across.