Tag: trekking in India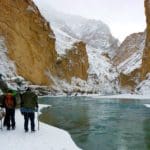 Ladakh's sweetheart, Chadar Trek has earned the affection of all who travel her frozen banks. This beautiful, one-of-a-kind journey takes you along the frozen Zanskar River, where the ice itself is your trail!
The nearest connectivity point is the city of Leh, which must be flown into during the winter months, as road transport becomes inhibited by snow during that season. From Leh, the drive is 70km by hired taxi to beautiful Shingra, which acts as the trailhead of Chadar Trek and your entry point onto the Zanskar. With your rations being transported by sled, hidden caves are waiting to be explored and a magnificent frozen waterfall perched at the innermost point of the valley, it's no wonder this trek intrigues so many.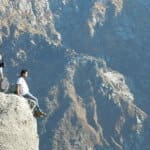 This is a real experience of trekking in India shared for the benefit of first timers like us!
We were a group of 5 trekking enthusiasts in the age group of 22-26. At this age we want to explore the world, but due to natural limitations, we thought of exploring some trekking trails first. There were many suggestions and we listed out many and finally opted to trek Triund as it is a beginners trek and offers nice views in the end. Additionally it is not far from our location New Delhi (Capital of India).