Tag: Tranquil Sites in Singapore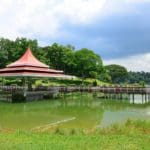 Visit Singapore and experience its tranquil natural wonders away from bright lights and city crowds.
The moment someone mentions Singapore, visions of Merlion, manmade Super Trees and stretches of glistening avant-garde structures conjures up in the mind. It is true that Singapore is a state-of-the-art contemporary country, but the destination offers much more beyond its newfangled attractions. Besides the usual Singapore sightseeing attractions and iconic landmarks, you will find that Singapore has a gorgeous collection of verdant open spaces embedded within the country and its surroundings. These places are totally in contrast to Singapore's bustling modernity and present a refreshing visage of tranquility. Head out to one of these places to reconnect with nature.