Tag: top ten Paris restaurants in Left Bank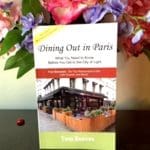 Dining Out in Paris – What You Need to Know Before You Get to the City of Light, is a terrific guide to own whether it's your first visit or your 10th.
Paris is always on my mind. It's a destination that captures the imagination and hearts of visitors. No matter how many times I return, I know there are endless fascinating nooks and crannies waiting to be savored. Author, Tom Reeves, apparently experienced this magnetic draw as he pulled up stakes in California in 1992 and moved to France permanently. A devote of the Paris restaurant scene, Tom's dining guide shares all the little customs and quirks of dining in the city of light. Every traveler to Paris (first-time or not) should have this handy little guidebook in their pack.