Tag: Top Sites in Vietnam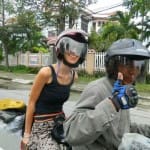 The last time I was on the back of a motorbike my age was still being counted in months, and, needless to say, the bike wasn't started. My friends had never been on one. But two wheels are a way of life in Vietnam, and the opportunity to travel the 200km from the lantern speckled city of Hoi An to the bustling city of Hue with Hue Riders was more than enticing. So we bundled our bags on the tour bus with the rest of the group and set off for sightseeing along the Ho Chi Minh Trail on two wheels.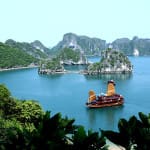 Southeast Asia is an extremely picturesque region and Vietnam in particular is one of the most beautiful countries in the world. The south of the country is home to the Mekong Delta, with its amazing floating markets and unique ways of life. The central regions have amazing beaches and the cultural heritage of Hué and Hoi An. The north has the stunning mountain scenery of Sapa and the jewel in the crown, that is, Halong Bay.
Halong Bay is quite simply astonishing. It is huge, for a start, covering about 600 square miles. The sea is clear and blue and the whole bay is dotted with almost two thousand islands.