Tag: Things You Never Knew About Australia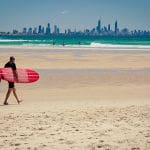 Here's a glimpse of some amazing things you probably never knew about the wonderful country of Australia. Beyond the wildlife and free-spirited lifestyle, here are more great reasons to visit.
It's safe to say that Australia is the most unique place on the planet. It's the world's smallest continent, largest island and sixth-largest nation by area – all this in one place. Interested to learn more about this amazing spot? Here are nine surprising facts about Australia most people don't know about.