Tag: Temple Street Night Market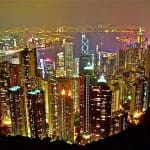 The clash of ages at the heart of this urban sanctuary are well worth discovering. Had it not been for a business conference I had to attend with my coworker in 2009, I would probably never have discovered Hong Kong on my own. With time, as I returned again and again, I dug deeper and deeper and I guess I have seen enough to claim that I have a more in-depth understanding of the city than a statistical tourist to Hong Kong.
Below I list the spots that have remained in my memory for longest and that I will come back to when the next opportunity to go there arises again.