Tag: Telliskivi Things To Do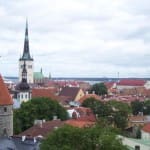 Tallinn, The journey from soviet ruins to hipster paradise.
Whenever you think hipster you probably think Shoreditch in London, Fitzroy in Melbourne, Williamsburg in New York or some other well-known trendy hipster location out there. Do you really think those pop hipsters are "real" hipster? I don't think so… As a matter of fact I am sure they are not, especially after I visited Tallinn a few weeks ago.