Tag: St. Croix Valley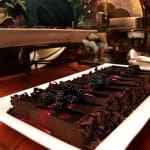 Deliver Decadence for Valentine's Day… Give the Gift of a unique Chocolate Getaway at The Chocolate March 2015.
Does your significant other live for chocolate? Do you want to give them the ultimate gift of sweetness? We aren't just talking about one box for Valentine's Day, either. Instead, how about an immersive experience over multiple enticing destinations? In other words, taste your way through a parade of chocolate delights at delightful Bed and Breakfasts in Wisconsin and Minnesota.