Tag: Solo Skiing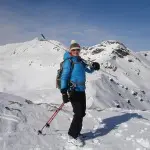 Solo Ski Trip – Should You Go It Alone?
As the ski season sets in, many snow-sport lovers are faced with a dilemma – love of the slopes inspires them to book a holiday to the mountains, but perhaps friends or family don't share the same passion. Maybe this is a problem you've faced yourself; should you miss another year on the snow or should you brave the slopes by yourself?
Any kind of holiday can be intimidating when you're alone, but a ski or snowboarding trip can be particularly intense. Here are our thoughts on what makes a solo ski trip great.